Superstar DC Comics writer "The Great One" Brian Bendis is currently doing an AMA on Reddit, and he's answering lots of questions about Young Justice. Such as when Redditor Domino_Dare-Doll asked:
Hi Mr. Bendis,

Thankyou for doing this, I'm just dying to know:

Do you have any plans to include Arrowette (Cissie King-Jones) and/or Secret (Greta "Suzie" Hayes) in the new Young Justice run? Or, if not, do you think they might get their own spin-off series?

I get that the current "Young Justice" line-up might be a little bit too crowded for them right now, but I think it would be such a shame not to delve a little deeper into exploring both characters; they have extremely fascinating origins which are just ripe for expanding upon!

TL;DR: Will we see Arrowette and/or Secret any time soon?
To which Bendis replied:
The answer is yes! The final team roster is not revealed.
Is that yes to both? Yes to one? We'll have to take it literally and say "and/or."
But Bendis wasn't done talking about the fan-favorite comic. Asked by Redditor IsAFan25:
Hello and thanks for doing this! What stroke of genius gave you the idea to include Amethyst in Young Justice? Have you always been a fan of hers? Also, would you be interested in writing Wally West one day?
Bendis said:
I was a very big fan of the original Amethyst series. I think it is highly underrated. It's filled with unbridled imagination and joy in the best DC way. It might've been a little ahead of its time. I feel about Amy the way I feel about Luke Cage. Like I proved myself with Luke in AVENGERS, I hope to prove my point in YOUNG JUSTICE.

Also, I love Wally!!
Bendis also talked about plans for June's Young Justice #6 when asked by dustinhenderson0:
I just want to point out how it is nice to have a fellow Tim fan! I know you have mentioned interest in using her before, but are you gonna use Steph Brown soon? Do you have actual plans for sometimes this year or just intend to sometime in your YJ run (or otherwise)

Also I'm really loving YJ. Who's getting the spotlight in #4 and #6, or are they just core story?
There's so much coming in YOUNG JUSTICE! Amethyst (by Jon Timms) gets the spotlight in issue 4. We also have a Stephanie brown and Tim Drake sequence by Kris Anka in issue 5, with more Tim in issue 6. And favorite artist Elena Casagrande also joins the team as she delivers a look at Jinny Hex's origins.
On how long he plans to stay on Young Justice, replying to DarkCrusade25's question:
Hi Brian,

Thank you for coming here today!

Thank you for Young Justice!

How long do you think your YJ run will be? I love it so far and I really hope you can take it up to #50. Doing it the way you envisioned for the book. 2 issues in and I love it and the fact you have great artists on the book.

Thank you!
"The Great One" responded:
As long as you'll have us! We're deeply moved by the initial response to Wonder Comics and its message.

You can tell I am hunkering down for a run on YOUNG JUSTICE. It's so much fun and we have not even shown you the real special part of it yet. That comes at the end of the first arc!
And finally, discussing the crisis of two Superboys, Bendis responded to a question from Redditor Dracconis:
Thank you ahead of time if you make it to my question.

Firstly, with the return of both Jon and Conner Kent, who is the "big brother" now that they're roughly about the same age?

Secondly, with 2 Robins and 2 Superboys, will we see a name change for 1 from each set or will they all operate simultaneously but on separate teams? (ie- Jon/Damian with TT and Conner/Tim with YJ)

Thank you again for doing this ama!
By promising:
Jon and Conner will meet and work that out. On panel. PROMISE.

And yes, there will be some rebranding and some new looks. Change is good!
The AMA continues, so stay tuned for more! To see what Bendis had to say about Naomi and her connection with Young Justice and the larger DCU, read our previous report here.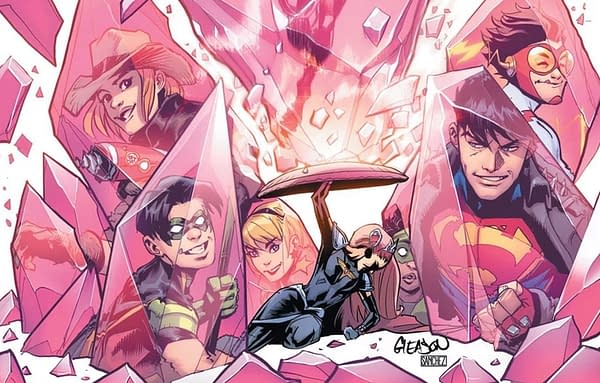 Enjoyed this article? Share it!