Blackity Black MECCA Convention with Maia Crown Williams [Interview]
As a comic creator these past few years, vending at comic book conventions have been one of my favorite parts of being a member of the culture. I always looked forward to convention weekends as a fan and now as a creator it's on a whole other level. I get to meet fans and people who have supported me, meet and network with other creators, sell my books and merchandise, and hopefully break even or make a profit for the amount of crazy work it took to get to the convention and the work gone into creating a product. Selling, hustling, and pitching my books I can now do in my sleep. But it's still a skill I have to hone and craft. Best way is by continuing to do as many conventions as possible. One of the conventions that have been a regular visit for me as a vendor is MECCAcon in Detroit.
Founded in October of 2013 by Maia Crown Williams, Midwest Ethnic Convention for Comics and Art (MECCAcon) is a division of Amonyet Enterprises that runs large comic book and literacy conventions, international film festivals, and art residencies held annually in Detroit, MI, as well as abroad. Despite her busy schedule in planning this coming weekend's convention, Williams found time to speak to me about MECCAcon.
GREG ANDERSON ELYSÉE: Tell us a bit about MECCAcon. What prompted you to begin this organization and convention?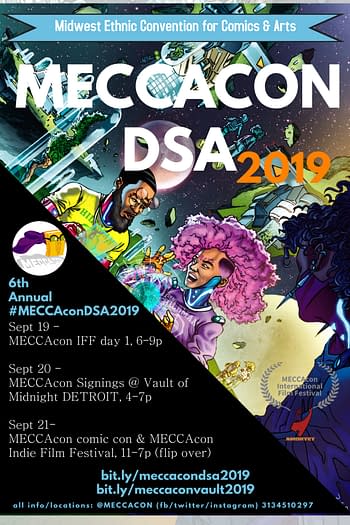 MAIA CROWN WILLIAMS: My son is the reason, first and foremost. Years ago, he was very heavy into reading comics. He had a lot, but none of them were owned by people who looked like him. I decided to do a bit of research and discovered the world of Black indie comics. My life was changed from that point on. I started working with another convention until it was time for me to branch out on my own. [So] the primary reason MECCA was established was to instill knowledge primarily in the younger art culture.
ANDERSON ELYSÉE: One of various conventions all throughout the country, what makes MECCA stand out among the crowd?
WILLIAMS: My event is Black [laughs]. MECCA just happens to be spelled with an E, not a B [laughs]. My event is one of many across the country and around the world, [Black] just like mine. I just try to not only highlight the well-known, but I'm pure with intent with the "underdogs." Everyone shines at MECCAcon. I also have an international film festival. I don't just… play films. There is a severe difference. Many others since I've been around started trying to do the same, and while I think that is GREAT, I just wish they did it with a tad bit more authenticity.
ANDERSON ELYSÉE: So you're known for telling people that you're "Blackity Black."
WILLIAMS: Blackity Black!
ANDERSON ELYSÉE: [Laughs] Tell me about that and how is that representative of your work and organization?
WILLIAMS: Everything with my name on it is Black. Everything I strive for is Black. Every move I make is for the advancement of my Black nation. I'm unapologetic about it and will forever live within my truths. I am here to advance my nation in however I solely am able to do it, be it art or literacy, film or music. I'm here for the culture. Many say it, but I bleed it. Some change their ways after a while, but I'm still RBG 'til I die. I know no other way. My parents instilled in me the importance of cooperative economics at a very early age. They didn't talk about it, they didn't just walk it. They stomped the ground with it at all times. I'm here for these Black babies out here. Period.
ANDERSON ELYSÉE: Why do you feel comic books is an important component to present to a Black audience, especially the youth?
WILLIAMS: Illiteracy is a very real thing in the Black community. It's unfortunate, but it is true. I know many who learned how to read because of comic books. I know children and elders who weren't interested in books until I handed them comic books. I know elders who told me they learned to read this way. Reading is one of the biggest tools to develop a child's critical and creative thinking. It's very necessary.
ANDERSON ELYSÉE: So you have a film festival…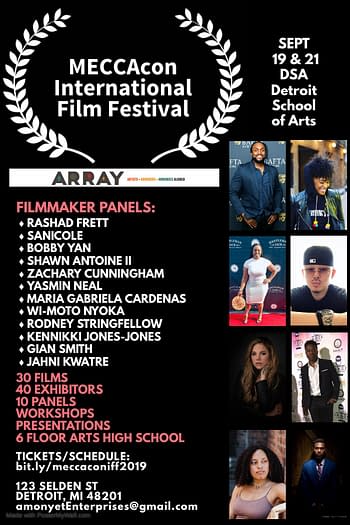 WILLIAMS: MECCAcon International Film Festival, aka MECCAcon IFF, has been around for quite a few years now. Noted indie filmmaker, Ka'ramuu Kush, is who helped me in my development. He was adamant about me establishing a level of quality in choosing my official selections, [laughs]. Adamant is actually putting it pretty loosely [laughs]. Kush taught me to not settle for less than the best and do what is necessary to achieve just that. The festival has been quite a journey, to say the least. The festival, although extreme hard work, actually is one of my proudest achievements. Since day one, we've had multi award winning filmmakers submit into the festival and it has been absolutely consistent each year. Filmmakers this year include Rashad Frett, Bobby Yan, Sanicole, Yasmin Neal, Eli Jacobs-Fantauzzi, Shawn Antoine II, B Monet, Haley Elizabeth Anderson, Zachary Cunningham, Jahni Kwatre (also a severely dope comic creator), Wi-Moto, and many more. Most films are shorts but we sometimes have feature films. This year we are honored to also screen Maria Cardenas' film, A Dark Foe.
ANDERSON ELYSÉE: Now you said earlier pertaining to your film festival that you wish other cons who aim to do the same would do it with a bit more authenticity. What do you mean by that? Can you elaborate?
WILLIAMS: Many conventions, after seeing what I do with mine, decided to start having "film festivals" as well. However, while it is great that they are showcasing films, mine is literally and legally a film festival. I'm not just playing films. I literally have a registered film festival. Films get registered into Ava DuVernay's company, ARRAY, and I'm also a founding member of her company. It is absolutely a wonderful thing to play films. I'm very far from the first comic con that does this. But playing films is different from having a film festival. You can't just plop words and titles onto things and make it what you want it to be. It is very insulting to those of us who actually do this work in real life, nationally and globally, and have been doing it for years. It is a lot of work curating a film festival. If all it took was going on Youtube and pushing play, I wouldn't be as insulted.
ANDERSON ELYSÉE: I can only imagine the stress of having to run a convention, big or small. What have been the biggest struggles you've encountered running this convention?
WILLIAMS: MONEY, MONEY, and MONEY. While it seems that it might be more than that, money is the root of all of it. You need money for certain guests. You need money for marketing materials. You need money for venues. You need money for promotion. You need money for supplies. You need money for everything. If Crown [Williams] was rich… nah, NUNNA y'all would be able to fuck with me, [laugh]. And that's solid. My direction and my passion is completely unmatched. I've seen conventions who HAVE money and have never invited Carl Jones, Cree Summer, Bruce W. Smith, and so on. It sincerely blows my mind. Why isn't Reggie Hudlin at your events, but y'all are inviting Brian Michael Bendis? And that isn't a slight to Brian… it's just reality. There's honestly so many levels to what I'm saying right now.
ANDERSON ELYSÉE: What's filled you with joy seeing? What has stood out and made you feel like, "Screw all them issues. This is why I'm doing this next year?"
WILLIAMS: When children run up to me and give me hugs, that makes my absolute life. When I see babies going crazy because they have Is'nana the Were-Spider or Kid Carvers (by 133art's Jason Reeves, Alverne Ball), it makes my heart full. And man, do they get excited. The babies are why I do what I do. There is NO other reason other than them. I'm for the progression of my people, and that solely starts with the children.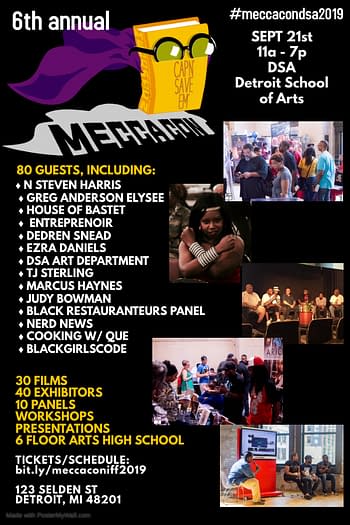 For more information about MECCAcon and how to purchase tickets, visit https://filmfreeway.com/meccaconiff/tickets !