This is the Top Ten Bleeding Cool Bestseller List, as compiled by a number of comic stores from their sales on Wednesday and Thursday. It measures what are known as the "Wednesday Warriors", those who can't wait till the weekend to get this week's comics. We salute you, and the keenness you bring to your passion.
This week there was little consensus. Often results from different stores are very similar with one or two outliers. This week, everything was up in the air. Some stores had Mister Miracle topping the charts, others Uncanny X-Men, others Avengers, others Superman. Here's where it all landed.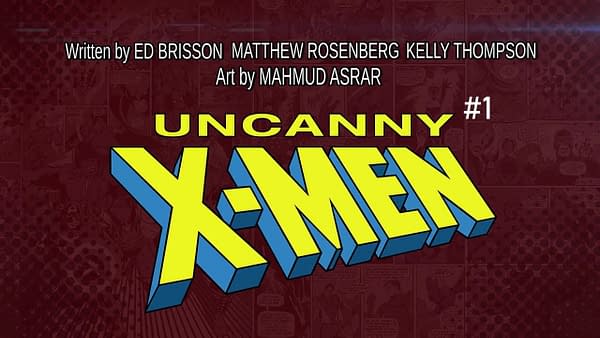 Top ten bestsellers of the week:
Uncanny X-Men #1
Fantastic Four #3
Avengers #10
Superman #5
Amazing Spider-Man #9
Mister Miracle #12
Catwoman #5
Venom #8
Detective Comics #992
Wonder Woman #58
Thanks to the following retailers:
And here's what they had to say:
Big week for Marvel at FFF with FIVE of the Top Ten books this week being Marvel and the top two of those being written by Donny Cates. Venom and Cosmic Ghost Rider both have a strong following at our store and tend to sell better than most other comics. The fact that all of our Detective Comics were damaged meant it was an odd week where Batman wasn't on top. Firefly outsold most everything else placing at #3. It's odd Dr. Horrible didn't sell all that well though. Uncanny X-Men actually sold better than I thought it would considering it was an $8 book. Hopefully it can hold those numbers on a "weekly" schedule. Superman, Mister Miracle, and Catwoman were the only DC on the Top Ten this week. Mister Miracle has garnered solid support with a lot of our customers. I hate to see it go with the end of the book. Oblivion Song rounds out the list. It doesn't quite have Walking Dead numbers, but it does better than Die Die Die and Outcast combined.
—-
It was a strong shipment this week. Lots of really good books, and people came in for them. Many books in our Top 10 sold almost identical numbers. Marvel took the top 3 spots with Uncanny, Avengers, and Fantastic Four all doing very well. DC still took 5 of the Top 10. Wonder Woman saw a noticeable jump up the charts with G. Willow Wilson taking over writing duties. Mister Miracle came in at number 9, which is really strong for the final issues of a series. Overall it was a very good week.
—-
Uncanny X-Men should've been a bigger victory than it was. Honestly, despite securing the top spot, it should've been huge. The $7.99 pricepoint (which we offered a discount on this week) kept this book down. Very very very all right doesn't fill me with confidence about the collective 25 issues of minis that are coming with Age of X-Man. Fantastic Four has been so delayed a lot of subs were surprised when they saw it in their pulls. Venom shows no signs of cooling off. Firefly also still resonates with comic fans all these years after its initial television run. Nothing else much out of the ordinary to mention.
—- 
Make Mine Marvel they exclaimed this week, and MARVEL snatched 8 of the top 10 best selling books. Want to be in the #1 spot not only in qty. sold but in $$$ generated. Easy, price your relaunch at a ridiculous $8 per copy and print over a dozen covers for customers to pick from (or buy more than one version). Sadly, this worked so MARVEL will most likely continue this horrible trend.
Short sighted sales only hurt us all in the long run.
—-
This was a big week, with a lot of heavy-hitter titles. Surprisingly, the closest we have to Bat-book representation in the Top 5 is CATWOMAN – DETECTIVE COMICS barely even made it into our top ten!
The number one seller was the final issue of Tom King's tour-de-force MISTER MIRACLE. Trailing close behind that we have a couple of Marvel mainstays with AVENGERS and FANTASTIC FOUR.
The brand-new UNCANNY X-MEN sits square in the middle of our list, and as noted before even our bottom half is full of A-listers the likes of THOR, WONDER WOMAN, and CAPTAIN AMERICA.
—-
The last issue of the fantastic MISTER MIRACLE run was our top seller. No surprises there! A few new #1s made into the top 10 as well, with UNCANNY X-MEN #1 leading the pack. And the other two are both new takes on existing properties–Johnnie Christmas's adaptation of William Gibson's ALIEN 3 script and Greg Pak and Dan McDaid's new FIREFLY series.
—-
Not sure how much worth our list will add this week. Our shipment arrived on Wednesday afternoon instead of on Tuesday. My email to Diamond "Not a good week shipment wise. Any update on why it was late again?" The reply "The warehouse had no knowledge of it so It seems like it was an isolated incident." I emailed back that another store's shipment in the area was late also so it wasn't that "isolated" and never heard anything back. So glad the day early charge is non refundable even when the shipment is late. On top of the late shipment we were shorted some titles all together. Hard to sell what we do not get. Amazing Spider-Man 9 and Avengers 10 did really well. Avengers 10 (or 700) outsold the previous issue. Superman 5 and Wonder Woman 58 also did really well.
Marvel not only took the lead with the number one book in our store this week (Fantastic Four), but they also took five of the top ten, with DC taking four and Boom! taking one with Firefly. Superman's failure to take number one is indicative of a general lack of excitement over the current Superman storyline; sales in our store are now trending below where Superman sold before Bendis took over the title. And now formerly midlist Marvel titles like Domino are selling better than former DC top sellers like Flash and Wonder Woman. DC seems to be determined to pursue the New 52 "diminishing sales" model, which isn't good for DC or for the industry as a whole.
Enjoyed this article? Share it!