This is the Top 10 Bleeding Cool Bestseller List, as compiled by a number of comic stores from their sales on Wednesday and Thursday. It measures what are known as the "Wednesday Warriors", those who can't wait to the weekend to get this week's comics. We salute you, and the keenness you bring to your passion.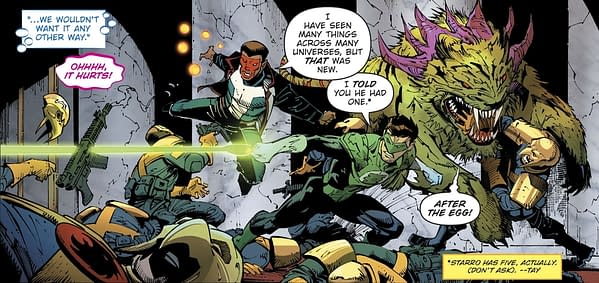 Every single store reported Dark Nights: Metal as their top seller. And almost all of them followed with Detective Comics Annual. With the Flash Annual, this shows DC Comics can still dominate even in one of their fifth weeks, full of annuals and the late comics. But Avengers is still doing better than many expected and the Doom Patrol/JLA crossover got far more readers than either JLA or Doom Patrol normally get.
Top Ten Bestselling comic books of the week.
Dark Nights: Metal #5
Detective Comics Annual #1
Flash Annual #1
Avengers #678
Phoenix Resurrection: The Return Of Jean Grey #5
JLA/Doom Patrol #1
Invincible Iron Man #594
Old Man Logan #94
Silencer #1
Doomsday Clock #3
Thanks to the following retailers:
And here's what they had to say.
—–
Zero surprises on this 5th shipping week. Metal outsold everything by a large margin, followed by DC Annuals. Avengers holds its ground, but in a busier week that won't be enough to hit the top 5. If Marvel's got something up their sleeves to get way more competitive, now would be a great time to clue readers (and retailers) in. DC ruled the news cycle with Bendis and Snyder announcements– get in the game, Marvel!
—–
It must be a fifth week since we have a overabundance of Marvel books in our Top Twenty at FFF this week. For the Top Ten, Metal of course stands supreme, selling more than twice as many copies as the next selling book, the Detective Comics annual. While the House of Ideas had a strong showing in our back half of the Top Twenty, there were only two Marvel books in our Top Ten. Avengers and Phoenix Resurrection both sold pretty well at #4 and #5 respectively. But we're also still selling Doomsday Clock #3 steadily enough for it to make it into the Top Ten on its THIRD week.
On the indie side of things, Outcast managed to sell enough copies to make it into the Top Ten at #9. It isn't a surprise to see it sell well, it definitely benefited from the lack of books from DC this week allowing it to sneak into one of the top spots. Galaktikon and Reactor also both sold well enough to make it into the Top Twenty.
DC's New Age of Heroes is unfortunately not off to a great start. Silencer barely moved any copies this week, just barely making the Top Twenty at #19. I don't know if it was their delay or just lack of interest in the new books, but I hope that the rest of these books can sell better than the first two. The JLA/Doom Patrol Special is off to an okay start, we'll see if people are willing to spend $5 on four more books.
—–
DC played keepaway from the top spots with Marvel. Dark Nights Metal outsold everything by a mile as usual. Avengers seems to be cooling down now, but interest is up on Phoenix and we've had a lot of advance subs for X-men Red. DC's new age of heroes will probably have long legs, but the initial sales on Silencer weren't as huge as I expected.
—–
Metal can not be stopped. Number 1 as expected. Doomsday Clock # 3 made the top 10 again. As did Silencer #1, which was a surprise to me. Fewer big books from DC help Marvel get 6 titles in the top 10. Phoenix Resurrection and Avengers led the way. Avengers is still gaining readers every week. No matter how many we get in we still sell out in 3 days. Overall January was not a great month for new comic sales, but it seems a lot of really exciting books will be out before FCBD this year. Better times should be here soon.
—–
I was so, so close to being able to say that something other than Metal was our bestseller this week, but Metal #5 sold just a litttttle bit better than the JLA/Doom Patrol crossover that kicks off the Milk Wars event. Either way, though, DC was coming out on top this week.
—–
Familiar territory this week as the top spot is taken by the latest issue of DARK NIGHTS METAL. Also selling well this week: AVENGERS keeps up the frankly surprising momentum generated by the title's "No Surrender" event and the first Annual issues of a couple of DC's mid-range titles make a solid showing.
The mid-list is held down by the conclusion of Marvel's PHOENIX RESURRECTION and the beginning of DC/Young Animal's "Milk Wars" event with JLA DOOM PATROL SPECIAL #1.
The bottom half of the list seems some fresh blood jump into the arena. DC's SILENCER #1 continues the publisher's New Age of Heroes initiative, and Anthony Bourdain's positively delicious horror anthology HUNGRY GHOSTS gives us something a little different to chew on.
—–
So-so sales for the week. Doomsday Clock is the only book that could have topped Metal. DC's annuals saw a slight uptick for those titles putting Detective above Avengers, and Flash into the top five. JLA/Doom Patrol did a nice bit of business at #8 on the list. Two new Star Wars characters took the last two spots. Old Man Logan and Iron Man are still selling consistently well in the middle of the list at five and six with old reliable Astro City at number 7. Biggest letdown of the week: we sold zero copies of Incredible Hulk off the shelf.
—–
Marvel got four titles into the top ten this week. Skip weeks are Marvel's friend. Metal of course took the top spot. How Sitcomics does will be interesting. I will support a comic publisher that doesn't use Diamond. Avengers is showing no signs of slowing down even at its weekly pace. One title instead of a bunch of meaningless Avenger titles really helps. Silencer made our top ten but only in 5th place. It should have done better. Solid 5th week for sales.
—–
Thanks in part to a very light DC week, Marvel gets four books in our store's Top Ten. The true oddity of the week, though, is that two of our top ten sellers are books that came out a week ago: Doomsday Clock #3 from DC and Marvel 2-in-1 #2 from Marvel. It's definitely unusual when two week-old titles outsell almost every new release!
—–
And notable sales last week:
Black Panther #1 $100
Avengers #8 $40 A very low-grade reader copy, but a great villain debut went home with a happy customer this week. Kind of slow sales otherwise on back issues.
Enjoyed this article? Share it!