This autobiographical graphic novel by Andrew J. Rostan and Kate Kasenow will be published by BOOM! Studios' Archaia imprint in November 2018. What is: Form of a Question?
According to a press release sent out today:
FORM OF A QUESTION is a moving memoir revisiting one of the most formative events in Andrew Rostan's life. You see, Rostan is excellent at remembering facts and recalling the memories he associates with those facts—memories of deaths in the family and extraordinary people. But at the age of twenty-two and suddenly a contestant on the very game show he associates with the happiest moments in his life, Rostan's about to realize that existence is like JEOPARDY! and all the answers are staring you in the face if only you ask the right questions.
"When BOOM! Studios asked me to tell my story, it was because they were sure they had an important message: that what makes you feel different from others can help you accomplish what you never imagined you could," said Rostan in the press release. " I'm proud to have written this book; however, what excites me is that Form of a Question is more Kate's achievement than mine. She combines non-fiction and magical realism to create a vivid, sensual art with emotion filling every panel. Everyone who cares about our medium will be astonished by what Kate has done."
"There is, quite literally, something for everyone in this book and I should know because I got to draw new and fantastic things with every page!" said artist Kasenow.
Look for this in the Fall.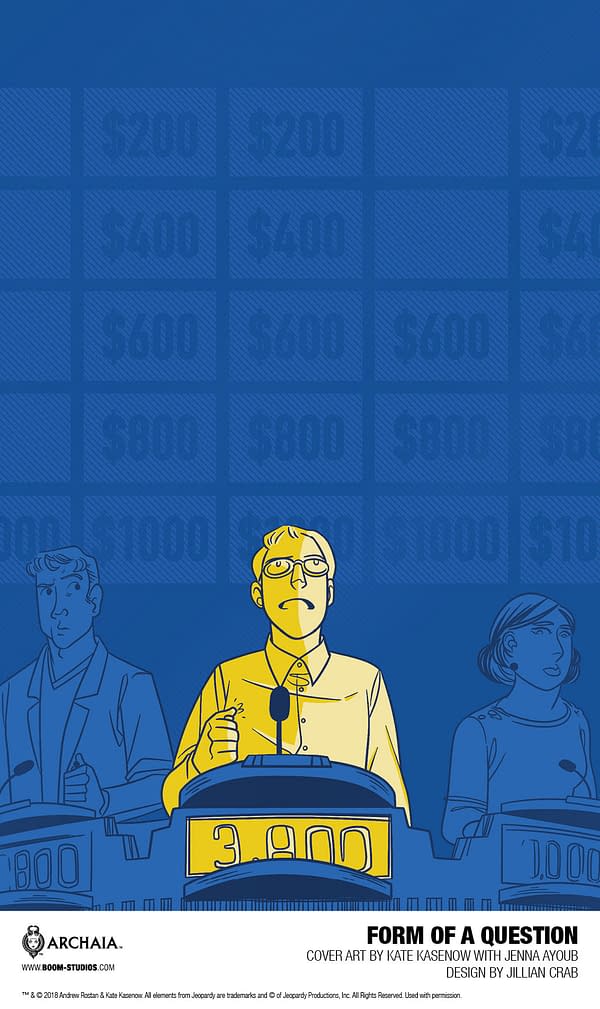 Enjoyed this article? Share it!