With the comic book licensing wars ramping up all over the industry, explosive publisher BOOM! Studios has revealed a new secret weapon: Lev Grossman's The Magicians. For fans of the popular fantasy novels as well as the Harry-Potter-meets-softcore-porn Syfy TV show, a new graphic novel titled The Magicians: Alice's Story by Lilah Sturges and Pius Bak will be comic to comic book stores in 2019.
A wordy press release contains more details:
Originally published in 2009, THE MAGICIANS introduces readers to Brakebills College for Magical Pedagogy, which boasts a prestigious and dangerously difficult curriculum, famous and infamous alumni, and a record of only…a few deaths per graduating class.

The first release in this partnership will be THE MAGICIANS: ALICE'S STORY, an all-new original graphic novel hardcover set in the world of the book trilogy by Grossman, from acclaimed writer Lilah Sturges (Lumberjanes: The Infernal Compass, Jack of Fables), rising star artist Pius Bak and featuring a cover by Steve Morris (Buffy The Vampire Slayer).

Debuting in July 2019, THE MAGICIANS: ALICE'S STORY expands the mythology of The Magicians, the first novel in the series trilogy, through the perspective of lead character Alice Quinn before she joins Brakebills and embarks on an epic journey in the magical land of Fillory.

Alice is manifestly brilliant, and she's always known that magic is real. During her years at Brakebills Alice rises to the top of her class, falls in love with Quentin Coldwater, and witnesses a horrifically powerful magical creature called the Beast invade their dimension. Soon after graduation, Alice and Quentin set their sights on the idyllic setting from their favorite children's books, Fillory. In Fillory, magic flows like a river but even with talking animals, enchanted items, and the chance to become king and queen of a magical land in the offing, nothing is what it seems and something far darker lies in wait behind the spellbinding facade. Now fans will learn untold secrets of Alice's journey, the world of THE MAGICIANS, and will find answers to some of their biggest questions.
Says Grossman:
"Usually when your work is being adapted, you just hope you'll end up with something reasonably faithful to your vision. You never expect to have that vision turned around and expanded to reveal incredible new things you never even knew were there. But that's what happened with ALICE'S STORY."
And Sturges:
"Working on THE MAGICIANS has been a complete joy for me from beginning to end. The original novel is so good. It's just so good. Like, have you read this thing? And it really speaks to me, being as it is the emotional biography of basically every sensitive gifted-and-talented kid. The best part for me was getting to adapt it in a way that presents the events of the novel in an entirely new context, by focusing on Alice rather than Quentin. It's a change that, perhaps not coincidentally, makes it one of the most effortless jobs I've ever had; in real life I'm only a hair's breadth away from Alice personality-wise, for better or worse."
And Bak:
"What I enjoy most about drawing is that it allows me to create things that are not real by building worlds and exploring them in my art. So I feel very lucky to get to be working on THE MAGICIANS, because drawing Fillory and the magical world surrounding it is so much fun! The original novel is incredible and Lilah's adaptation of it . . . is just perfect. This feels like the best work of my career and I can't wait for fans to see the final graphic novel in 2019."
And BOOM! Executive Editor Sierra Hahn:
THE MAGICIANS challenges readers with its unflinching look at the nature of the world around us, the way we mature (or not) through our toughest moments, the beauty of those trials, and introduces us to a cast of nuanced, flawed characters – with perhaps none as fascinating as Alice Quinn. Lev, Lilah, and Pius have created a new canonical vision of that the first novel in the series, digging deeper into Alice's journey and exploring the depths – and heights – of her growth from fledgling magician to something even greater. First and longtime fans alike will discover something new in the heart of ALICE'S STORY.
The Magicians: Alice's Story hits stores in July 2019.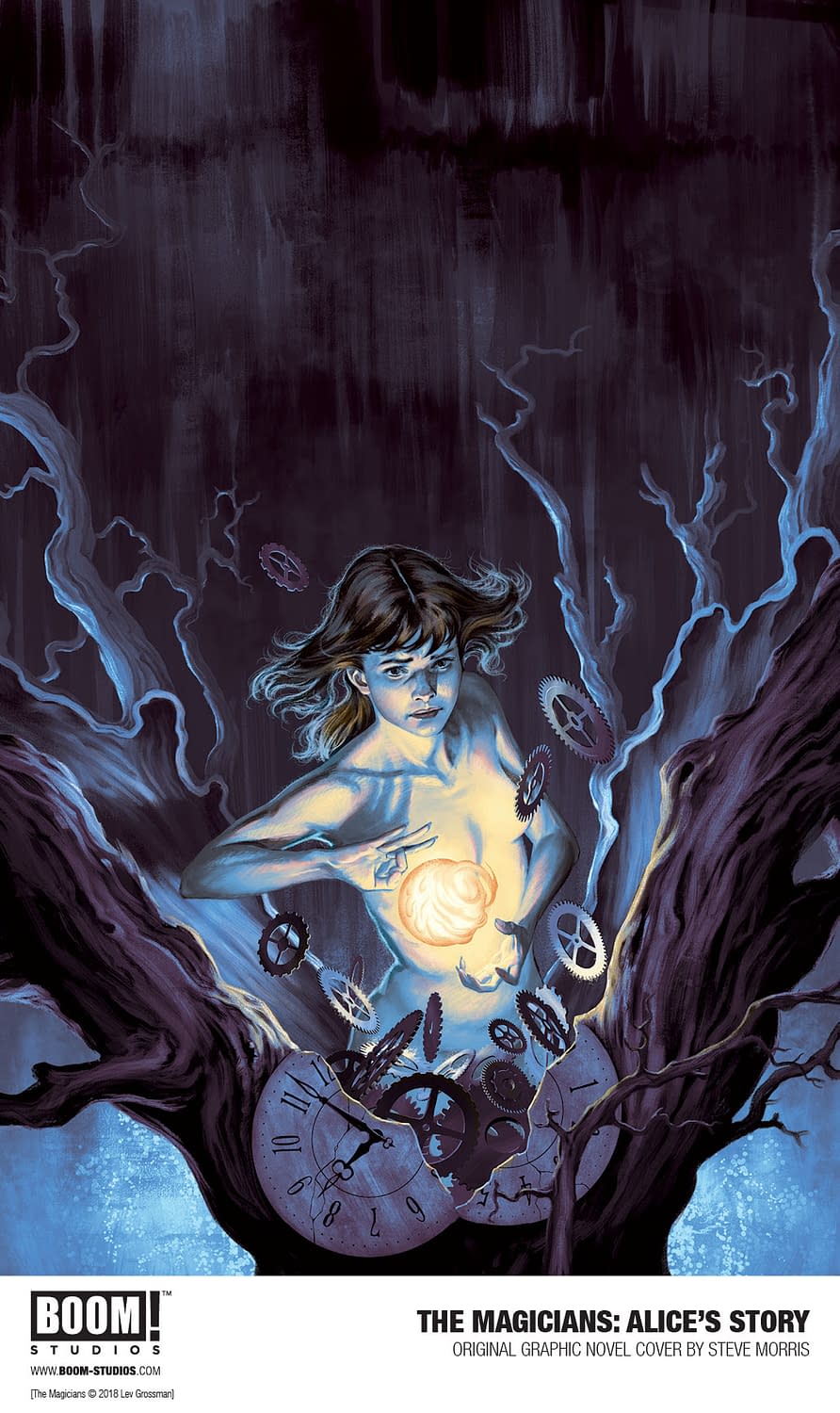 Enjoyed this article? Share it!