BOOM! Launches Value-Priced Legacy Editions with "Top Secret," Sons of Anarchy, & Big Trouble in Little China
BOOM! Studios has announced a new format of "value-priced" softcoverse collecting "every issue of the most popular BOOM! Studios series in chronological order" via press release today. Dubbed Legacy Editions, the new line will launch with collections of BOOM!'s Sons of Anarchy and Big Trouble in Little China comics. "Legacy" isn't the only trick BOOM! is borrowing from the Merry Marvel Huckster Handbook… They're also teasing a "top secret, currently unannounced series" coming to the line in 2018, followed by the next books beginning in 2019.
BOOM! VP of Editorial & Creative Strategy Bryce Carlson said in the press release:
The new LEGACY EDITION format is an important part of BOOM! Studios continued efforts to bring new readers into the world of comics with value-priced collections that attract readers who might be experiencing comics for the first time. With true seminal pop culture properties like Sons of Anarchy and Big Trouble in Little China, alongside some top secret franchises you'll hear about soon, these LEGACY EDITION collections are the perfect place to point the new comic book reader in your life.
The one thing this press release doesn't tell us? The price. Value, after all, is a subjective term.
Here's some more info on the books:
SONS OF ANARCHY

Kurt Sutter, the visionary behind Sons of Anarchy, delivers the epic outlaw story of Charming's most notorious biker gang in this official tie in to the hit television series, collected in this all new format for the first time!

With stories taking place between Seasons 3 and 4, and running parallel to Season 6 of the hit show, writers Christopher Golden (B.P.R.D.) and Ed Brisson (Old Man Logan) and illustrators Damian Couceiro (Iron Fist) and Jesús Hervás (Penny Dreadful) weave tales of SAMCRO attempting to keep the family together, while also staying one step ahead of the law.

Sons of Anarchy: Legacy Edition Book One, collecting Sons of Anarchy #1-14, on sale in January 2019

Sons of Anarchy: Legacy Edition Book Two, collecting Sons of Anarchy #15-25, on sale in April 2019

Sons of Anarchy: Legacy Edition Book Three, collecting Sons of Anarchy: Redwood Original #1-12, on-sale in July 2019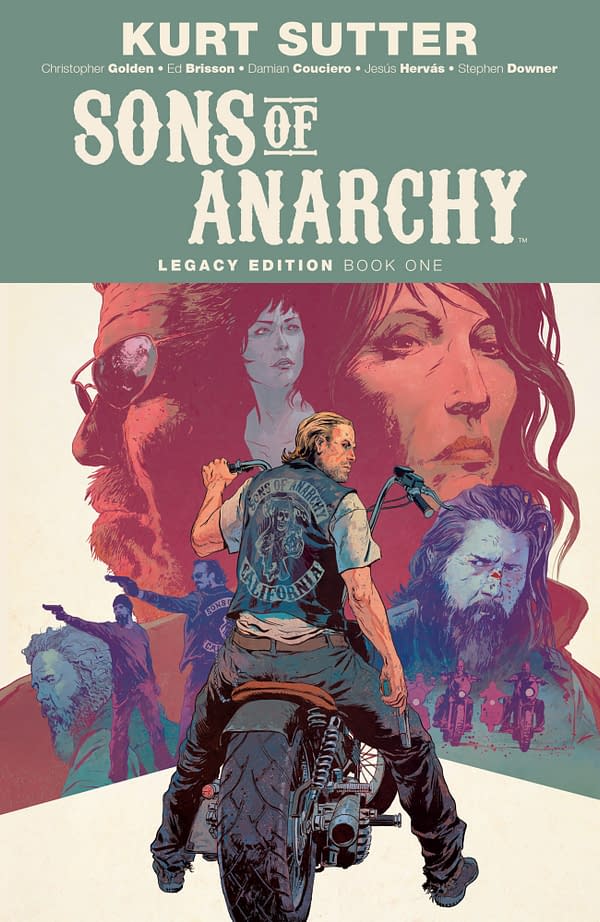 BIG TROUBLE IN LITTLE CHINA

Legendary director John Carpenter returns with Eric Powell (The Goon) and artist Brian Churilla (Secret History of D.B. Cooper) in the continuing adventures of Jack Burton, taking place mere moments after the ending to the cult-classic film.

Jack Burton, a macho, truck-driving adventurer, finds a stowaway demon hiding on his rig, The Pork Chop Express, but that soon becomes the least of his troubles. He helped his best friend Wang save his fiancée from the clutches of an ancient sorcerer, but now the wedding has been invaded by more evil forces with one thing on their minds—revenge against Jack Burton!

Big Trouble in Little China: Legacy Edition Book One, collecting Big Trouble in Little China #1-12, on-sale in June 2019

Big Trouble in Little China: Legacy Edition Book Two, collecting Big Trouble in Little China #13-25, on-sale in September 2019

Big Trouble in Little China: Legacy Edition Book Three, collecting Big Trouble in Little China: Old Man Jack #1-12, on-sale in December 2019