Booster Gold Gets The Harley Quinn Moment Denied Poison Ivy (Spoilers)
Bleeding Cool has certainly spent a few articles looking at the way that DC Comics continues to do its best to run out the relationship of Poison Ivy and Harley Quinn, at the simultaneous moment that the Harley Quinn TV series is doing the exact opposite.
It seems to demonstrate a difference of attitude – DC Comics wants the classic model of villainous Poison Ivy and madcap Harley Quinn, while denying the characters' growth together. It's also one that a number of the comic book creators have fought against, I was made aware that DC Comics executives believed that Heroes In Crisis would end with Poison Ivy reduced to a bud and that the Harley Quinn/Poison Ivy mini-series was created to address this, but rather than make her purely villainous, split her into two. The ability of DC creators to frustrate editorial demands led to current Harley Quinn writer Sam Humphries forbidden from including Ivy in the series – even to talk about her – at the same time he was appearing regularly on DC Direct to talk up Harley Quinn and Poison Ivy in the TV show, including the finale where they all but got married.
Other examples include solicitations being rewritten to remove mention of Poison Ivy and Harley Quinn as a couple, the pushing of Harley Quinn as a single character on Valentine's Day, and DC ignoring Poison Ivy and Harley Quinn when pushing LGBTQ content on social media. The only smidgens of leeway was Harley Quinn/Poison Ivy fan Stjepan Sejic allowed to have Poison Ivy for one panel at the end of his oneshot Harley Quin digital comic, and for DC VP Hank Kanalz to post on social media recognising the fans' desire – and only in a very personal, not official capacity. He also cheered for Midnight and Apollo – Bleeding Cool has reported plans for the return of The Authority to DC. But not Poison Ivy.
The Harley Quinn comic book has, instead, pushed for Harley Quinn and Booster Gold as a couple, and tody's Harley Quinn #74 – the penultimate issue – takes that further, and is in direct contrast to the Harley Quinn & Poison Ivy mini-series treatment. That series concluded with a tearful moment between the two…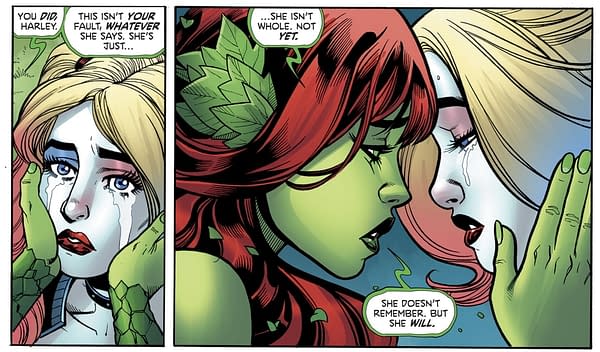 …which is somewhat reprised in Harley Quinn #74, with Booster and Harley.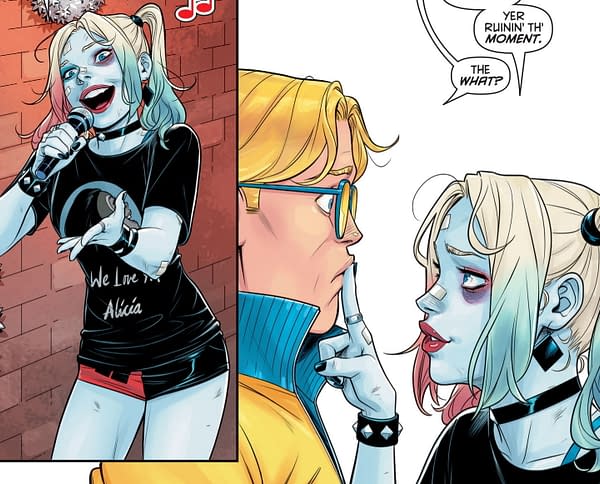 However the big splash page in Harley Quinn & Poison Ivy #6, which had the appearance of being redrawn at the last minute when editorial read it…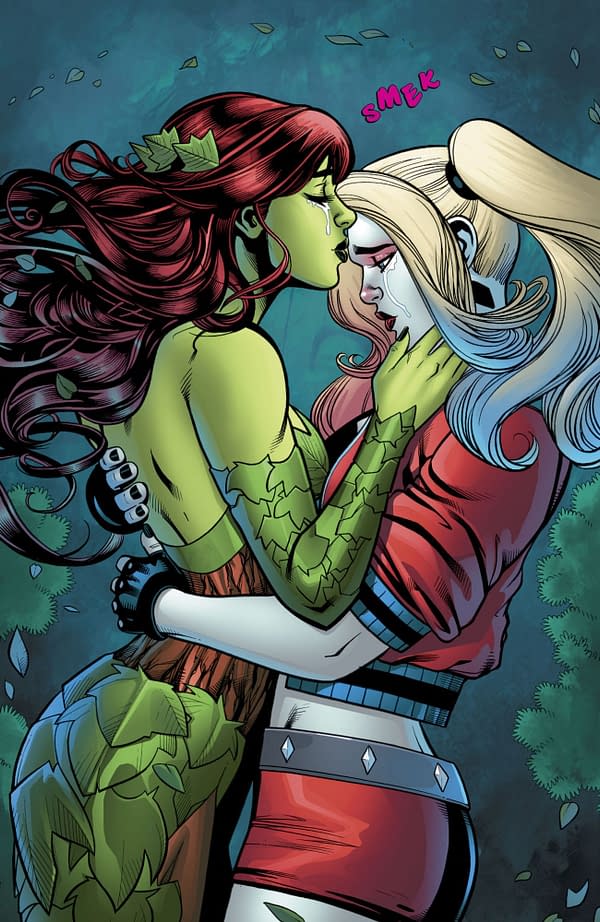 Well, Harley Quinn #74 ends with a very similar shot, but a very different pose indeed.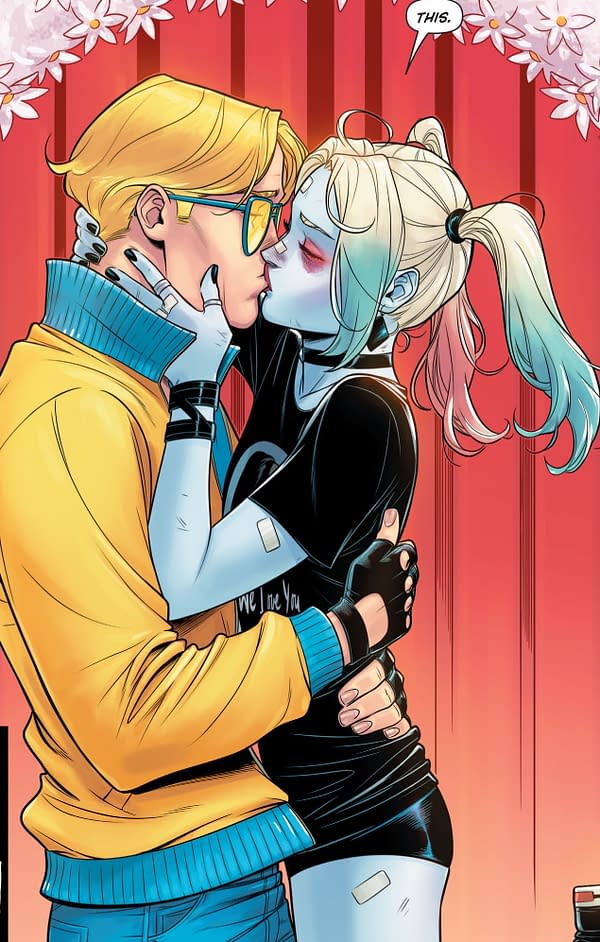 Happy… Pride, everyone?
HARLEY QUINN #74
(W) Sam Humphries (A) Sami Basri (CA) Guillem March
Harley Quinn's sojourn in L.A. has been full of tragedy and heartbreak, from the death of her friend to uncovering a deep web of moral compromise that'd make even the most sadistic Batman villain's stomach churn. In the epic finale to our story, Harley will come face to face with the person pulling the strings and learn who's out to see her fail!In Shops: Jul 087, 2020 SRP: $3.99