Mirka Andolfo New Cosplay Look for Harley Quinn in Black White & Red
The first issue of the digital DC Comics title Harley Quinn: Black, White and Red, Stjepan Sejic gave what many DC Comics fans were missing, a Poison Ivy and Harley Quinn moment together. Stjepan Sejic has been teasing a Poison Ivy Black Label series – or at least trying to get DC Comics to green light it, without joy. So he took the opportunity to sneak her in.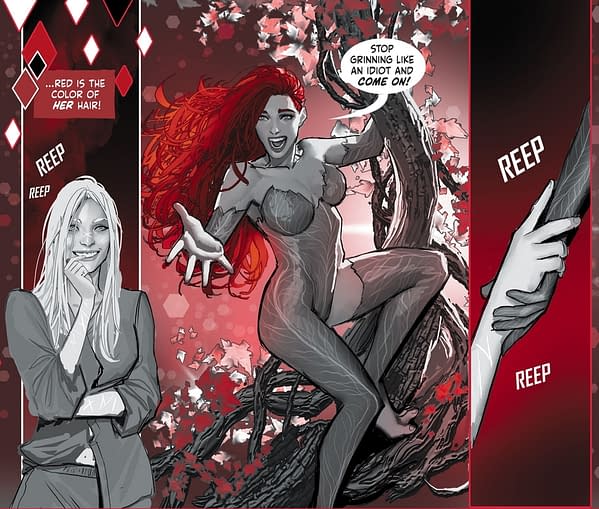 Reep indeed. But yeah issue sees a different creator take the lead. Issue 3 will have Saladin Ahmed and Javier Rodriguez, and issue 4 will have Tim Seeley and Juan Ferreyra. But issue 2, had Mirka Andolfo. Mirka has become quite the star of late, what with in-demand variant covers, and her adapted-into-English series Unnatural and Mercy at Image and Un/Sacred at Ablaze.
"Fashion Victim"
Harley is determined to steal back the spotlight by sabotaging Catwoman in style! When the two are challenged to model a new line of cutting-edge criminal couture, Harley accepts it as a contest of pride-but she'll have to swallow a tough pill when she learns her arrogance is all part of Selina's grand plan to pull off the ultimate high-profile heist on the catwalk.
And in doing so, gives Harley Quinn – and Catwoman – a brand new look. On a motorcycle too. So which will come first, cosplay (at whatever convention might exist going forward) or a DC Direct statue? Because you know you'll get both.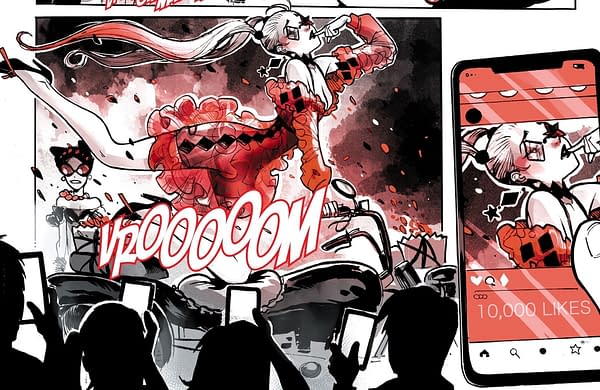 The off-the-shoulder number may have more of an elegant look, especially with those diamond-shaped glasses. And it's not the only costume that Harley – or indeed, Catwoman, wear during the strip in a competition to one-up each other for social media attention (not the usual behaviour for a cat burglar) but at least it will provide cospayers with ever more variations to choose from one we get to go back to comic conventions again.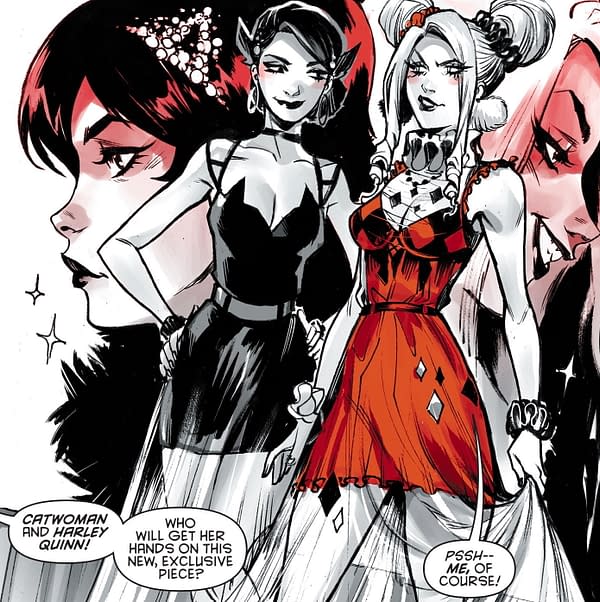 So… who will be first?