#notcomics
Boris Johnson, MP has just been elected by members of the Conservative and Unionist Party. And because the Conservatives, with support from the Democratic Unionist Party, have a (slim) majority in the House Of Commons, Boris Johnson will now be Prime Minister of Great Britain and Northern Ireland. The current Prime Minister, Theresa May, will resign her position to the Queen after tomorrow's Prime Minister's Question Time. And Boris Johnson will be Prime Minister.
A highly educated polymath, Boris Johnson has been a journalist, MP, two-term mayor of London, Foreign Secretary and TV personality. His politics and opinions have skewed all over the place over the years, and some of his more colourful columns have come back to haunt him, especially his rather slapdash use of racist phrases for throwaway gags.
He is also a serial adulterer, with six or more children as a result – the number is not exact. Recently that means for a row with his current girlfriend being splashed over the tabloids and broadsheets (he is still married) while another simultaneous tryst on the sofas of a popular West End restaurant was reported by Popbitch. Oh, and he once agreed to conspire to get a journalist beaten up, captured on tape.
Combined with criticism over many failed projects in London as mayor that cost millions, heavy criticism of putting British citizens in danger when Foreign Secretary through his clumsy use of language, and painting lies on the side of buses during the Brexit campaign (he was the most prominent Leaver and his support will have swung that referendum), there's plenty to criticise him for. But it never seems to stick, and he is masterful with the media, once engineering his getting 'stuck' on a zip line to draw media attention away from something he preferred they ignore – and onto him.
But, as the election happened today, a number of Americans have an intriguing take. Republicans and Trump-supporters are celebrating the election of Boris Johnson as Prime Minister. And Republicans and Clinton-supporters are bemoaning the same event.
But if you look at the policies they support and have supported, overall Boris Johnson is a centrist politician, who swings to the left of Hillary Clinton.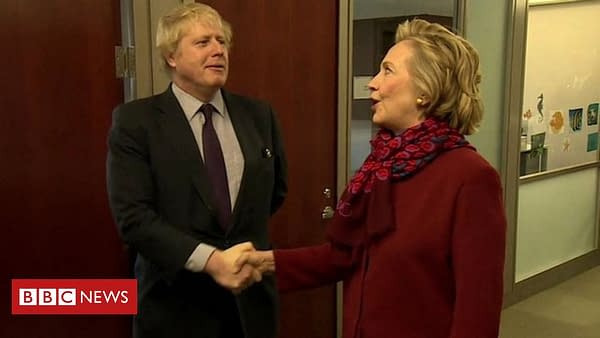 As we are very well aware in this country now, Brexit is not a left/right issue. When standing for election, Boris campaigned on increasing public borrowing to fund his planned programmes – some tax cuts but also increased public spending, and away from the fiscal conservativism of recent Prime Ministers. On many social issues, he is further to the left of Clinton, with probably similar foreign policy status and both prop-globalisation when it comes to economics. Boris may be slightly less of a warhawk than Clinton too. We'll see, he does swing like a weather vane a bit. But, generally, his is a fan of jaw-jaw over war-war. Much more say than Tony Blair, a previous Labour prime minister. In fact, he is probably closer to Tony Blair in many more ways politically than the media may portray.
But it demonstrates the different Overton windows that Britain and the United States see their politics through, and shows how it's harder to map one country's experiences onto the other, even when they speak the same language, have shared history and culture.
So whoever claims or rejects Boris for their politics, it seems more of a tribalist thing rather than seeing what the politicians in question actually stand for. Whether they do or not…
Will anyone tell Donald that, on US terms, his new best friend across the pond is a bit of a leftie?
Discuss below…
Congratulations @BorisJohnson on becoming the next Prime Minister of the United Kingston.

— Ivanka Trump (@IvankaTrump) July 23, 2019
You know, I live in Kingston, Ivanka. It's not that united…
Enjoyed this article? Share it!