The news is out! Brian Keene's new secret Marvel project, which you heard about first here on Bleeding Cool (pip pip), will be a new line of serialized stories featuring Marvel heroes and published by Serial Box. The project will features stories about characters including Thor, Black Widow, Black Panther, and Jessica Jones, and like past Serial Box projects, will likely consist of "seasons" of about 10-16 episodes, consumable as both ebooks or audiobooks, and sold individually or with a season pass subscription. Both text and audio versions come with a single purchase of $1.99 per episode.
Keene teased the big announcement yesterday on Twitter, but was unable to reveal the nature of the project until official PR hit. That happened this morning at various outlets, which revealed that Keene will join a writers room alongside Aaron Stewart-Ahn, Jay Edidin, and Yoon Ha Lee. This team will work on the first series, featuring Thor. Future stories and creative teams have not yet been revealed.
🚨SURPRISE🚨

We're having a grand time with @Marvel! https://t.co/sTbyMQbuMh

— Serial Box (@serialboxpub) February 28, 2019
"As is the norm on a property like this, I'm limited in what I can say, but this is my third project with Serial Box, and I love working with them," Keene told Bleeding Cool in an EX-X-XTREMELY EX-X-XCLUSIVE quote (so EX-X-XCLUSIVE). "They treat both their creators and their customers very well. I'm also excited to be working with the rest of the writing team. Aaron has brought that same gonzo, hardcore energy that was so present in MANDY to this project, and it's going to be fun to see that set loose in the Marvel Universe. And on a personal note, while it's cool to be writing Thor, I'm particularly jazzed to include some other characters that I don't think get enough love these days. And neither of them are Wolverine or Conan."
But what if both of them are Wolverine and Conan? Converine and Wolvernan debuts by Brian Keene confirmed? Hey, if it works for Hulkverines, why not try again?
Keene refused to comment on our speculation, which makes it seem most likely that we've gotten too close to the truth. No word yet on the release date, but we'll keep you posted in weekly installments of clickbait news articles.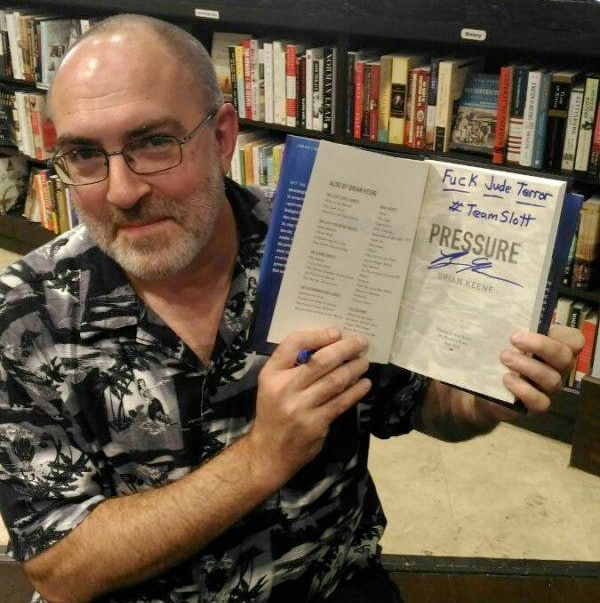 Update: Alex de Campi (!!!) revealed on Instagram that she will be the showrunner for all of the Serial Box titles, and that they will be available in Summer 2019: