How Did Bruce Wayne Kill Alfred Pennyworth? Batman #83 Spoilers
Pennyworth is by far and away the best adaptation of a comic book into a TV show to date. A crazy remix of Michael Caine's Alfie and The Ipcress Files with both The Prisoner and The Avengers TV shows, as well as an alternate history that has more in common with Joker than with Gotham (live grotesque executions on TV? Really?) and you're away. But also setting up a character who will do anything – including the ultimate in self-sacrifice – for the ones he loves, with a stiff upper lip and a sense of duty. One who is willing to serve – whether as an assassin or a butler. Or maybe a bit of both.
Today's Batman #83 gives us such a story from beyond the grave. We have previously looked at the death of Alfred as seen in the comics. First believing it was some kind of subterfuge (which maybe at one time it was, but things changed).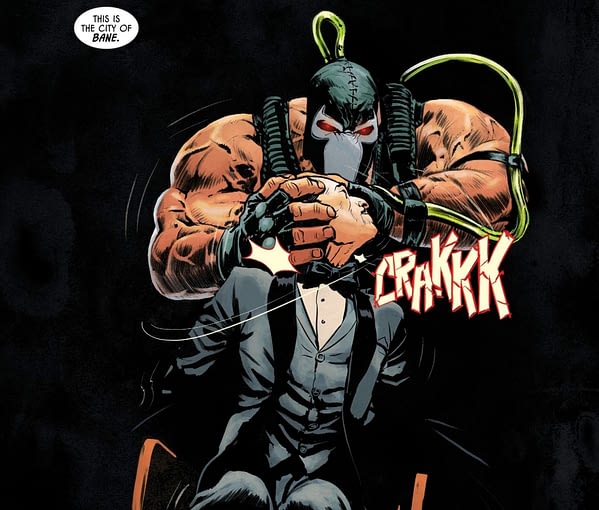 After what seems to have been a headstrong decision by Damian Wayne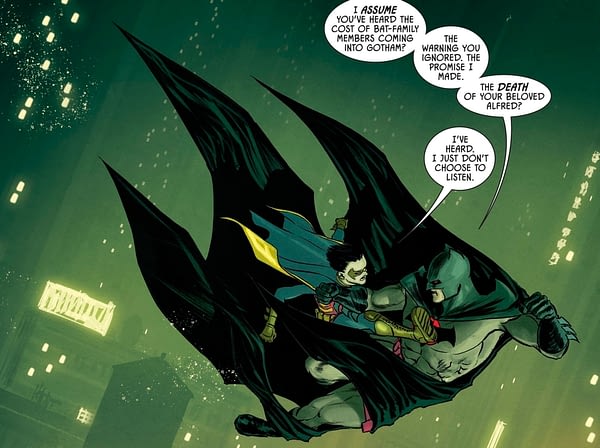 Despite the warnings.
With a Bruce Wayne who, overconfidentally believed everything was okay, Alfred-wise.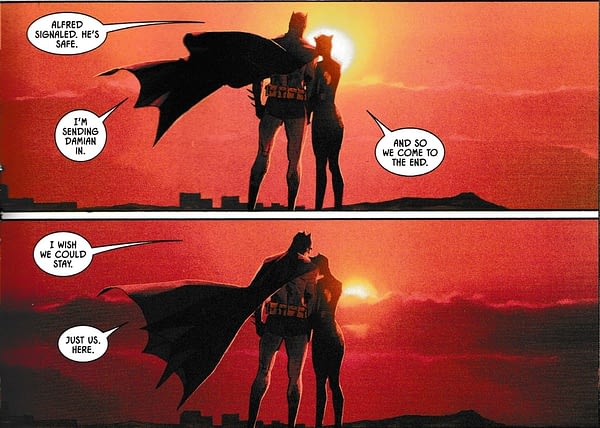 In today's Batman #83, we get the story from Alfred's perspective. First remembering how Bruce Wayne was after the death of his parents, and the belief that Bruce Wayne may take his own life. Something that back in Batman #12 we learnt more about,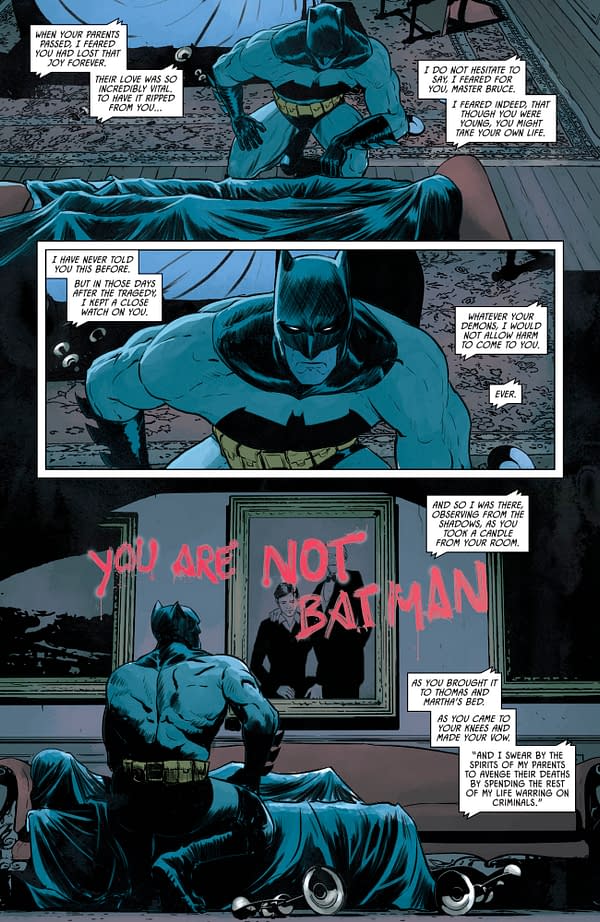 That vow first appeared in Detective Comics #33 back in 1940, from Bob Kane, Bill Finger and Jerry Robinson.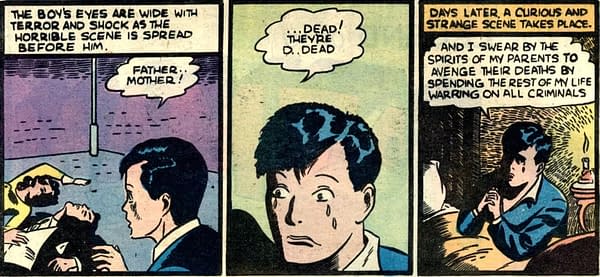 Seen again through the years, in Secret Origins #6 by Roy Thomas, Marshall Rogers, and Terry Austin from 1986.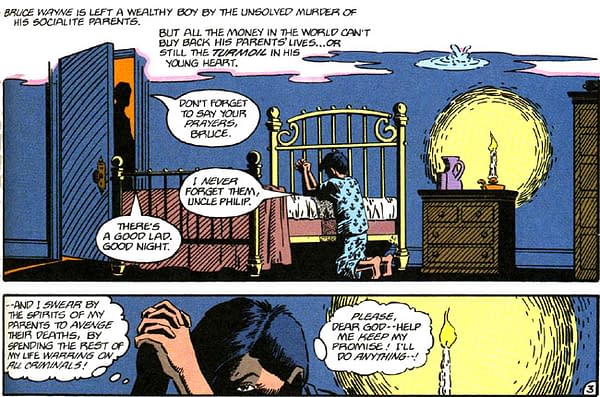 Reprised by the same art team in Batman: Dark Detective from 2005 by Steve Englehart, Marshall Rogers and Terry Austin: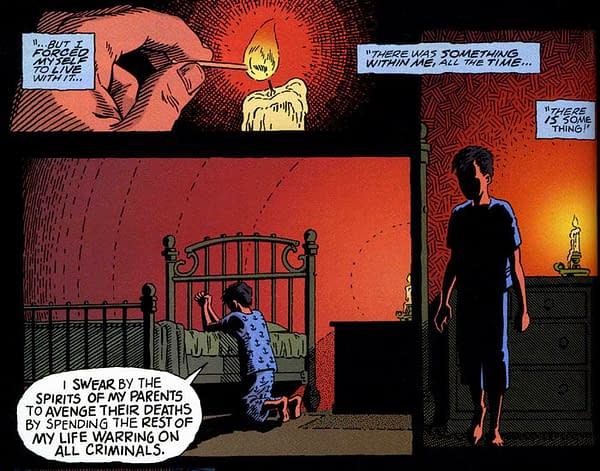 And then more recently in Batman #12 by Tom King and Mike Janin, which gave a new twist. That at the age of ten, Bruce Wayne prepared to commit suicide.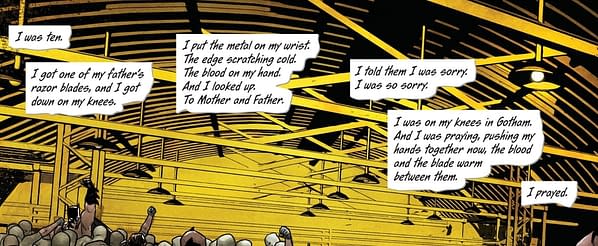 And that was the beginning of the prayer seen in the previous origin scenes. But he changed his mind and made a vow instead.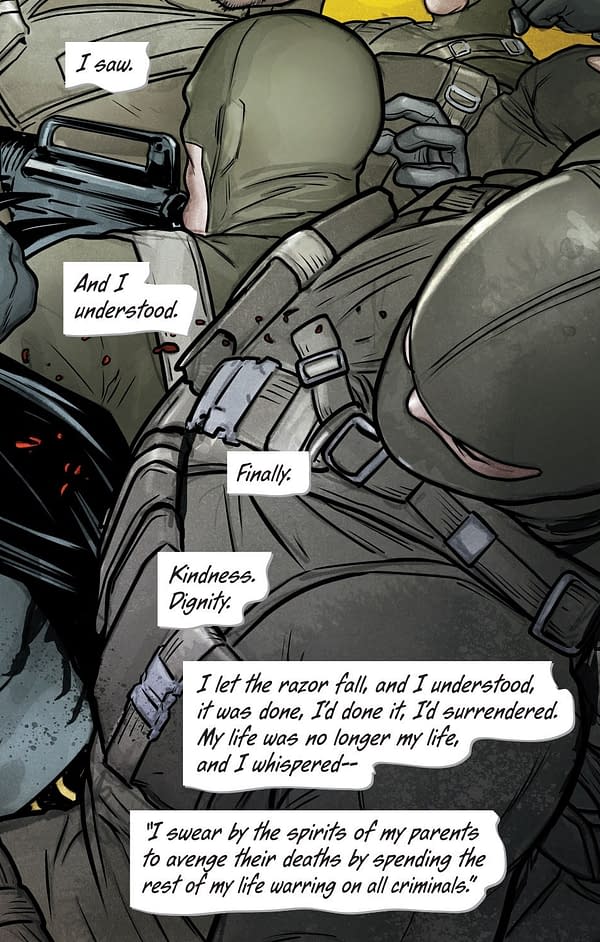 Repeatedly so.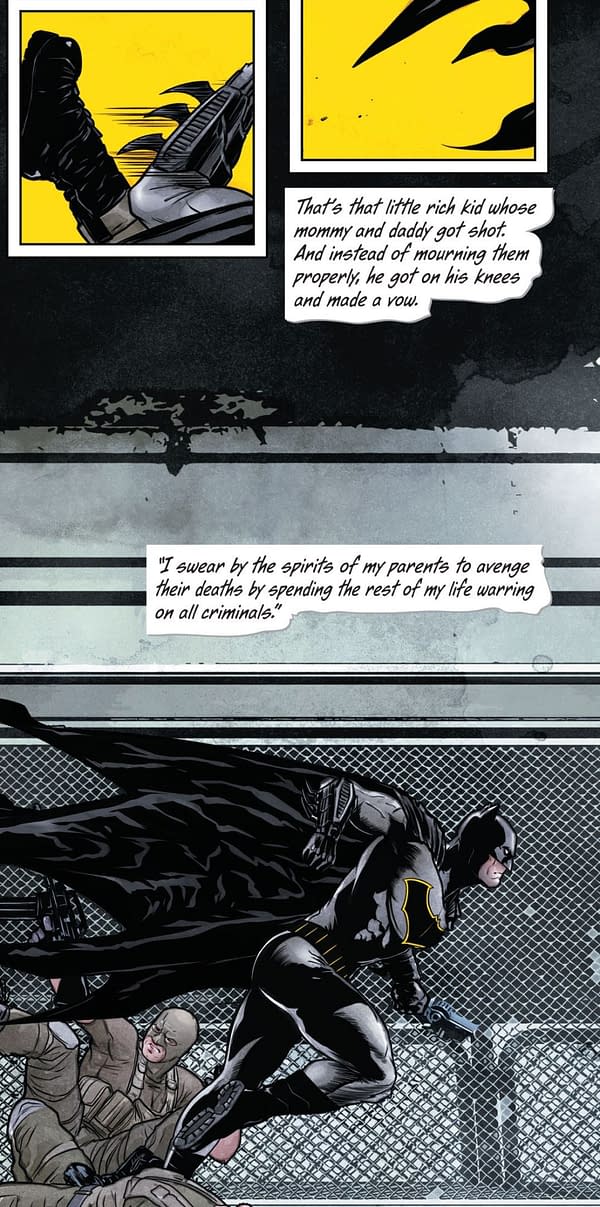 And it is that which the parallel-universe Thomas Wayne has previously seen as being a much longer suicide attempt. And that is what Bruce Wayne becoming the Batman is. Revenge, duty, a solemn vow, promise and prayer – but also an act of suicide. It is that which Thomas Wayne, apparently, is trying to take away from his now-surviving son Bruce Wayne.
But also an act that Alfred Pennyworth made, in order to get Batman to do what he knew he must. Alfred knew he would die – and that was okay. It was necessary. It was duty.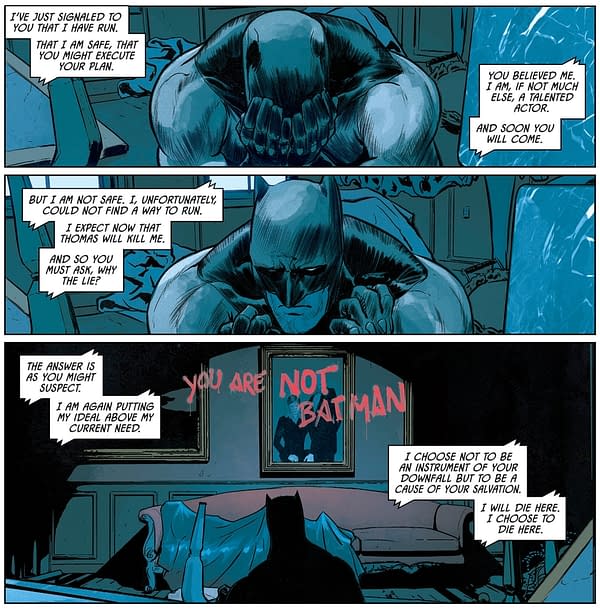 And in doing so, free the Bat…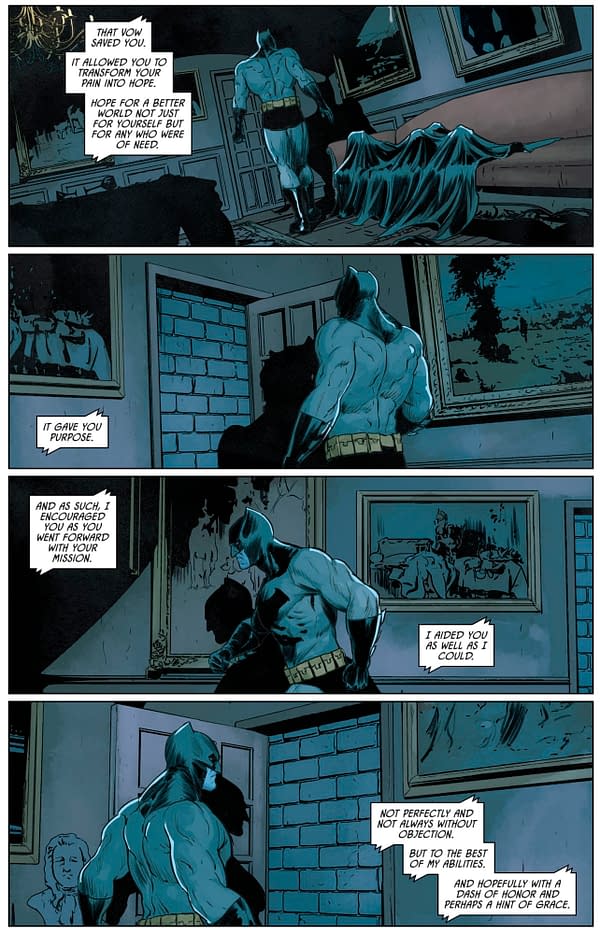 Batman #83 is published today by DC Comics.
BATMAN #83
(W) Tom King (A/CA) Mikel Janin
It's chapter nine of "City of Bane," and it's time for a reckoning in Gotham City! Thomas Wayne has joined forces with Bane, and that alliance threatens to throw a monkey wrench into Batman's plans. And as Bane's evil army begins to crumble, the Caped Crusader must face the real force behind it all. As the end of this epic tale grows near, Batman and his allies have a choice: let Bane stay in power and guarantee the city's survival, or risk everything to break free! In Shops: Nov 20, 2019 SRP: $3.99
For these and more comics semi-spoilers, why not visit a new Reddit group, r/ComicBookSpoilers…