By The Maker, What If the X-Men in House Of X… Aren't?
House Of X #1 by Jonathan Hickman and Pepe Larraz was published yesterday to much acclaim. We had a little early morning browse, but there's so much to more to unpack, discuss and argue about.
Such as whether or not this is Charles Xavier in the lead. He has turned against his dream of mutant and human integration, into this new reality of separation, isolation and acting like benevolent gods, ruling over humanity and treating them as they wish. Which is usually the bad guy's aim.
So what if is not Charles Xavier at all? The man wearing the big Cerebro helmet is presumed to be Charles Xavier, back from the dead in Fantomex's body as seen in Astonishing X-Men. But in House Of X #1, he is behaving – and looking – more like The Maker.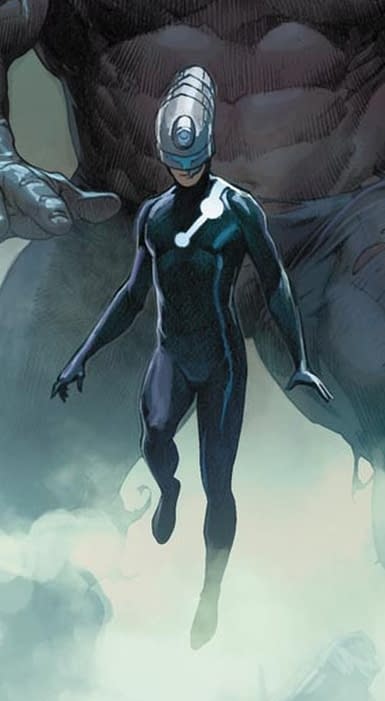 That's him. The Maker was the Ultimate Universe's version of Reed Richards, turned bad guy by Brian Bendis then renamed to this new identity by Jonathan Hickman, and since the events of the Secret Wars, messing around in the Marvel universe, usually under the thumb of Al Ewing. And as well as a love for heads-up-helmets, he has the same fey poses as the supposed Xavier in House Of X.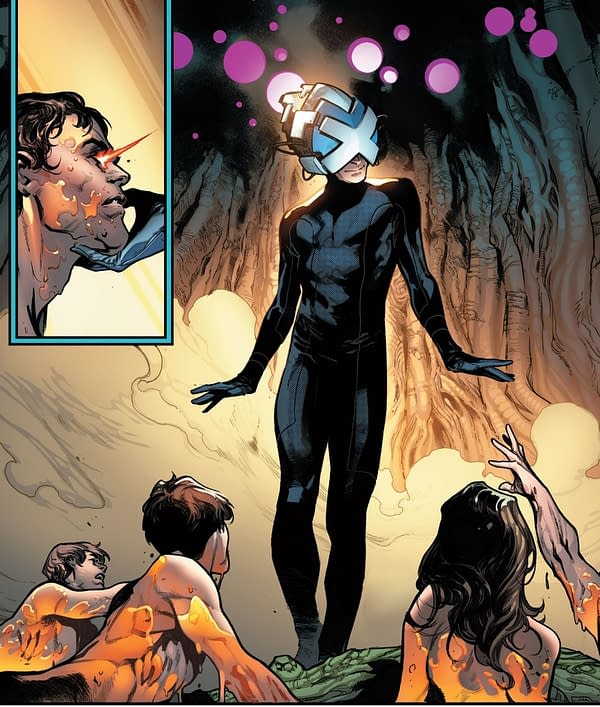 But wouldn't the other mutants recognise he wasn't Xavier, even only by his chin? And seem happy to go along with him even though his ideals have radically changed? Well, what if they are not the X-Men either? The issue does open with the supposed-Xavier bursting opening pods of people seemingly grown by Krakoa – and one of them has Cyclops style bursting eyeballs.

They're his X-Men. Literally?

Could they be linked into the world of Ex Nihilo et al from Hickman's Avengers, above? They had a thing for pod people too.. could The Maker be growing them in the Krakoan tumour space that even Krakoa is not aware of?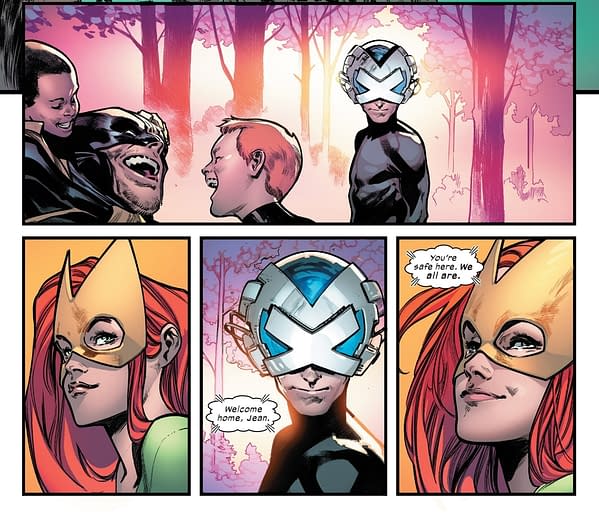 Might that also explain the teddy bear Wolverine? And how Cyclops got his eye back? And why Matthew Rosenberg et al were free to do whatever they wanted with the mutants before Hickman's new Dawn? Also remember, Fantomex has multiple brains… could Charles be in one and The Maker in another?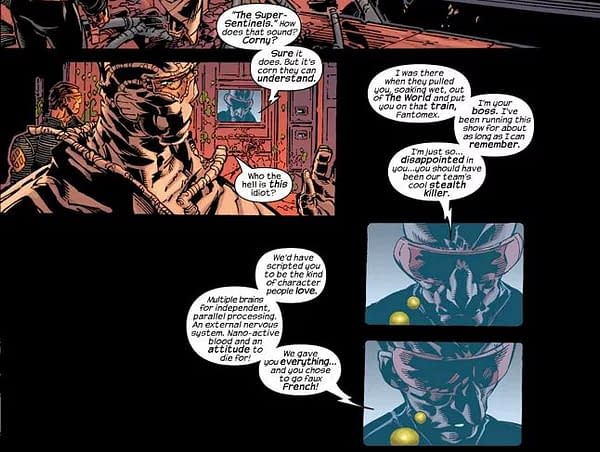 Fantomex was also able to build bodies too in The World… Anyway, this Professor fellow does seem to need to use Cerebro, and is only seen with helmet on… to access Charles' powers and keep him in check? Or even keep Jean Grey in check? The comic underlines that Jean Grey is an Omega Level Mutant for telepathy? But what if Cerebro is added to the recipe?
Just one of the many possibilities… and if true, where are the X-Men? Where is Xavier? And what does the Maker really want – and how does this tie in with Damage Control stealing all of the 616 Reed Richards tech?
We'll get into Sol's Hammer and the Master Mold later I think…
HOUSE OF X #1 (OF 6)
(W) Jonathan Hickman (A/CA) Pepe Larraz
FACE THE FUTURE! Superstar writer Jonathan Hickman (SECRET WARS, AVENGERS, FANTASTIC FOUR) takes the reins of the X-Men universe! Since the release of Uncanny X-Men #1, there have been four seminal moments in the history of the X-Men. Giant-Sized X-Men. X-Men. Age of Apocalypse. New X-Men. Four iconic series that introduced a new era for Marvel's mutants and revolutionized the X-Men. In House of X, Charles Xavier reveals his master plan for mutantkind…one that will bring mutants out of the shadow of mankind and into the light once more.
Rated T+In Shops: Jul 24, 2019
SRP: $5.99
Thanks to Aaron Meyers and Cameron Williams for some fine observations…