Will Romine writes for Bleeding Cool
Hello Friends!
I'm in San Diego now, 23 hours away from preview night. In my five years attending SDCC, I have learned one unchanging truth: you can't do it all. Oh sure, you could try, but the old pros will tell you to pick your one "can't miss" panel and plan the day around that. In an effort to protect their "can't miss" panel, people will go to extremes. I'm not talking about camping out for days in front of the convention center. Hell, if you're with the right group of people, that experience may rival anything that Hall H or Ballroom 20 could offer. I'm talking about coveting a panel so much that a mama grizzly protecting her cubs would have cause to say "Woah man! Let it go!" In 2010, a man stabbed another man in the eye over a seat. In 2012, a woman died running into oncoming traffic to hold her space in the Twilight panel line. With stories like these abound, we are quick to forget that this is a time for Whovians and Trekkies, Browncoats and Bronies, Cosplayers and LARPers to join hands and rejoice in our passions for the fiction that we love.
Enter Gimpy Jesus. Gimpy is a Redditor who faced a quandary. Comic Con tickets in hand, but no job or money, he realized that he could either A) sell his tickets and eat or B) attend SDCC. It's a decision that none of us would take lightly, and neither did Gimpy. So, he crowdsourced his dilemma to the fine folks at Comic Con Subreddit. See below.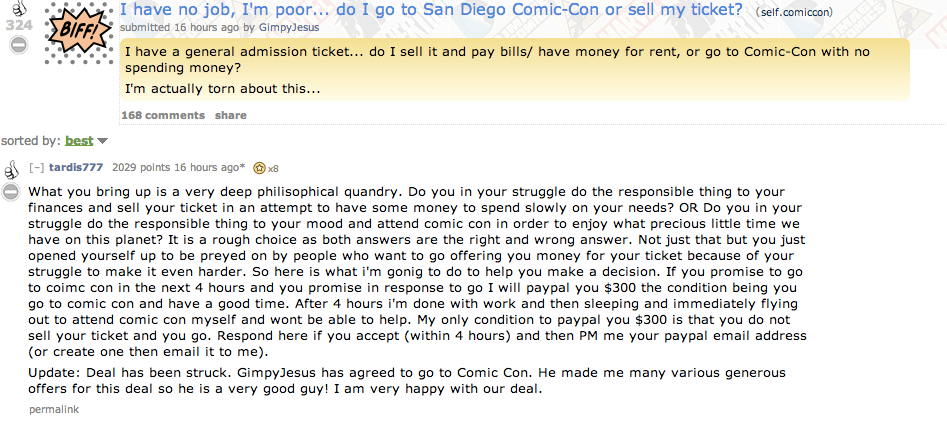 So here's to you, Tardis777. If I knew you, I'd kiss you. Probably best that Reddit affords a level of anonymity. Remember folks, whether it's SDCC or the other 360 days of the year, treat each other well.
I'll be reporting from SDCC all week. Follow me @notacomplainer for updates.
Enjoyed this article? Share it!