Captain America No More (Again)… But Could (MAJOR SPOILER) be the New Captain America?
Today's Captain America #12 sees Steve Rogers having to deal with everything that's been building up for the character over recent years. Replaced by a version of himself revealed to have been was raised by Hydra and a sleep agent all this time, who then took over the country in Secret Empire as the Supreme Commander, since he returned to the role, defeating his other self through a variety of Cosmic Cube trickery and punching really hard, he's been accused of murdering General Ross, imprisoned and shock-media has been massaged to present the idea that just one Steve Rogers was the Supreme Commander, and anything else is fake news from a corrupt mainstream media to a gullible public who'll believe any nonsense these days.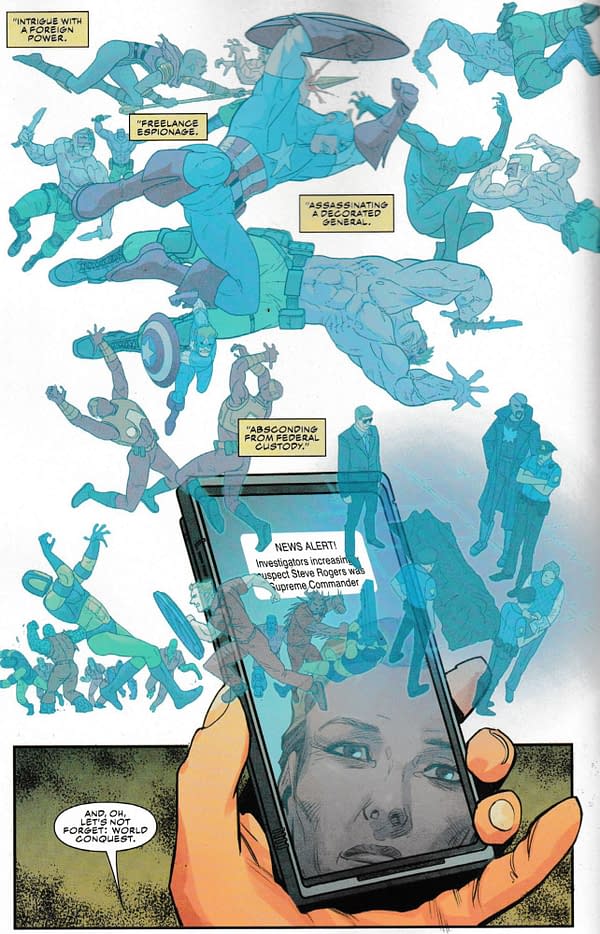 Which leads Steve Rogers to abandon his Captain America identity one more time. With the Steve Rogers Super-Soldier costume used the last time he abandoned his identity and saw first Bucky Barnes and then Sam Wilson take up the role.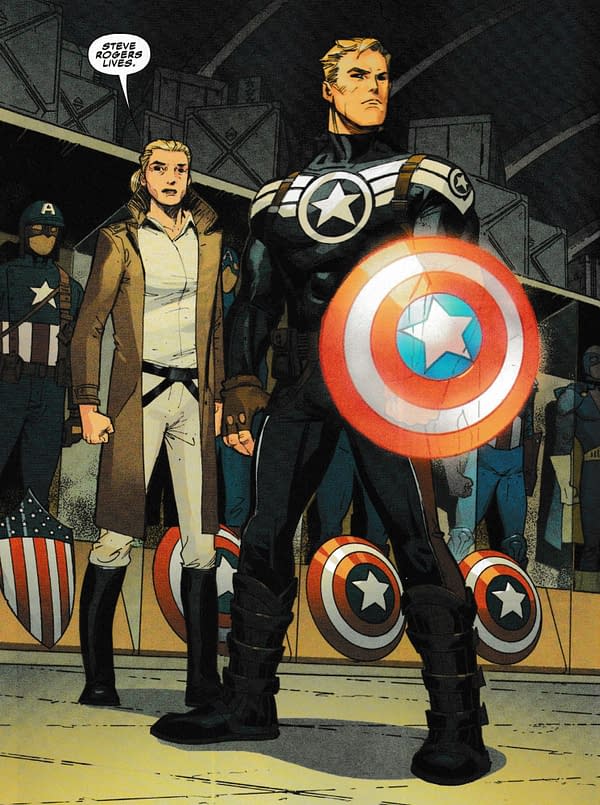 And to spend more time with Sharon Carter.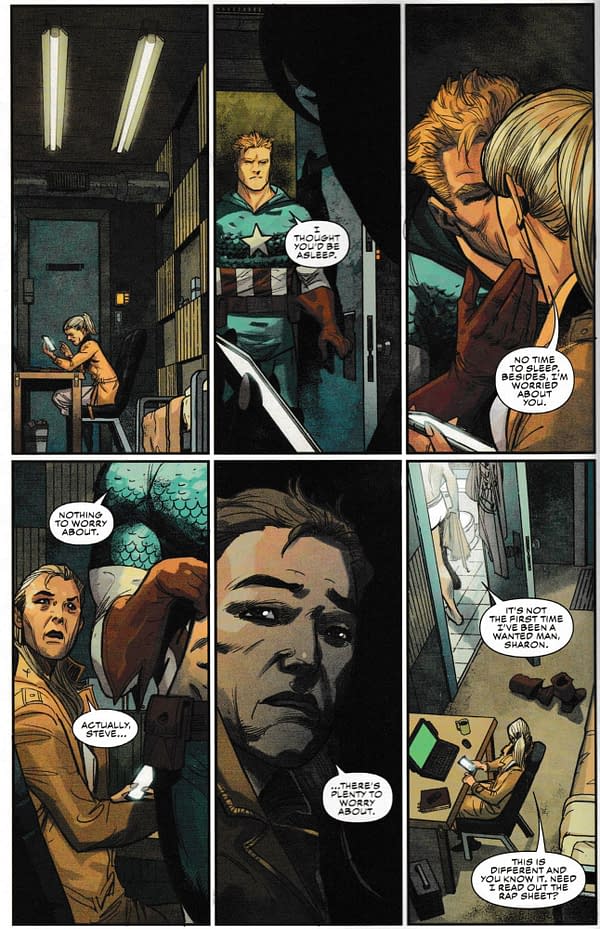 Remember, Sharon Carter was originally the younger sister of Captain America's wartime love, Peggy Carter. Marvel's sliding timescale, as World War Two became more distant, Sharon Carter became Peggy's niece. A relationship between the two was established, even as their ages began to fluctuate widely.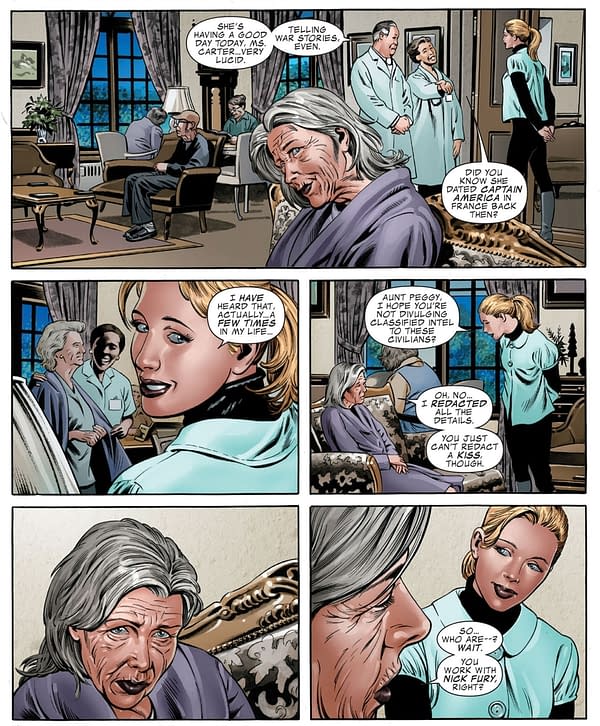 Peggy Carter suffered dementia, was placed into care and died, both Steve and Sharon attended her funeral.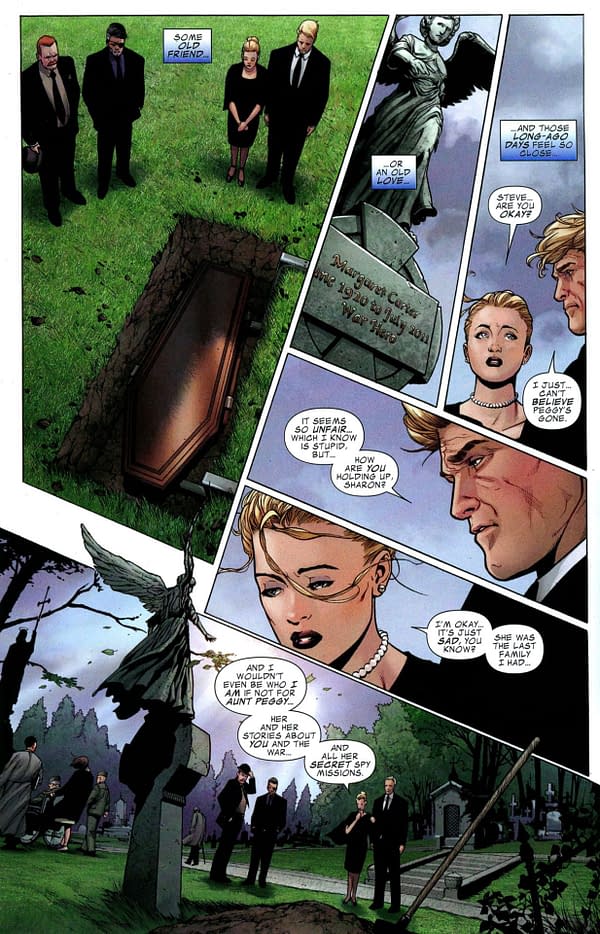 And now? Well, Marvel Comics does try to mirror movie continuity where they can. With Captain America giving up the shield and costume to Sam Wilson in the movies, could Marvel comics be going that way again as well? Or is there another solution?
Because today's Captain America #12 gets a post-credits scene of its own,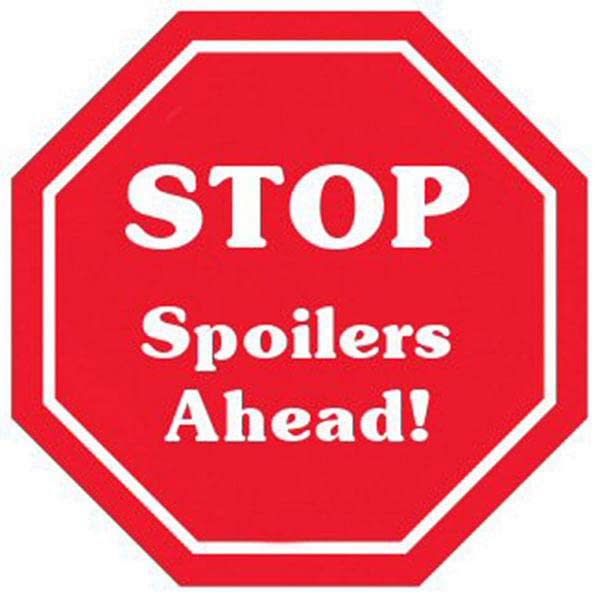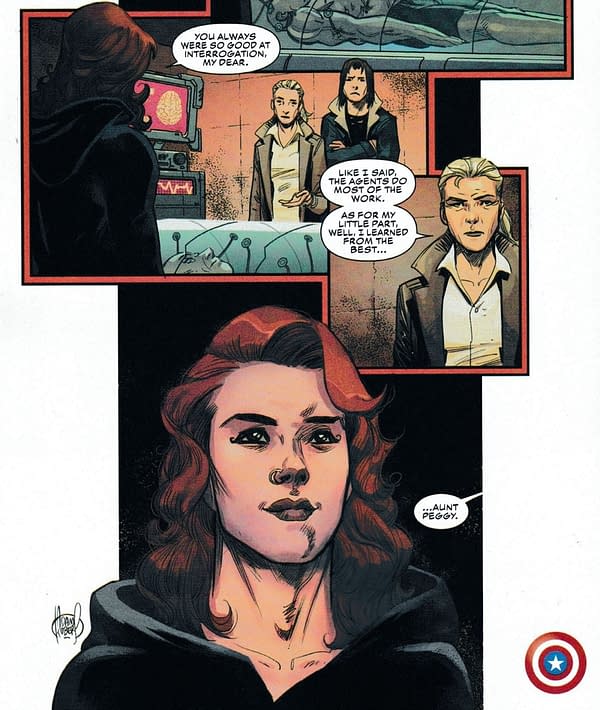 It is notable that Peggy Carter, played by Hayley Atwell, will appear in the first episode of the upcoming TV series What If? in which she receives the Super-Soldier Serum and becomes Captain America rather than Steve Rogers who instead becomes the new Iron Man. Will the comic books reflect this at all?
Basically, is this the beginning of Peggy Carter as Captain America, in the comic book universe, taking the place of Steve Rogers? And tying in with What If the TV series, keeping that story continuing?
CAPTAIN AMERICA #12
(W) Ta-Nehisi Coates (A) Adam Kubert (CA) Alex Ross
"CAPTAIN OF NOTHING" CONCLUDES!
Captain America is a fugitive! So Captain America must disappear! But that doesn't mean that Steve Rogers has to give up the fight to prove his innocence and bring the true murderer to justice! It's time for Cap to try something new!
Rated T+In Shops: Jul 31, 2019
SRP: $3.99