The new anthology series Carnage: Black, White And Blood, being published by Marvel Comics in March, has undergone a number of creative changes.
The first issue was solicited as being written by Donny Cates, Benjamin Percy and Tini Howard, and drawn by Sara Pichelli and Ken Lashley.
Now Marvel is telling retailers that the first issue will now drop Donny Cates in favour of Al Ewing, while adding John McCrea as an artist.
While the second issue was solicited as being written by Chip Zdarsky, Al Ewing and Ram V, with Marco Checchetto as an artist. As you might expect, Al Ewing has been switched with Donny Cates, and now drawn by Kyle Hotz and… Ram V? Is Ram making his artistic debut at Marvel? That's what they are telling retailers.
There is a similar switch around with the Curse Of The Man-Thing one-shots. Avengers: Curse Of The Man-Thing was solicited as drawn by Francesco Mobili, but Marvel told retailers it would now be drawn by Marco Fialla. But this week, Marvel has told retailers that Avengers: Curse Of The Man-Thing #1 would now be drawn by Francesco Mobili after all. And that Spider-Man: Curse Of The Man-Thing #1 is now drawn by Marco Fialla and not the previously solicited Alberto Foche.
We may get more changes to come, but that's the current state of affairs…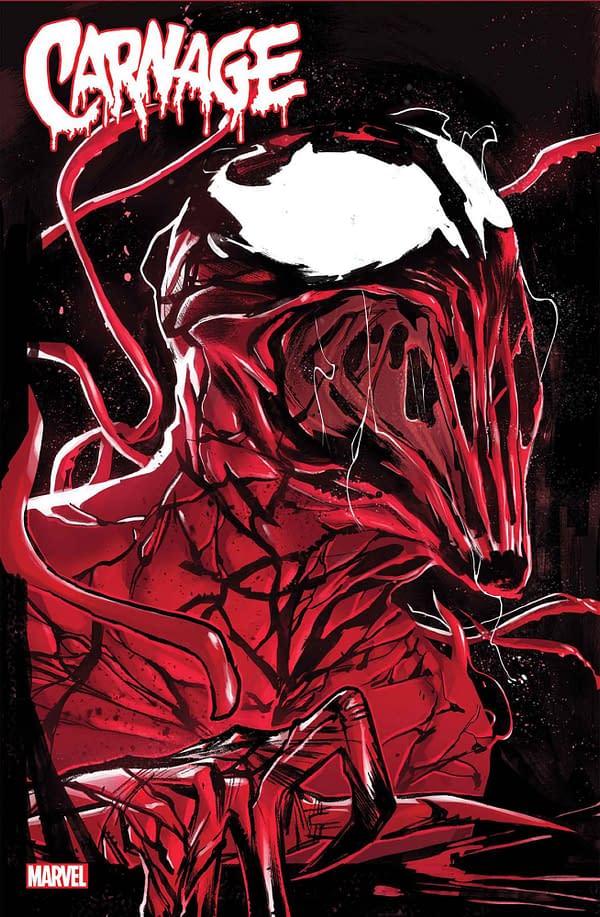 CARNAGE BLACK WHITE AND BLOOD #1 (OF 4)
MARVEL COMICS
JAN210599
(W) Al Ewing, Ben Percy, Tini Howard (A) Ken Lashley, John McCrea (A/CA) Sara Pichelli
CARNAGE RULES!
Witness the cerebral chaos caused by CARNAGE, brought to life by some of the greatest creators at Marvel!
But beware, True Believers, true to their titular character's namesake, these spine-chilling tales are not for the faint of heart and presented in BLACK, WHITE AND BLOOD!
Parental Advisory In Shops: Mar 24, 2021
SRP: $4.99

CARNAGE BLACK WHITE AND BLOOD #2 (OF 4)
MARVEL COMICS
FEB210560
(W) Chip Zdarsky, Donny Cates, Ram V. (A) Ram V., More (CA) Marco Checchetto
• The symbiotic slaughterfest continues, in the second installment of the stomach-churning study of ultraviolence called CARNAGE: BLACK, WHITE & BLOOD!
• FIRST! The DAREDEVIL team of Chip Zdarsky & Marco Checchetto lends their brutal sensibilities to an eye-popping story pitting Carnage against THE AMAZING SPIDER-MAN as you've never seen before!
• THEN! Al Ewing, who's brought a nigh-unthinkable level of body horror to the world of the IMMORTAL HULK, lends his terrifying talents to a tale – and if you thought his HULK stuff looked painful, you ain't ready for what he's done with Carnage!
• BUT WAIT! Because you readers out there in Mighty Marveldom deserve the best, we've brought comics heavyweight RAM V aboard for a story sure to make your skin crawl! Parental AdvisoryIn Shops: Apr 21, 2021 SRP: $4.99

AVENGERS CURSE MAN-THING #1
MARVEL COMICS
JAN210641
(W) Steve Orlando (A) Francesco Mobili (CA) Daniel Acuna
BURN AT THE TOUCH OF THE HARROWER!
Critically acclaimed writer Steve Orlando (Martian Manhunter, Batman, Wonder Woman) makes his Marvel debut with a blockbuster celebration of MAN-THING'S 50TH ANNIVERSARY! For decades, the Man-Thing has haunted the Florida Everglades. Now a new enemy has hijacked his body on a quest to take his incendiary abilities global! We wake to fear as gargantuan monoliths menace cities worldwide, with only the AVENGERS standing between the population of Earth and a planetwide inferno. Can they save Man-Thing in time to douse the fires? And does the man inside the thing, TED SALLIS, even want to be saved? Introducing a sensational new villain, THE HARROWER! PART 1 of 3! Parental Advisory In Shops: Mar 31, 2021 SRP: $4.99

SPIDER-MAN CURSE OF MAN-THING #1
MARVEL COMICS
FEB210573
(W) Steve Orlando (A) Marco Fialla (CA) Daniel Acuna
DISCOVER THE HORROR MAN-THING HIDES WITHIN, IF YOU DARE!
MAN-THING's supernatural abilities have been pirated thanks to HARROWER, a zealot intent on clearing humanity off the board so a new species can get a shot at the top. The world burns and fear is the accelerant! Meanwhile, SPIDER-MAN races across New York desperate to avert disaster and find the one man that just might be able to get through to Man-Thing…his former colleague CURT CONNORS, A.K.A. THE LIZARD! But deep within the Man-Thing's psyche, it's Spider-Man that discovers something he never expected: a devilish secret, and a doctor seeking redemption. Part 2 of 3! ONE-SHOT/Rated T+In Shops: Apr 28, 2021 SRP: $4.99
Enjoyed this article? Share it!