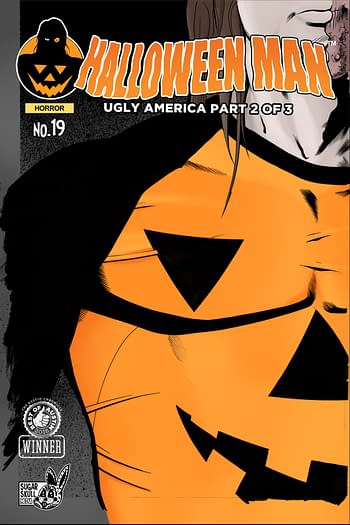 Drew Edwards is writer of the long-running underground comic series Halloween Man and winner of the 2018 Best of Austin Award (and 2019 nominee) from the Austin Chronicle. He's launching a new arc of the ongoing Halloween Man series from Sugar Skull Media starting this month with Issue #18, a set of stand-alones called "Halloween Man: Ugly America." The arc is a satirical look that calls to mind the famed Swamp Thing series "American Gothic," Alan Moore's dark exploration of the highways and byways of America. In "Ugly America," Halloween Man brushes up against angry citizens out to summon demons and takes on a school shooter in a frightening, not-for-the-faint-of-heart issue.
Halloween Man has been a remarkably resilient indy comic. Edwards created the series, about a revived, flesh-eating zombie named Solomon Hitch, with tongue firmly in cheek, as the character roams about the fictional, future-Dallas-like Solar City, mainly killing bad guys that he can eat. The series has a Cerebus-like penchant for featuring characters that are just this side of recognizable, allowing Edwards to comment on phenomena like the Fantastic Four and Doctor Strange. Classic stories also come in, such as in the miniseries "Halloween Man vs Invisible Man," in which HG Wells' famous creation is on the loose and terrorizing Solar City's leather district. But Halloween Man has started to draw more attention in recent years as the series has subtly (sometimes not-so-subtly) taken on current political themes, such as when he had Solomon's lady love, the distaff-Doc-Savage-like scientist adventurer Lucy Chaplin, suddenly be transformed into a plus-size hero and stay that way. With raygun tech and an eye towards inclusiveness—and a classic 80s-style pace—the series plays with darkness while retaining a strangely sunny disposition for a series about a zombie.
In the interview, we talked about pushback Edwards has received, the need for comics to comment on the life around us, and changes in the industry wrought by the digital revolution.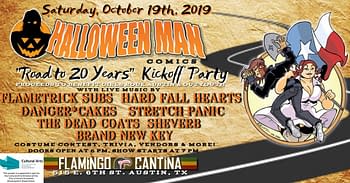 Listen here:
Listen on YouTube:
Castle Talk Podcast Links:
Join us over on Facebook to chime in. Or on Twitter.
The show is hosted here. Get our RSS Feed. Subscribe at iTunes. Listen on Stitcher. Or on YouTube.
The Team: Hosted by Jason Henderson, editor of the Castle of Horror Anthology and Young Captain Nemo, and creator of the HarperTeen novel series Alex Van Helsing.
Enjoyed this article? Share it!