Announced at the Lion Forge panel at ECCC, Managing director of Lion Forge Comics, David Steward II had an idea for a comic. And coincidentally, happened to be managing director of a comic publisher. Handy that.
Which is how Cellies is a new series by Dave Scheidt of Aw Yeah Comics, Wrapped Up and Trolls, and Joe Flood, artist on Hellcity and Disney's Pirates Of The Caribbean comic. Set in a mobile phone shop about a launch that goes very very wrong.
It's the eve of the Latest hot new phone release and the crew at Jog Mobile is getting geared up. There's a group—a mob, really—of impatient customers waiting for the latest smartphone. Devin, Christian, Rey, Jerry, and the rest of the Jog Mobile team are prepping for the new release when they discover these new phones might not be as awesome as they'd thought, even if they do have a twenty-megapixel camera (perfect for Instagram selfies! #retaillife). When the midnight release doesn't go as planned, how will the staff keep the angry customers under control?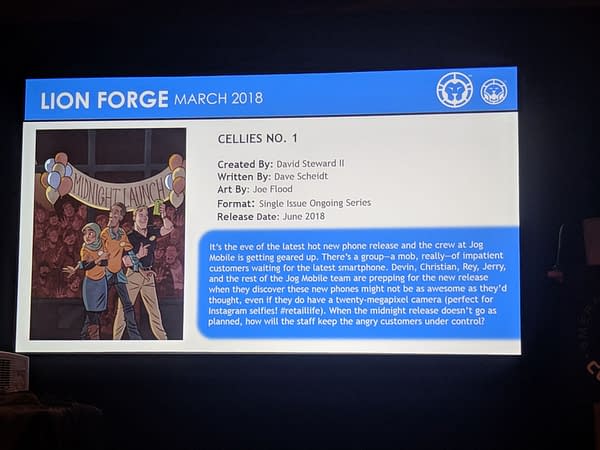 Coming out in June.
The presences or not of an owl tattoo on anyone's back has not, as yet, been ascertained.
Enjoyed this article? Share it!