Dealing with Childhood Trauma: Dodo, a Review
We deal with stress in different ways. Some people work out, some people go shopping, others do less productive things. In the case of six-year-old Laila, she befriends a dodo named Ralph.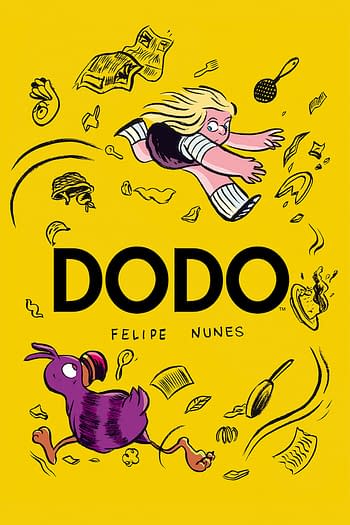 In Laila's world, things aren't easy. Her parents are splitting up, she's currently not in school with her friends, and it's clear to see she feels isolated and with no way of knowing how to deal with her own internal conflict. Her mother is trying her best, and her father is mostly absent. To a child of any age this can be traumatic. Without anyone to talk to, Laila's life is in chaos.
While people-watching in the local park one day, she spots a dodo who is almost immediately drawn to her. The dodo is Laila's escape from her own reality; a way for her to deal with the stress that's in her life. The bird also represents the chaos in her life, as he destroys the world around her. This book is incredibly charming but also incredibly sad. There are a lot of layers in this book, which I don't really want to give away.
Writer and illustrator Felipe Nunes creates a beautiful world through the eyes of a six-year-old, with enough cartoon charm to keep the reader in check. It's easy to be pulled in here. We've all experienced something in our lives, and we've all had our own dodos to fight with. Mike Fiorentino's lettering is exceptional too — he really know how to properly convey tone in what the characters are saying.
This is an excellent book from KaBOOM!, and you should absolutely pick it up.