Coliseum Of Comics Celebrates Its 40th Anniversary With Frank Miller
Florida's Coliseum Of Comics comic book chain celebrates their fortieth anniversary today, and this weekend Frank Miller and Dan DiDio will pop by for cake.
---
Today sees the Florida comic book chain Coliseum Of Comics celebrates its fortieth anniversary. It started with Phil Boyle, riding his bike to a half-dozen grocery stores, drug stores, and mini-marts to get his week's worth of comic books at 35 cents a book. Phil was a DC fan, reading the adventures of Batman, Superman, and the Legion of Super-Heroes.
Now, so many years down the road, Boyle is going to reach a milestone that few comic sellers get to see. The flagship Coliseum of Comics store, now located in a 2,800-square-foot location near the Mall of Millenia, was opened forty years ago.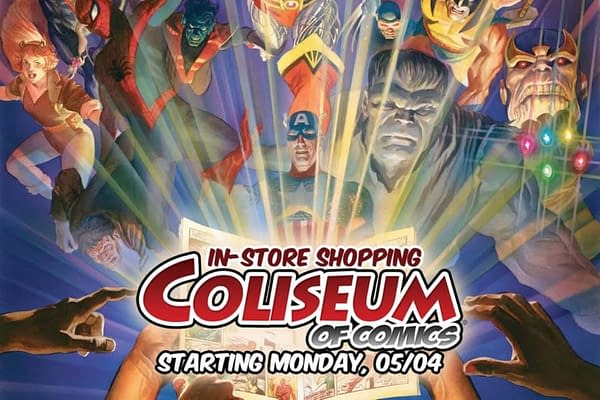 The Coliseum of Comics family now has nine Florida locations under the Boyle banner, with stores in Orlando, Kissimmee, Lakeland, Gainesville, Tampa, and Jacksonville, and two further affiliate stores in Orlando and Clermont. The stores in the chain have moved far beyond selling just comic books, each store does a brisk business in collectible card games, statues, collectibles, toys, Funko, and board and Pokemon. Stores in Kissimmee, Gainesville and Jacksonville even provide dedicated space for playing card, miniature, role playing, and board games.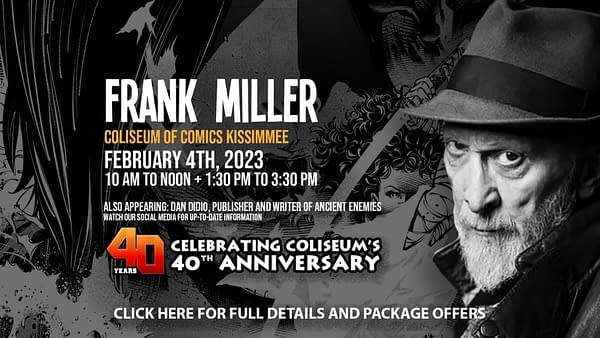 Throughout the month of February, Coliseum stores will be celebrating with special appearances – starting at the Kissimmee location on Saturday, February 4th, with legendary comic writer and artist Frank Miller, accompanied by former DC Comics publisher and current publisher of Frank MiIller Presents, Dan DiDio.
"Having Frank Miller – an absolute comic legend – do a signing at one of my stores is a dream come true," Boyle said. "Miller was instrumental in creating a new look for comics with his award-winning runs on Daredevil, Batman, and Sin City – such that many current artists look to those works for inspiration and guidance. There's not a bigger name in the history of comics who is still making appearances!"
February 11th, Superbowl Eve, will see the unveiling of a large recently-purchased collection filled with key Silver Age issues and vintage collectibles. The month will wrap up on February 26th with an appearance at Coliseum Millenia by writer, artist, and Witchblade co-creator Brian Haberlin. Haberlin is the artist on four Coliseum exclusive covers for Image Comics titles shipping in February, including his new book, Last Barbarians. Coliseum stores will also be selling a limited run of throwback t-shirts featuring the logo from the chain's original apparel.
Happy birthday Phil!