Great Comics and Original Art Up For Auction Right Now on Comic Connect Comic Connect has a wonderful comic auction going on right now with the kinds of books and original art that will make your head spin. Whenever they have one of these type auctions over there, it not only is fun to sift through all of the listings, but to see how much the auctions end at. This particular one is chock-full of key books, like say the 5 copies of Amazing Fantasy #15 in the auction. It is hard to top the main event of the auction, a 9.2 CGC copy of that book.
Comic Connect Amazing Fantasy #15 CGC 9.2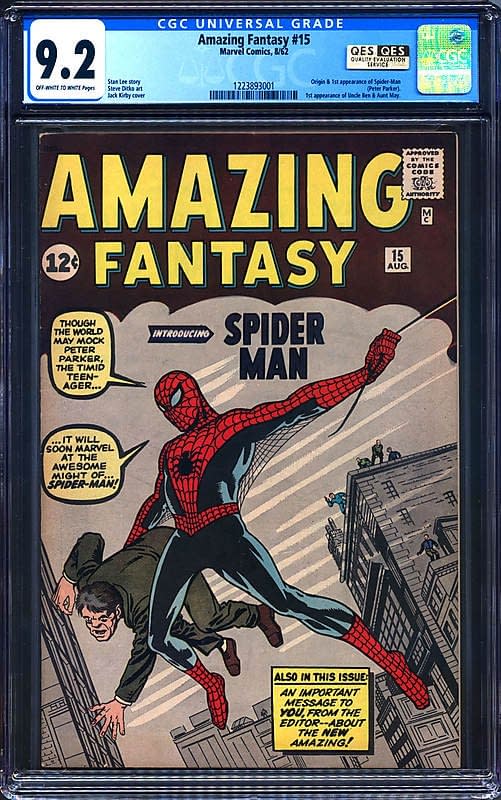 This is the Silver Age equivalent of Action Comics #1: a historic, game-changing key issue that acts as a pivot point from what came before, and what came after. The creation of Stan Lee and Steve Ditko, this radical new concept featured a passive, neurotic, everyman hero; an unusually emotionally charged origin story touching on issues of mortality and family tragedy; a worldview grounded solidly in a real, recognizable universe obviously our own; and open-ended storytelling that rewarded close attention and regular readership. This milestone has also proven to be the success story of comics investment, growing rapidly and unstoppably in value and becoming one of the few completely bulletproof investments in recent times.
Amazing Fantasy #15 has proven time and time again to be one of the most prudent ventures in comic collecting. The issue's availability and demand keep Spidey fans coming back for higher and higher grade copies. The striking colors and iconic design on this cover look truly fantastic. This copy is as fresh as the day it was bought at some local newsstand or drug store, encapsulating the groundbreaking material contained within its pages.
There is also a bunch of copies of Amazing Spider-Man #1, along with early issues of Spidey, Action Comics, Adventure Comics, All Star Comics #3, All Winners Comics #12, and tons of first appearances and such.
Comic Connect Also Has Art Pages…Including Jack Kirby
An amazing find, this page of Jack Kirby art is from the second Fantastic Four annual, and features tons of shots of Thing, and a panel featuring the whole Fab Four climbing into the Fantasticar! Could there be a better page to own?

The page comes framed with an image of Jack "The King" Kirby posing with a pair of young fans, and is signed by a roster of Marvel royalty. From the beloved second FF annual, it features not only a smorgasbord of vintage Thing panels, including our boy Ben handily wrecking a classic car, but also the original FF lineup, PLUS the Fantasticar! Your 10-year-old self wants you to have this precious (and awesome) gift, one that can't help but palpitate the hearts of any true Marvel-ite-iac.
Wouldya look at the hands that this page has passed through over the years — Neal Adams, Gene Colan, John Buscema, Marie Severin, John Romita, Marv Wolfman, Len Wein, and even Stan "The Man" Lee, all have signed this incredible piece of Marvel history. Original Silver Age comic art can be a solid investment, sure, but it's incredible pieces like this that get the fanboy in any collector all giddy, and transform collectible investments into treasured heirlooms. And, yes, it's even more awesome in person.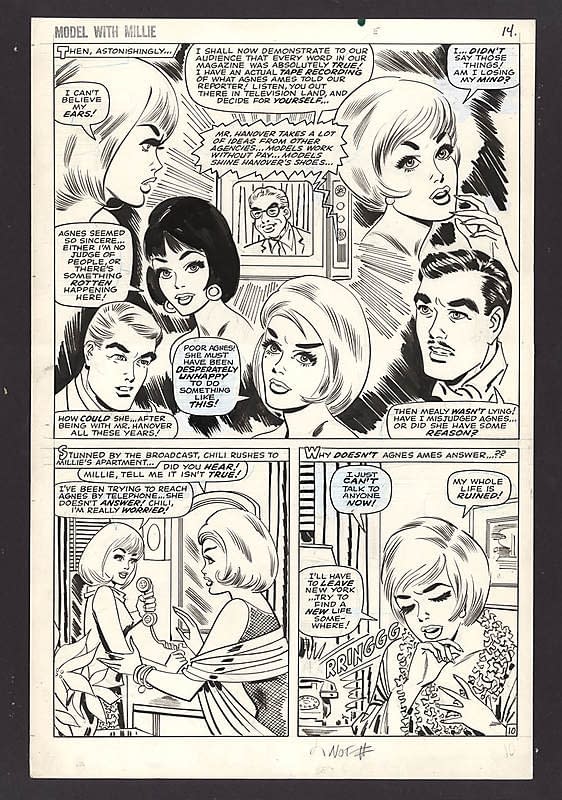 Other awesome art includes Wizards of the Coast trading card art, Tarzan art pages, Marvel and DC Comics art pages, and even comic strip pages. One of the other cooler pages is a Stan Goldberg Model With Millie page from issue #10, seen above.
These auctions and many more all end on Comic Connect today, so make sure to go here, take a look around at the awesomeness, and if you can afford it- bid!