Yesterday, Bleeding Cool ran an article that the Lakes Comic Art Festival taking place in Kendal this weekend had issued a "statement of regret" regarding statements they had made directed at comics writer, critic and publisher Zainab Akhtar and the concerns she had expressed regarding the racial makeup of guests at the show. The responses were considered so offensive that a number of comic book publishers and creators announced they were pulling out of the show entirely. They included John Allison, Lidia Wysocki and Jade Sarson, 
The response we ran, however, was demonstrably not an apology. This then followed – but arguably wasn't an apology either.
https://twitter.com/comicartfest/status/917506772809715712
As a result, more people are pulling out of exhibiting or attending, including Dan Berry, Rufus Dayglo and Avery Hill Publishing.
Until they apologise properly to @comicsandcola I don't think I can attend this year.

— Dan Berry (@thingsbydan) October 9, 2017
We've withdrawn from LICAF due to our concerns over the reaction to criticisms by Zainab Akhtar on the lack of racial & religious diversity.

— Avery Hill (@AveryHillPubl) October 9, 2017
We will not allow our creators or AHP to be represented by the public statements we've seen in response from festival organisers.

— Avery Hill (@AveryHillPubl) October 9, 2017
Here's where I am on the @comicartfest / @comicsandcola thing; https://t.co/pGPhsqRfrO Sorry I couldn't do more.

— Dan Berry (@thingsbydan) October 10, 2017
Sorry to announce my cancellation @comicartfest. @comicsandcola owed an apology I believe. Hope they'll fix future events and address issues

— RUFUS DAYGLO (@RUFUS_DAYGLO) October 9, 2017
Pretty much on the same page. I really wanted to attend and have had to forfeit expensive tickets etc. But solidarity is more important.

— RUFUS DAYGLO (@RUFUS_DAYGLO) October 10, 2017
I won't be going to @comicartfest this year. You had a chance to apologise properly and you blew it. I'll spend my money elsewhere.

— Every Life I Ever Lived (@robinwscott) October 9, 2017
we were extremely disappointed in the festival's issued statement and will not be participating in the future unless real changes are made.

— ⚠️ eve g ⚠️ (@evegwood) October 10, 2017
https://twitter.com/capitalette/status/917710575484002304
this is not an apology, there should be no onus on Z to do anything, just say you are sorry for the harm done

— John McCrea @ home, no gardening it's pissing down (@mccreaman) October 10, 2017
Others are not.
Sorry to read some people are pulling out of the @comicartfest this year. I'm still going.

— Darryl Cunningham (@AcmeDarryl) October 9, 2017
While others who still be attending are showing their support in other ways, retweeting Akhtar's recent feature on 50 Modern Comics.
While the show has been publicising the comics and projects being debuted at the show, including the Spirit broadsheet I featured last month. The Spirit Centenary Newspaper features a cover by Becky Cloonan and work by Brendan McCarthy, Ed Brubaker and Sean Phillips, Graham Dury and Simon Thorp, Chris Samnee, John M Burns, Sergio Aragonés, Peter Milligan and Duncan Fegredo, Seth, Jason Latour, Jonathan Ross and Bryan Hitch, and Michael Cho. The project, the brainchild of comics academic John McShane, was edited by Sean Phillips and was realised with support from IDW Publishing and Kitchen Sink Press publisher Denis Kitchen. Proceeds from sales will go to LICAF's Creators' Development Fund.
They are also debuting Grandville: Force Majeure by Festival Patron Bryan Talbot (published by Jonathan Cape), Graphic Science by Darryl Cunningham (Myriad Editions); and the Festival's very own tribute to comics legend Will Eisner to mark his centenary,
Festival partner Page 45, the award-winning Nottingham-based comic shop, will be offering all three new titles in the Georgian Room of the Comixology-sponsored Comics Clock Tower, where Festival Patron Emma Vieceli will be signing her brand-new Young Adult LGBT graphic novel BREAKS (co-created with Malin Ryden) on both Saturday and Sunday morning.
Dozens of comic creators will be selling new independently-created comics, artwork and more, throughout the weekend in the Clock Tower, including Marc Jackson, who's new comic Here Comes Cat Stevens! was commissioned by LICAF; and Australian comic artist Bruce Mutard, who brings his new work Post Traumatic with him, along with a number of other antipodean creators as part of a Caravan of Comics.
They also want to highlight the annual Festival anthology edited by Dan Berry, assembling comic stories created during the Festival's Cartoon Cafe Challenge sponsored by Wacom over the weekend and printed within 24 hours of creation.
Although it seems that they will have to find someone other than Berry to assemble it now.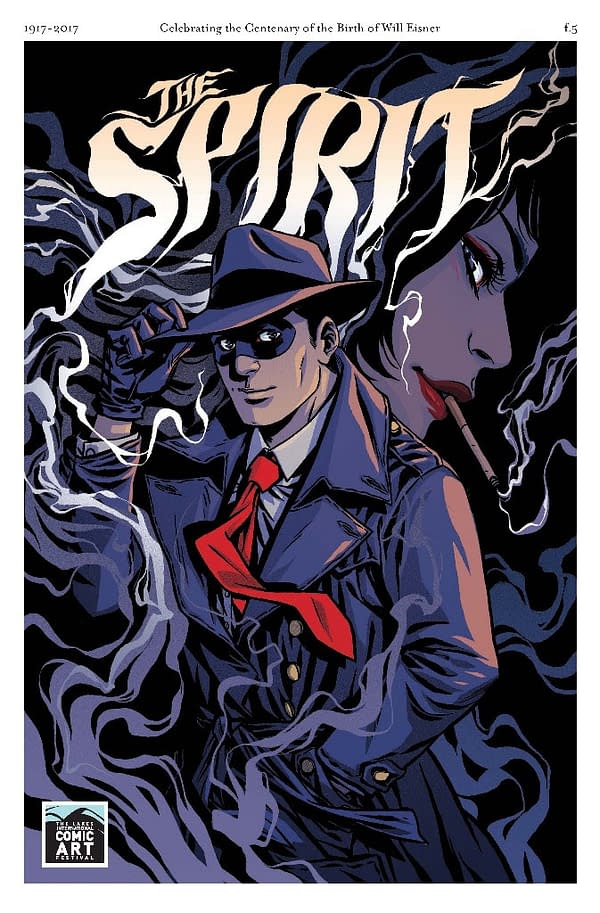 Enjoyed this article? Share it!