Rod Lamberti of Rodman Comics writes weekly for Bleeding Cool. Find previous columns here. Here is a follow up to his previous 17 hot comics column he wrote. Now up to 21 hot comics….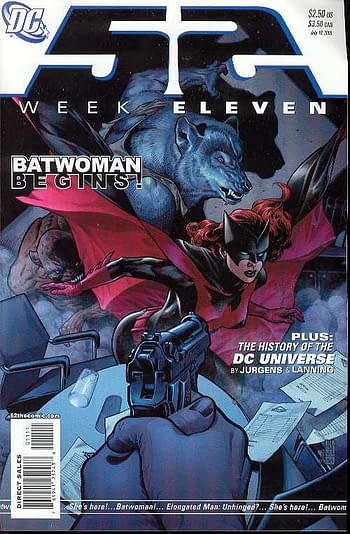 As stated in the previous column, prices can change quickly. I had a person call and put Major X issue 2 on hold and never picked it up. I looked online and seen within a few weeks it had dropped. I put the issue back and now, of course, it is still here as I type this up. That said with current comic runs often having a low print run a comic can easily become hot.
Movies and TV shows currently help at times drive up demand for a comic. I dug out of the back room our unsold copies of Captain America issue 25 from vol 7 thanks to the latest Marvel movie. Yes, volume 7. That was back in 2014. Weeks ago when Avengers Endgame first came out Captain America #25 looks like it was going for roughly $25. Now it looks to be going for less. I threw a few online and hopefully will get a decent amount for them.
Do you have any of these in your collection of comics?
52 Week 11 1st Kate Kane as Batwoman $30. Batwoman is getting her own TV show.
Amazing Spider-Man #194 1st Black Cat $200. Black Cat was rumored to be getting her own movie with Silver Sable though, so far nothing. Morbius somehow is going to beat them to the big screen.
Amazing Spider-Man #300 1st Venom over $300. Will there be a Venom II movie?
Amazing Spider-Man #361 1st Carnage $70. Will Carnage be the main villain if there is a Venom II?
Batman Damned 1 $60. I will be damned that it is still going for so much.
Blackest Night #7 Naomi tie in $10. Naomi has a strong back issue demand going for her.
Edge of Spider-Verse #2 first Spider-Gwen $150. Spider-Gwen 'Nuff said.
Eternals 1 1976 $200. Marvel did not have much luck with the Inhumans in other non-comic related media. Will Eternals be a big movie hit?
Omega Men #3 1982 First Lobo $50, Lobo is showing up on the TV show Krypton.
Rebirth #1 $10. Such a cool story how could it not be in demand?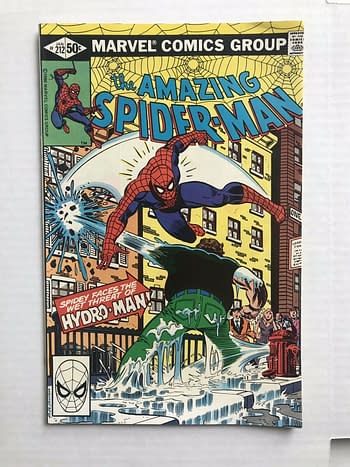 The Question #17 1988 $25. Rorschach shows up in this issue. Yes, Rorschach of the Watchmen. The Question actually buys a copy of the Watchmen trade.
Savage She-Hulk 1980 $1 17.50 Cousin of the Hulk. 'Nuff said.
Secret Wars 1 first series 1984 $25 A few weeks back I had a very fine copy of it and put it on the back issue wall and sold it that day. It is a great limited series in my humble opinion.
Shazam 1 1973 $50 Will there be another Shazam movie?
Spawn 1 1992 $30 Even with a Free Comic Book day reprint this year it is commanding a pretty penny.
Amazing Spider-Man #212 1st Hydro-Man $45. Some people believe Hydro-Man is going to be featured in the next Spider-man movie. To my knowledge that is not a sure thing.
Swamp Thing 1 1972 $175 Swamp Thing is showing up on DC's streaming service.
Teen Titans 12 Rebirth 1st Batman Who Laughs $100 Wow, people who bought this issue for cover price are laughing all the way to the bank.
Umbrella Academy FCBD 2007 1st Appearance $45 A comic book from Free Comic Book Day that is worth money still. Shout out to the customer who told me about this.
Watchmen 1 $45 HBO is making a show out this. Will it go all Games of Thrones in terms of popularity?
Walking Dead 191 $15 A cliffhanger makes this issue in demand.
Enjoyed this article? Share it!