Rod Lamberti of Rodman Comics writes weekly for Bleeding Cool. Find previous columns here.
Oh 2019, how tough of a year is it going to be?
The start of 2019 for us is reminding us about what Iowa weather can be.
A winter storm warning for most of Iowa had me thinking turn out for the Magic the Gathering Ravnica Allegiance prerelease would be low. It was better than I thought it would be. I was also surprised at the amount of money people were spending. Usually, for Magic events, people spend the bare minimum or pretty close. Not this time. We had kids spending money on packs and adults spending money. It was a very good way to start the first Magic prerelease of the year. Of course the following weekend our first Heroclix prerelease for Earth X this weekend was also having some questionable attendance due to what the weather would do. Some players brought it up saying if it is bad they were not coming. Which I totally understand. We will have a second Heroclix Pre Release this following weekend. Which I forgot is Superbowl Sunday. Whoop.
DC had some "changes". A memo was sent out to employees of DC saying:
"DC is going back to its roots of delivering epic stories with our world-class characters, stories and brands. Being a premier house of storytelling will never go out of style and we intend to ultimately super-serve our existing fans, while providing new compelling content that engages and excites even more fans around the globe. Rest assured, the direct market will remain at the heart of our business – and will continue to be one of our greatest strengths."
"Today has been a challenging day. We have made organizational changes across DC that we believe will help to strengthen and evolve the division for future success. With these changes come difficult decisions which we take very seriously."
"We recognize and appreciate that all of our employees have made considerable contributions to our business and that it is difficult to lose colleagues, many of whom have been here for a long time and have made an important impact on DC. We thank them for their hard work and dedication to DC. As always, we are committed to taking care of our employees and will be as thoughtful as possible with those who are impacted by these changes."
Seven people lost their jobs at DC. Which to be blunt sucks. Somehow this will "strengthen and evolve the division for future success". Translation, less staff means more money for the bottom line.
When Bleeding Cool first ran an article stating DC was going through some changes I was wondering what was going on. To be truthful I was hoping some changes would be made for the better. Not people losing their job. An announcement about publishing changes. New standards. An ongoing series has to sell over 20,000 copies or something. More comic series by creators that can move the sales needle in a positive way. This announcement left me underwhelmed,
At least the direct market is mentioned. The "heart of our business." DC let us see some strengthen of the heart. Many worry that it is going to give out some time. Though DC Wal Mart is not the direct market. I am glad to see comic available in other markets though I am not on board with taking talent that could be used to have actual sales in the direct market to make a few new pages in a large reprint format. Anyone could have been hired from newer talent to brand new unknown talent instead of bankable talent from the direct market for these Wal Mart exclusives and it could be argued that the sales would be the same.
Changes to their toy line may be good. Over the years for us, demand for figures has declined. I still like action figures, heck been trying to get a Justice League International Booster Gold action figure that somehow got misplaced when I moved years ago to finish out the Justice League International set hanging on my wall. The one figure I happen to misplace somehow is the one out of the JLI line that is impossible to find of course. A new direction for DC's toys may help jump start their products. Less expensive two packs would most likely help. People want to get the new figures from the Doomsday Clock set but few want to pay $50.00 for two action figures because they are packaged together, let alone that price if they just want one of the figures out of the two pack. I wish they would have been released as individual figures.
2018 was basically a less-copies-sold-though-at-a-higher-price year, making it almost a wash. 2017 was a bad year that the industry has not recovered from yet. As I have stated in previous columns businesses costs on average go up each year. From brick and mortar stores to online stores., costs as a general rule increase over time. Not seeing real sales growth for years will cause businesses to close their doors. Lack of sales growth will give people thinking about getting into the comic business less incentive to get into the business.
Marvel keeps mystifying me. Their current plan of putting out more comics than any other publisher along with having gimmicks has not increased readership. They keep doing the same thing over and over and seem perfectly alright with short term sales and nothing long term.
The Wal Marts exclusive 100 page Giants had cooled off until recently. The Superman 7 issue of the 100 Page Giant jumped in price. With some going for over $20. The reason? The issue spends pages of the limited new material in the book focusing on different ways of Lois dying. I did read it. I did think it was over the top. I was surprised the comic was suppose to be for all ages and the blowback to the story caused it to be in demand. 2019 is starting out to be a crazy year.
How to make comic store owners happy? Make them money. Have material that people come in requesting. People pressuring us comic retailers to up our orders. Readership is important. Increase readership and we will increase orders which in turn means more sales for the publisher and comic stores. I understand it is more complicated than that. What I do not understand is why for years no real changes has happened to try for that.
If there ever were to come a time that physical comic stores were no more then that would be it for comics all together. If demand were to go that low there would not be enough demand to buy comics offline on the cheap to keep online sites that sell new comics going either.
If I had not changed, if the store had not changed over the years, Rodman Comics would not be here. It is a fact that I had to accept. Change can be hard, though at times it has to happen to stay in business. Let us see some change.
Hawkman is giving Amazing Spider-man a run for its money sales wise now here in store. Earlier last year we were selling in the single digits for Hawkman. Currently we have a lot of walk-in traffic for it. Only one person has added it to their pull list this year. It surprises the heck out of me.
Immortal Hulk last year looked like it was stalling out for us and now we only have the last two issues on hand along with one copy of issue three for the series and I have upped the orders to keep up with demand.
One day IDW's My Little Pony will most likely change sales wise for us and not stay the same as it has for so long. Though today is not that day. I had a new customer come in this weekend who was a fan of the Archie Sonic the Hedgehog comics and was excited to find out there is a Sonic the Hedgehog currently out by IDW. I am also dealing and selling more comics from Zenoscope. Their Grimm Fairy Tales is a stable seller for us and their Black Knight limited series does well instore. Image's Walking Dead is still going and still showing that a title does not need to be renumbered every year to sell. Increasing orders on the various comic titles coming out each issue to meet demand is a lot better than lowering them each month due to diminishing interest.
My favorite thing about 2019 so far is dealing more with older comics. First series runs from decades ago, comics that I read as a kid. Even been selling older 1950s romance comics with titles I had never heard of before.
2019 is off to a good start for us. Weird but, good.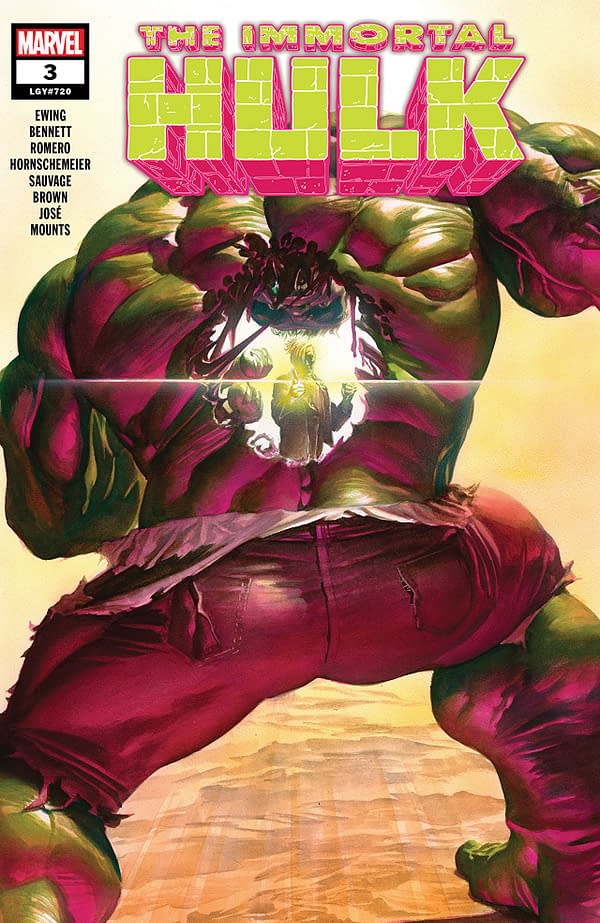 Enjoyed this article? Share it!