Comics, Crouch End And Attracting Creators
Sean Azzopardi writes,
I live in an area of North London called Crouch End. One day I decided that it needed to be introduced to comics, cartoons, independent publishing. There had been a lot of talk over beers with friends about the comic buying audience. It seemed at that point that the exhibitors were outnumbering the public at many events. What could or should be done? Grow your audience locally, Why not? There's no reason why Crouch End cannot have its very own Comic Festival. Educate the locals and get them involved. This was my thought process.
DIY ethos is multi faceted, not just the making/selling. I have always enjoyed the curatorship part, making something happen with no resources. With Just an idea, a core group of friends and lots of energy.
The days of London Underground Comics still reverberate in this respect.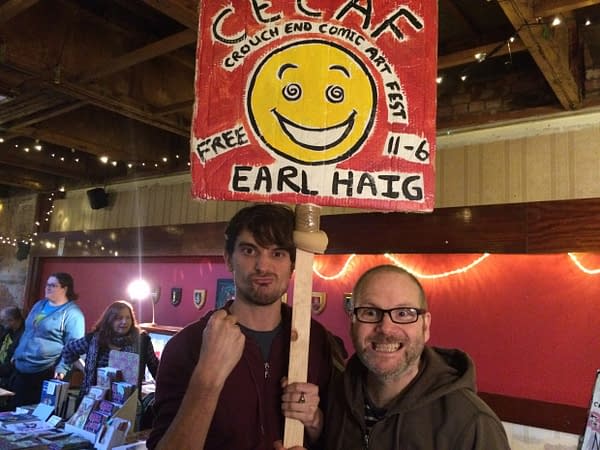 The Earl Haig Hall were looking to put on events; everything fell into place. I was really into the idea that because of the restricted space, I had to invite exhibitors to take part. Many answered the call. So keep fees down to a minimum, make the event free entry. The Earl Haig has a bar! Make it a relaxed fun experience.
So the first CECAF took place November 2014. No one had a clue how it would be received.
The response was amazing – from exhibitors and the many people that attended throughout the day.
So it's going to be happening again.
This time it's going to be part of Crouch End festival, so it's going to be a crazy busy day.
Come along. Spread the word.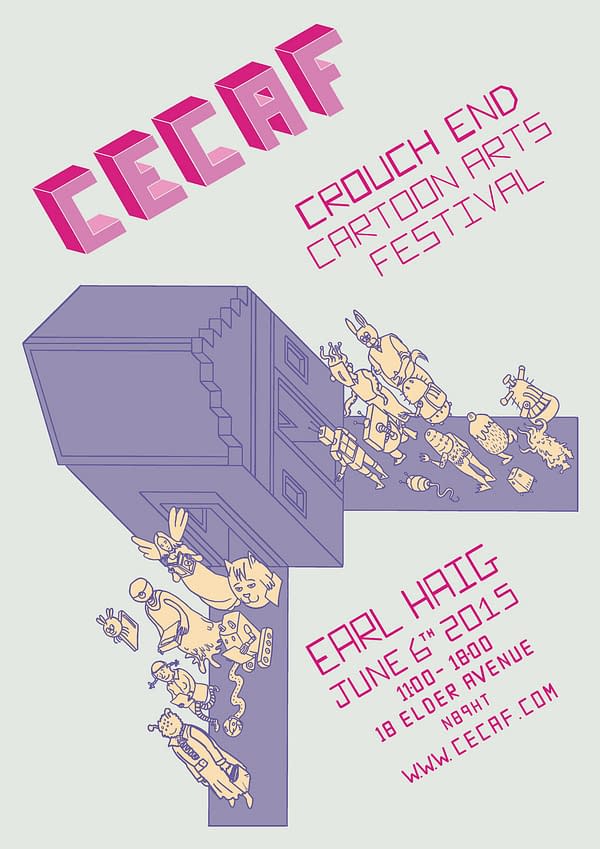 The second Crouch End Comic Art Festival (CECAF) will take place at the Earl Haig Hall, Crouch End, London on June 6th, 2015. The show will host the best and brightest cartoonists and independent publishers currently active in the UK comic scene.
The past 5 years have seen a huge growth in creators, publishers and consumers of comics. Crouch End is home to some of these cartoonists, so it seems natural to bring this type of event to the hot creative hub of N8. Following on from the energy of this summers smash Crouch End Festival, CECAF will provide the opportunity for all ages to experience the varied and engaging world of the independent comic publisher.
On the day there will be over 25 exhibitors selling a variety of comics, graphic novels, prints and all sorts of visual matter.
Exhibitors for CECAF2
Avery Hill Publishing, David Baillie, Dan Lester, Claude TC, Broken Frontier/Andy Oliver and guests, Iella, Martin Eden,Paul Rainey, Pete Clack, Sally-Anne Hickman, Oliver Lambden, Francesca Cassavetti, Tiny Pencil, Zoom Rockman, One Beat Zine, Sarah Gordon, Roger Langridge, Alfie Gallagher, Craig Conlan, Matt Boyce, Danny Noble, Breakdown Press/Backwards Burd, Douglas Noble, Daniel Merlin Goodbrey, Limehouse Press, Simon Moreton.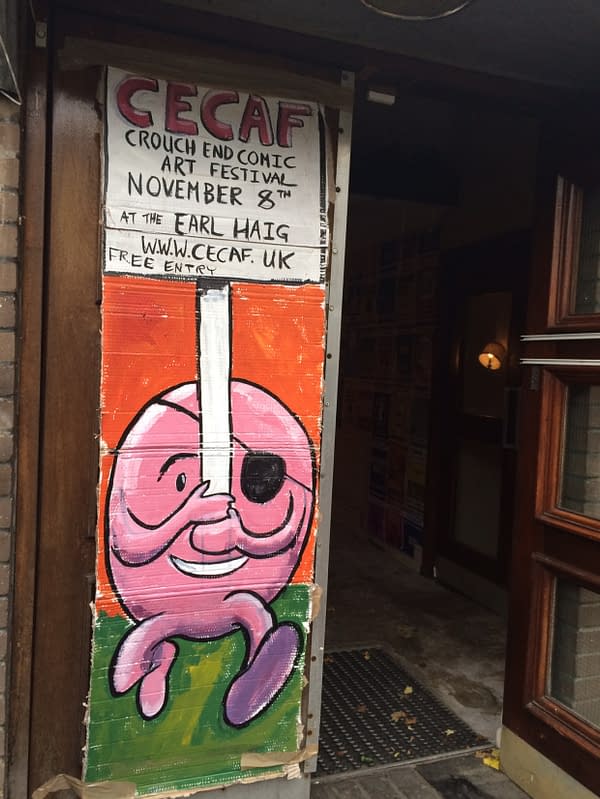 Photos – Antony Esmond
Links:
https://www.facebook.com/events/359106954286501/