Writer's Commentary: Erik Burnham Talks Red Sonja #14
Dynamite has sent us a new writer's commentary from Erik Burnham for Red Sonja #14. Erik co-wrote the issue with Amy Chu. It features covers by Jonboy Meyers, Carlos Gomez, and Gisele Lagace. Interiors by Carlos Gomez.
Red Sonja and Wallace have faced the darkness and made their way out from Hell — or have they? They've crossed the River Styx, but the land of the living looks just as desolate as the land of the Dead — and it soon becomes all too clear that this is the handiwork of Kulan Gath, enraging Sonja. She didn't travel back and forth through time and escape from Hell just to find her homelands in ruin… Kulan Gath may be more powerful than ever, but a reckoning is coming!
*****
Hey, everybody! Welcome back to the saga of Red Sonja, courtesy Amu Chu, Carlos Gomez, Mohan, Simon Bowland, and myself – Erik Burnham!
First, let's give a shoutout to our covers for the issue, hey? We have some great Sonja images by Jonboy Meyers, Carlos Gomez, Gisele Lagace, and Art Baltazar — with a cosplay variant to boot.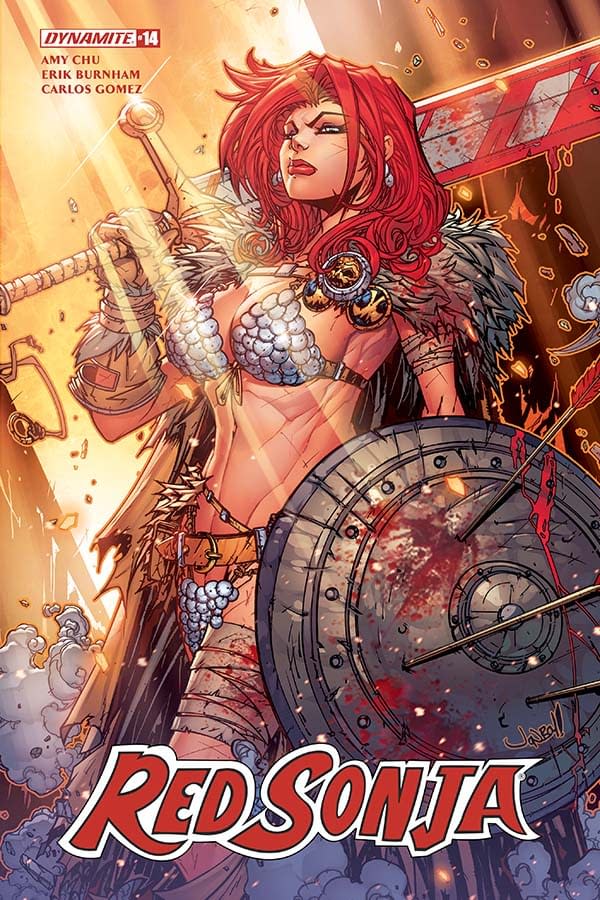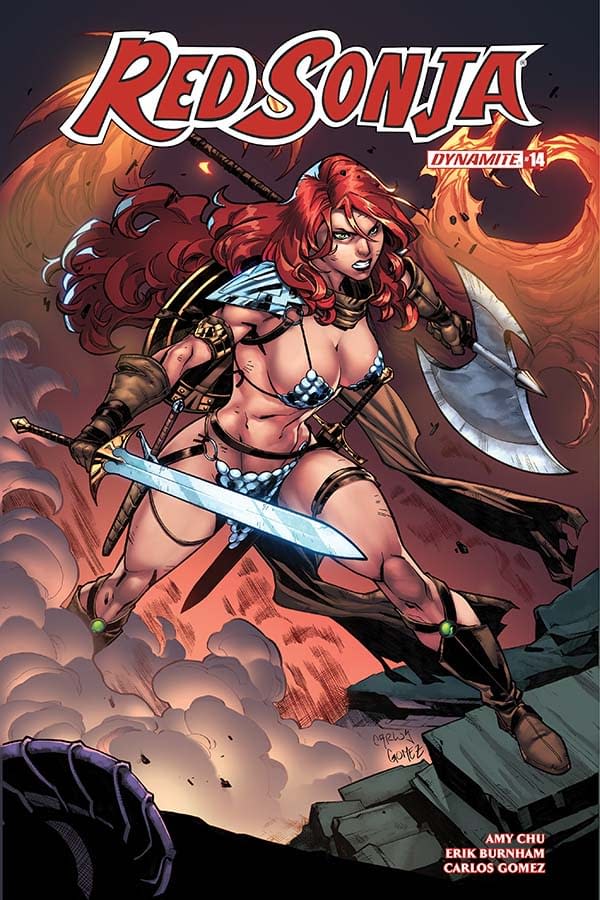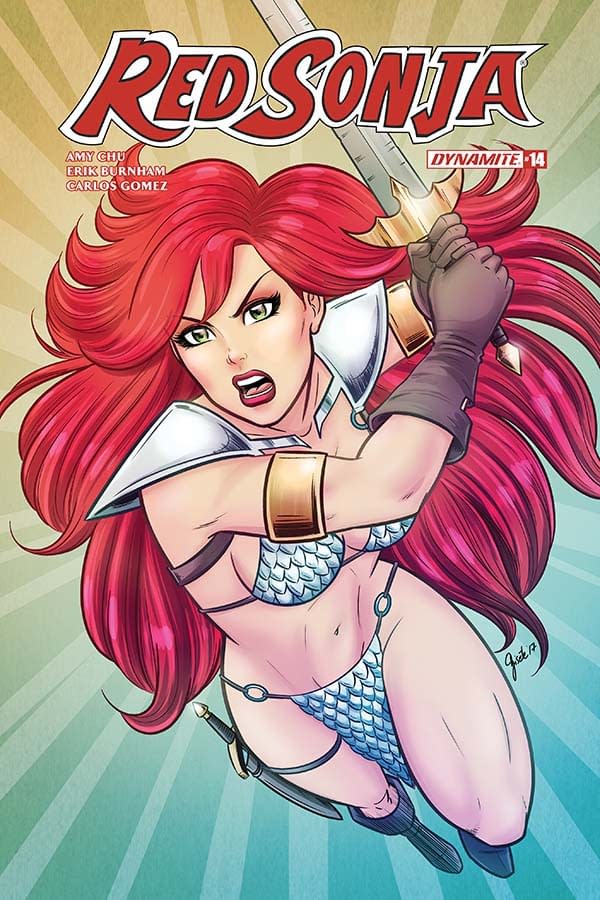 We've covered covers, we've credited your interiors, let's us move on to…
PAGE 1:
Hey look, it's Charon!
I had a good feeling about Charon, and Carlos's imagery reminds me of one of those old heavy metal fans who injured his neck headbanging in the '70s and now putters around in a workshop, retired, taking ibuprofen for that still-sore neck and listening to his music at a reasonable volume.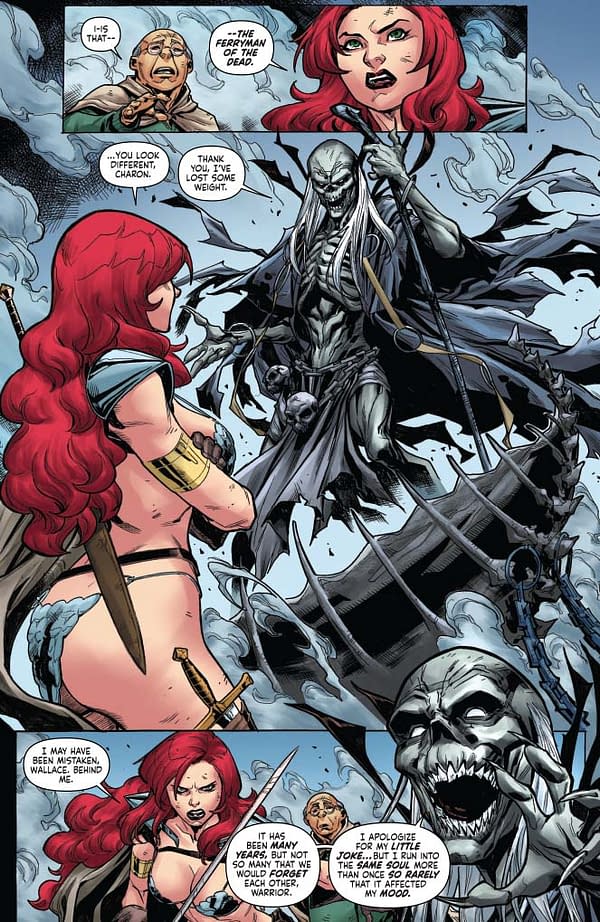 PAGES 2-3:
Here we have Sonja and Wallace crossing the River Styx. As Charon is noting, the river exists both as a gateway to the underworld AND as a natural river in Hyborea. The two rivers overlap, and some, like Charon, may cross from one to another.
PAGE 5:
And hey, now they're back in Hyborea.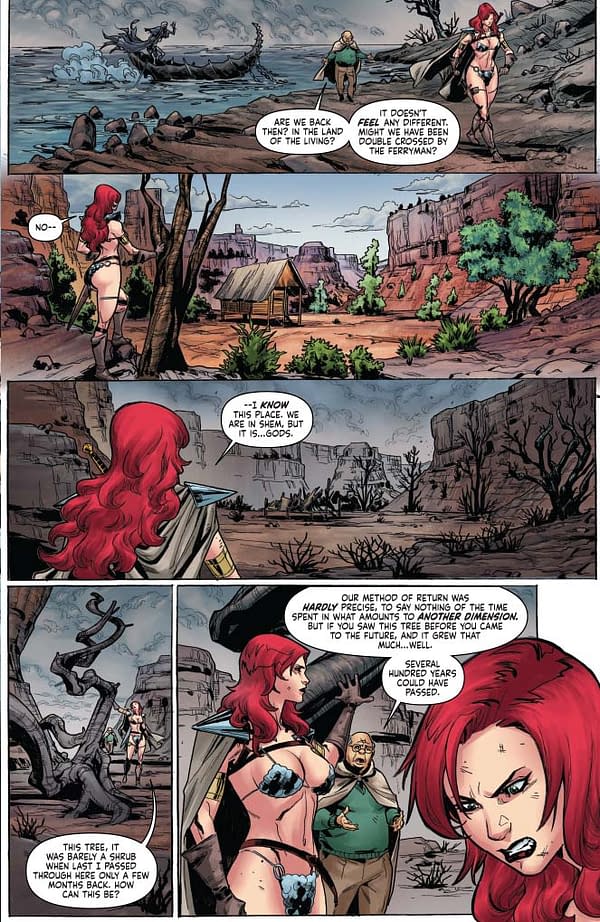 PAGE 7:
I like this guy's hat. Let's call him the ancestor of all Canada.
It's why he's so friendly!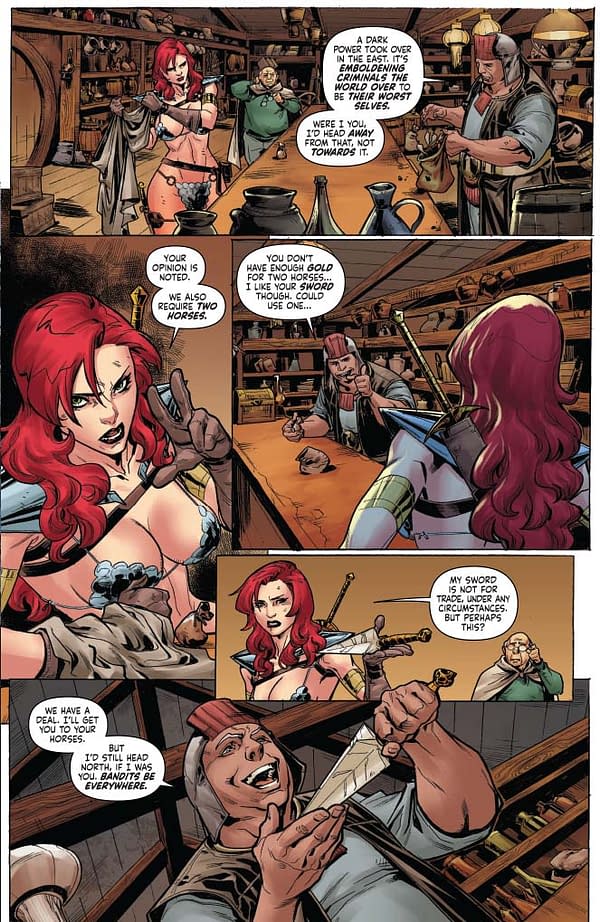 PAGE 8:
The geography of Hyborea means Sonja and Wallace popped up near the equivalent of Northern Africa and had to get to the equivalent of central Asia.
There was a lot of travel in between panels, is what I'm saying.
We got 'em close!
Panel 4 is my favorite here — Sonja's eye rolling is perfect.
PAGE 9:
Here's a nice little bit of flashback, giving the quickest of rundowns as to past events. I love stuff like this. Makes me think of comics of the '70s and '80s. (And really, that's pretty appropriate with Sonja!)
PAGE 10:
Enter a boar, tearing through the underbrush.
LIKE A BOSS.
PAGE 11:
And hey, crazy tattooed cannibalistic bad guys. The best bad guys for Sonja, seeing as how Nazis haven't been invented in this time period.
PAGE 12:
Some great coloring choices from Mohan here as we have light bleeding down through the treeline, and that nice green flame coming from the sword wound. Some great touches that weren't in the script. Hat tip on those picks!
PAGE 15:
Enter Lera and Taya, just in the nick of time! This shot reminds me that Carlos never complained about drawing horses, either, which is one of the first things some artists will give you the evil eye over.
I was feeling guilty for writing them in, you know.
PAGE 16:
This is a great shot of Taya here — another choice by Carlos that wasn't in the script and looks great.
Also, Wallace's shouting at the fleeing bandits after his ineffectual attempts at fighting them off… it may be a comedy cliché, but the trope works.
PAGE 17:
Kulan Gath has overthrown Meru, and now Sonja knows about it. If she wasn't already set on going to the seven cities, this would've sealed it.
PAGE 19:
Behind the scenes tidbit: we went back and forth about Max's beard stubble. Carlos (rightly) decided he should have some facial hair, to mark his time stuck in the past.
But he gave Max a nice, clean goatee. Amy and I felt it should be scruffier, and then we all proceeded to discuss how scruffy.
THE MAGIC OF COMICS, FOLKS.
Did not need to see this much of Kulan Gath, but if that's your thing, ladies and gents, enjoy!
PAGE 20:
Here it is, the last page, the big reveal and… could that be a certain she-devil?
JOIN US NEXT ISSUE FOR MORE!