From today's DC Nation #4, in their big list of villains, we get a new one. An unannounced one. From the upcoming The Green Lantern by Grant Morrison and Liam Sharp. So appearing for his first time, give a big warm welcome to… Controller Mu,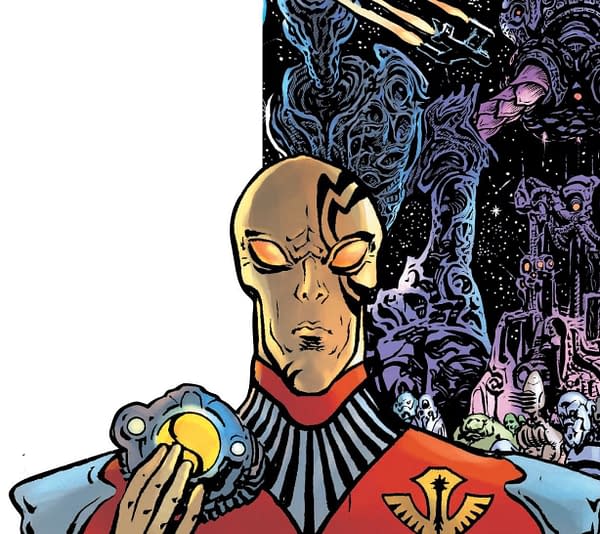 We know that the Controllers are an alien race with ties to the Guardians of the Universe, but unlike their blue counterparts, they believe total control is the only way to ensure peace and order in the cosmos.  The Controllers hail from Oa, the same planet as the Guardians of the Universe. Where the Guardians believe in working with the will of other races to bring about peace, the Controllers believe in eradicating free will to ensure order. Creating the militaristic Darkstars to enforce their vision, the Controllers seek to realize their vision through any means necessary. While powerful in their own right, the Controllers prefer to act through surrogates, creations such as the monstrous Sun-Eaters or their own twisted version of the Green Lantern Corps known as the Darkstars. And in The Green Lantern #1: The Gathering Storm, t Controllers have a new plan to bring "peace" to the universe – and it's already in motion.
"Imagine Controller Mu like a space cult leader," writer Grant Morrison explains. "Rather than Darkstars, he has his own bodyguards called the Blackstars. This is the Bhagwan Rajneesh version of a Controller, and he has very different ideas about how the universe should be run, and the way that he's kind of playing Hal Jordan and the Green Lantern Corps is quite a big part of the first six issues of the series."
And get to see him first, maybe, in DC Nation #5 out in November…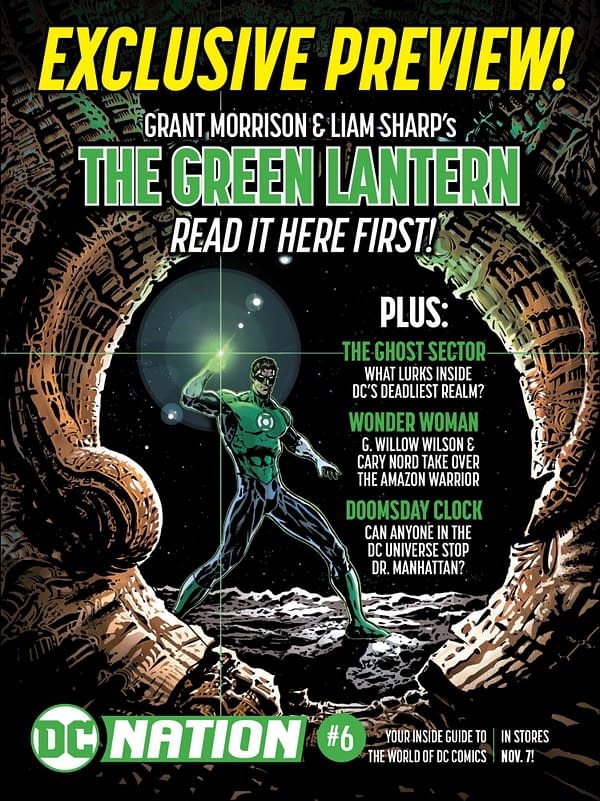 GREEN LANTERN #1
(W) Grant Morrison (A/CA) Liam Sharp
Superstar writer Grant Morrison (Batman, All-Star Superman) returns to DC alongside red-hot artist Liam Sharp (The Brave AND the Bold, Wonder Woman) to launch a new, ongoing series: THE GREEN LANTERN!
In this debut issue, when Earth's space cop, Hal Jordan, encounters an alien hiding in plain sight, it sets off a chain of events that rocks the Green Lantern Corps-and quite possibly the Multiverse at large-to its very core. There's an inter-galactic conspiracy afoot, as well as a traitor in the GL Corps' ranks, so strap in for more mind-bending adventures in this masterpiece in the making.In Shops: Nov 07, 2018
Final Orders Due: Oct 15, 2018
SRP: $4.99
Enjoyed this article? Share it!