Boom Solicitations September 2013 – Sons Of Anarchy, Adventure Time and Regular Show, All Together
Boom launch Hit and Sons Of Anarchy in September, along with the usual mix of creator-led projects and licensed work like Adventure Time, Regular Show and Planet Of The Apes Giant. Hmmm, shouldn;t that be Planet of The Giant Apes?
HIT #1 (OF 4)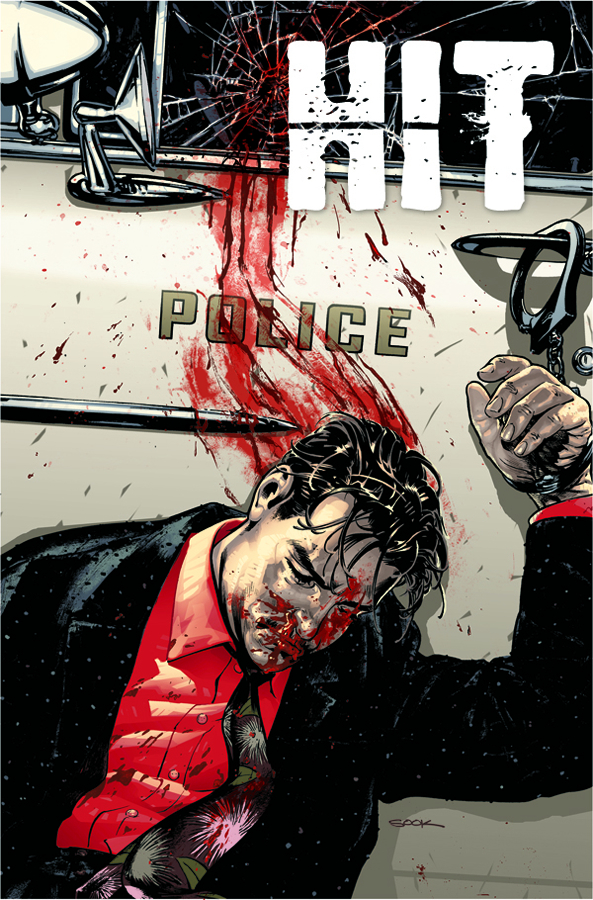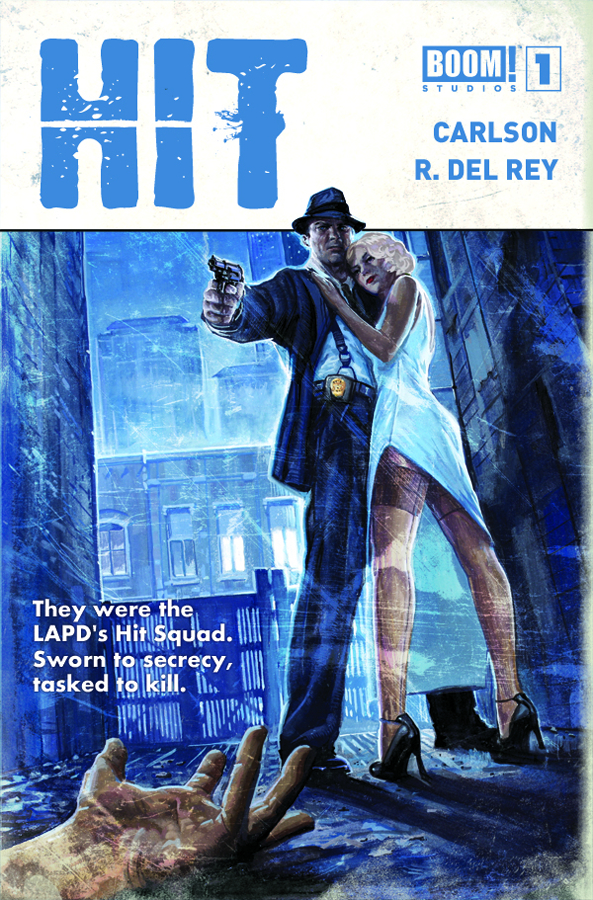 (W) Bryce Carlson (A) Vanesa Del (CA) Ryan Sook
"JUST BECAUSE YOU'RE PROVEN GUILTY…DOESN'T MEAN YOU'RE INNOCENT."
WHY WE LOVE IT: We're suckers for classic film noir, crime comics, and pulp detective novels. We love the secret history of law enforcement in our hometown, Los Angeles. Mostly, we love stories about good men making hard decisions in unforgiving circumstances.
WHY YOU'LL LOVE IT: HIT is a dark crime drama filled with murderers, rapists, and drug lords…and the men who will stop at nothing to bring them to justice. If you're a fan of
CRIMINAL, PARKER, and TUMOR, then HIT is the series for you.
WHAT IT'S ABOUT: Los Angeles. It's 1955. It's dark; it's sexy. It's dangerous. Everyone has an angle. And while infamous gangster Mickey Cohen rots in a prison cell, Los Angeles ignores the blackest parts of the city's heart…where clandestine groups of LAPD detectives moonlight as sanctioned hitmen knows as "Hit Squads.
In Shops: 9/11/2013
$3.99
SONS OF ANARCHY #1 (OF 6) (MR)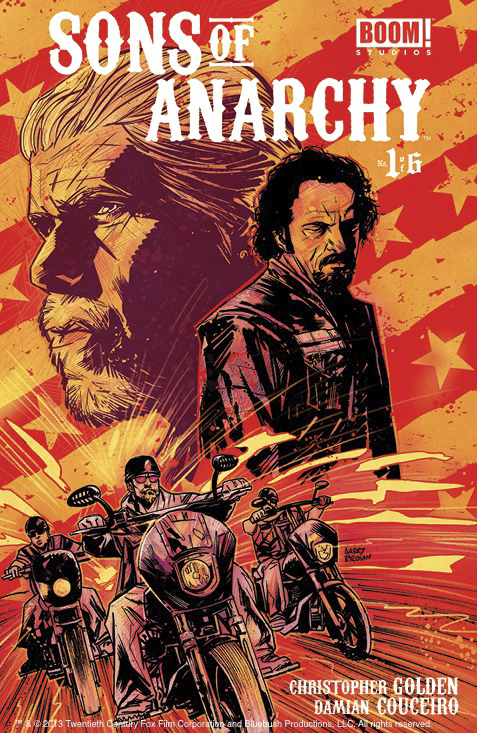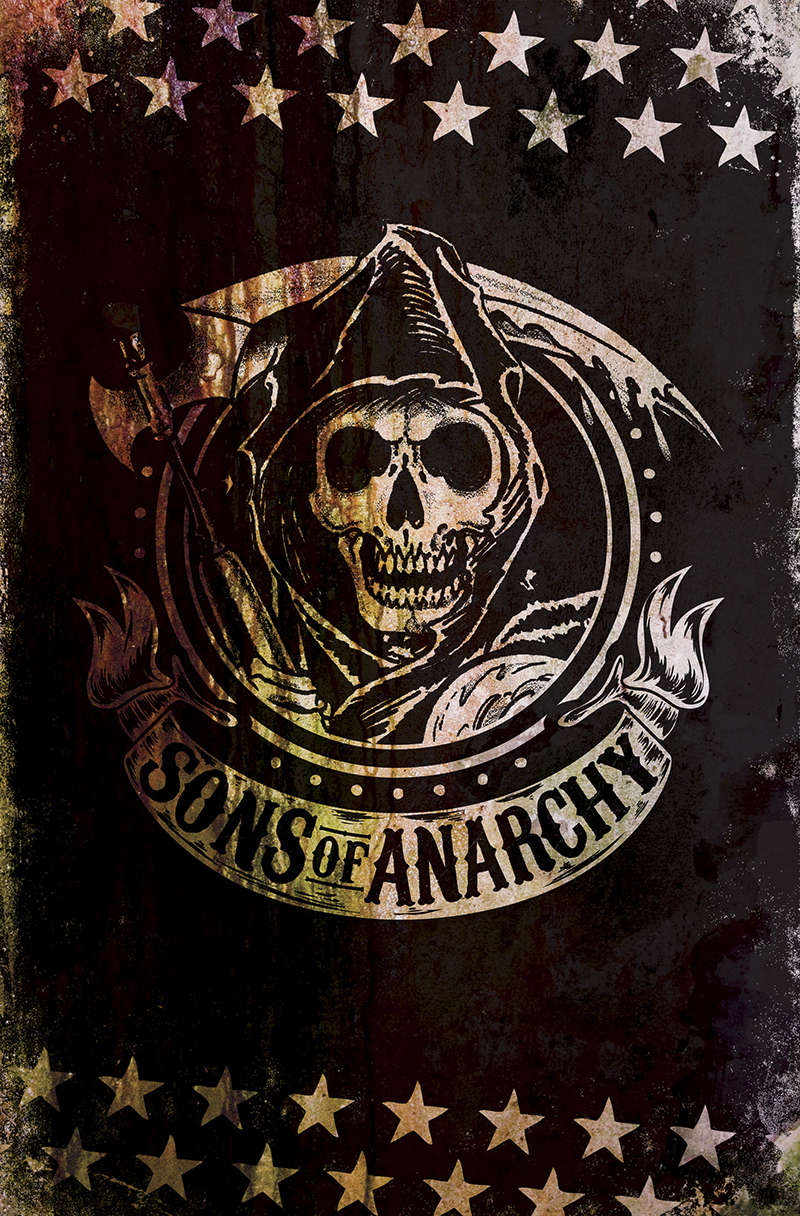 (W) Christopher Golden (A) Damian Coueciro (CA) TBD
WHY WE LOVE IT: Sons of Anarchy has captivated the attention of the entire BOOM! team with its smart plotting, compelling characters, and modern vision of the outlaw genre. We love the show so much we couldn't wait to help expand the world of SAMCRO.
WHY YOU'LL LOVE IT: Gunsmuggling outlaw bikers with complex pasts and gripping personalities. If you love "guys with guns" like we do, this is that genre at its most elevated.
WHAT IT'S ABOUT: With no one else to turn to, the daughter of an old SAMCRO member comes to Charming looking for help. The only people standing between Kendra and certain death are the Sons of Anarchy, and, for better or for worse, Sergeant-at-Arms Tig.
In Shops: 9/4/2013
$3.99
CLIVE BARKER NEXT TESTAMENT #5 (OF 12) (MR)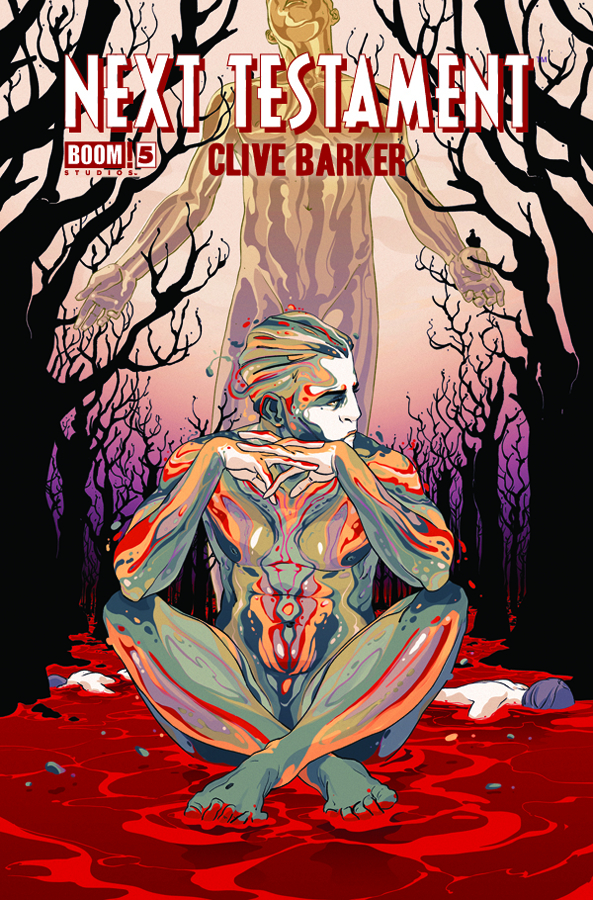 (W) Clive Barker, Mark L. Miller (A) Haemi Jang (CA) Goni Montes
Author(s): Clive Barker, Mark Miller
Wick's flock continues to grow, but this brings him no pleasure – what he asks of Julian next may bring his closest disciple to the breaking point. Meanwhile, Tristan & Elspeth meet a pastor who knows plenty about both of them…and Julian.
In Shops: 9/25/2013
$3.99
HELLRAISER DARK WATCH TP VOL 01 (MR)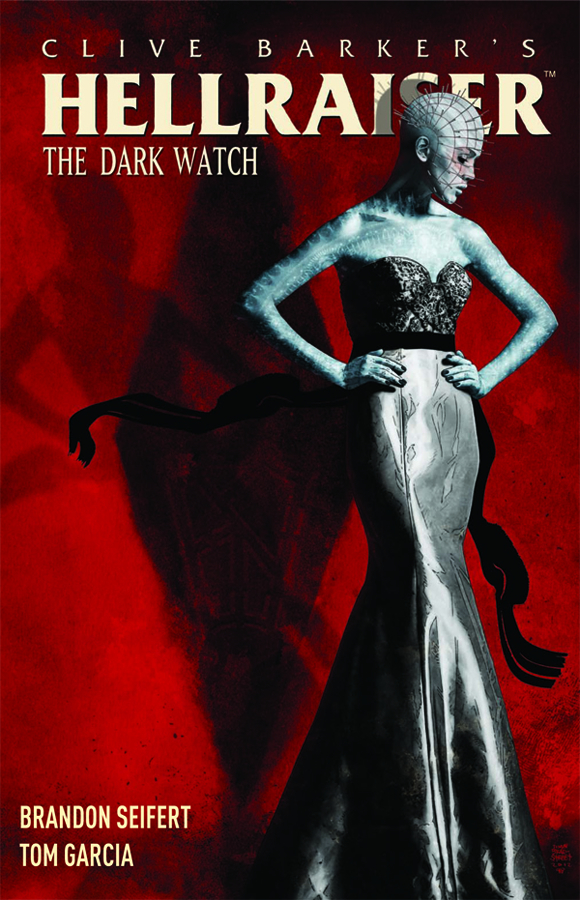 (W) Clive Barker, Brandon Seifert (A) Tom Garcia
WHY WE LOVE IT: Clive Barker is one of the undisputed Masters of Horror and HELLRAISER is one of the cornerstones of modern horror.
WHY YOU'LL LOVE IT: Fans of the classic Pinhead, Elliot Spencer, and the new female Pinhead, Kirsty Cotton, finally get to see which is supreme when the pair must battle and team up in Hell.
WHAT IT'S ABOUT: One must volunteer, or Hell will choose for itself. The two most recent Hell Priests are missing Kirsty Cotton and Elliott Spencer have abdicated their thrones, and there is someone new in their place.
In Shops: 9/4/2013
$14.99
HELLRAISER DARK WATCH #8 (MR)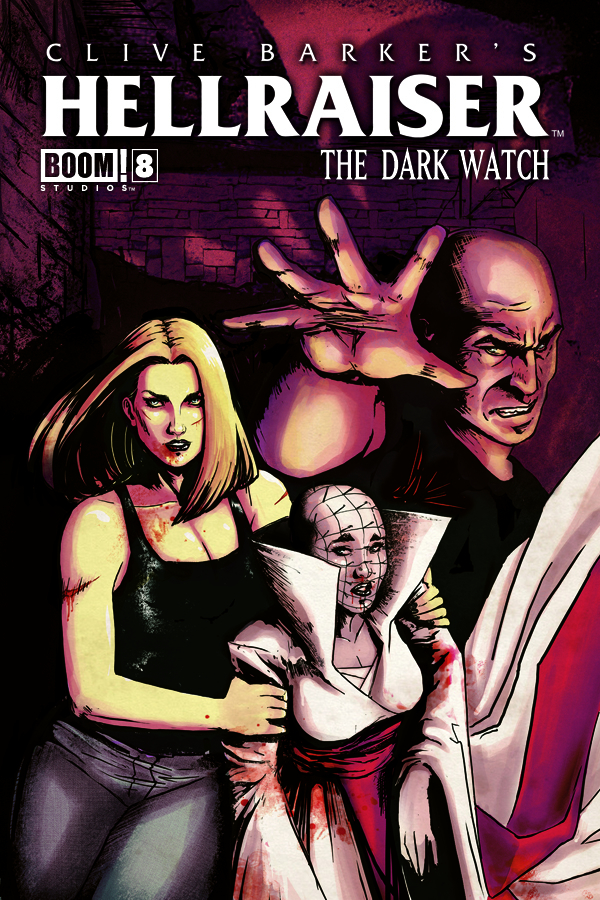 (W) Clive Barker, Brandon Seifert (A) Tom Garcia (CA) Lorena Carvalho
While chaos reigns in Hell, Tiffany makes her play to rescue Kirsty Cotton, but Elliot Spencer may have other plans.
In Shops: 9/18/2013
$3.99
3 GUNS #2 (OF 6)
(W) Steven Grant (A) Emilio Laiso (CA) Rafael Albuquerque
THE SEQUEL TO 2 GUNS NOW A MAJOR MOTION PICTURE STARRING DENZEL
WASHINGTON AND MARK WAHLBERG!
The noose tightens around both Trench and Steadman as the gun deal they're brokering
between the Russians and the revolutionaries falls apart. Meanwhile, undercover BATF
agent Joey Dodge has begun playing the two guns off of each other, in an attempt to
send the whole house of cards crashing down…
In Shops: 9/11/2013
$3.99
FRANK MILLER ROBOCOP LAST STAND #2 (OF 8) (MR)
(W) Frank Miller, Steven Grant (A) Korkut Öztekin (CA) Declan Shalvey
ROBOCOP'S LAST STAND, AS FRANK MILLER INTENDED.
Robocop must defend the people of Detroit as a fighter for justice and a symbol for resistance. But will that be enough to prevent its hostile takeover and destruction? With the help of his newfound,
beautiful and mysterious ally, Marie, he may have a chance.
In Shops: 9/4/2013
$3.99
DAY MEN #3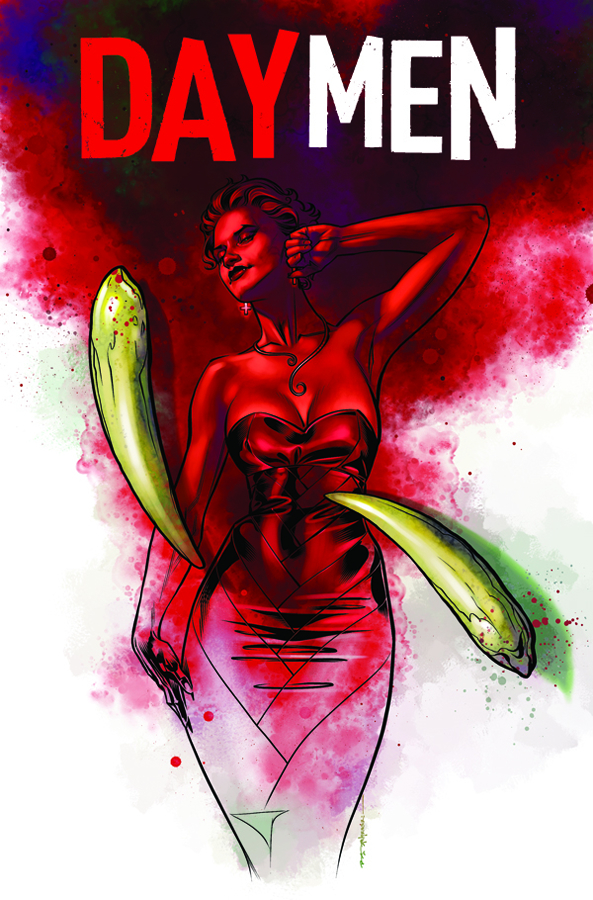 (W) Matt Gagnon, Michael Alan Nelson (A/CA) Brian Stelfreeze
War continues to rage throughout the vampire underground, as David's role for the Virgo family comes into question. But will Azalea, the mysterious matriarch, cast David out in search of a more proper wartime Day Man?
In Shops: 9/18/2013
$3.99
SUICIDE RISK #5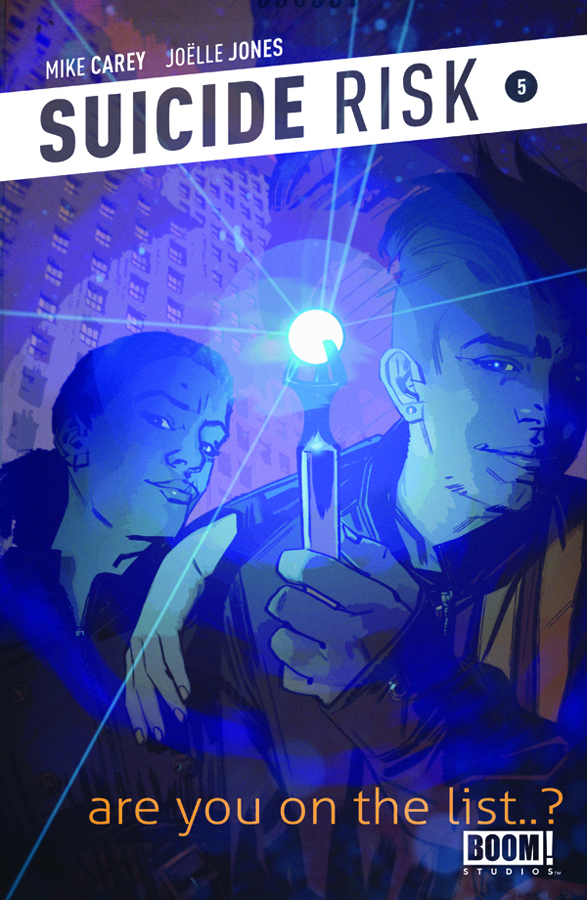 (W) Mike Carey (A) Elena Casagrande (CA) Tommy Lee Edwards
Before Leo, before Memento Mori, before Diva…there was Ada Robins. When superpower
slinging dealers Jed and Hailey find Adaa kindhearted, if downtrodden mother of twoshe
had been watching her life fall apart in slow motion decades now, with no hope of putting it back together. Life having primed her for Jed and Hailey's Faustian bargain, Ada finds herself at the moral crossroads finally have the freedom from crushing responsibility, or keep her beleaguered family together? And what's stopping her, if she really thinks about it, from just having…both? A standalone tale perfect for new readers.
In Shops: 9/4/2013
$3.99
DINGO DLX ED TP VOL 01 (W) Michael Alan Nelson (A/CA) Francesco Biagini
WHY WE LOVE IT: Michael Alan Nelson is a BOOM! Studios mainstay and this is the story that put him on our radar.
WHY YOU'LL LOVE IT: The mix of 100 BULLETS-style pulp and FABLES-style urban fantasy plus the biggest dog on the planet.
WHAT IT'S ABOUT: Dingo is man trying to get back something that was taken from him. A box. The contents of which will make Dingo stop at nothing to get it back. It's a mystery that starts in Los Angeles and takes him to Vegas and beyond.
In Shops: 9/4/2013
$14.99
PLANET OF THE APES GIANT #1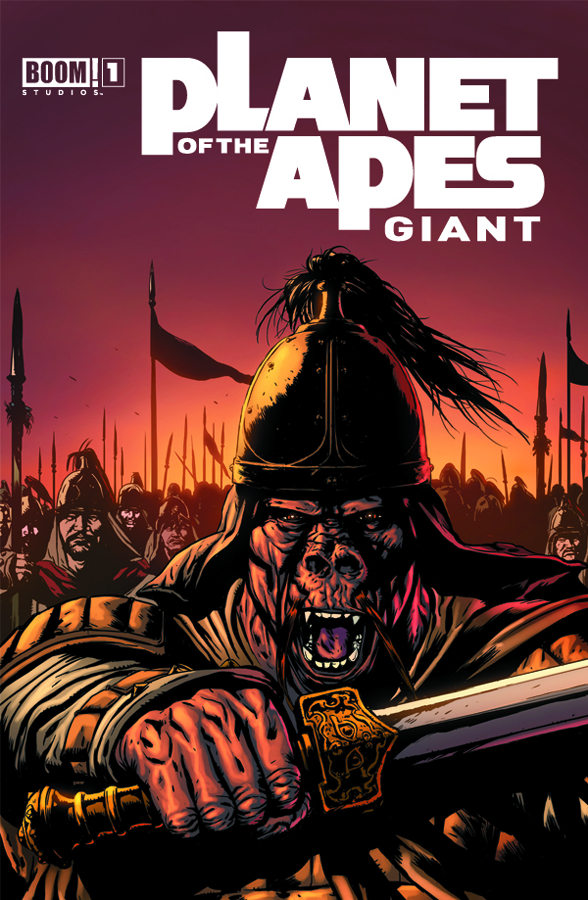 (W) Daryl Gregory (A) Diego Barreto (CA) Marek Oleksicki
WHY WE LOVE IT: Daryl Gregory, an acclaimed novelist, embodies the BOOM! philosophy of "doing it right" when it comes to licensed projects. Under his stewardship, PLANET OF THE APES has realized its potential for epic political intrigue.
WHY YOU'LL LOVE IT: Fans of classic PLANET OF THE APES along with brand new fans of sophisticated, layered characterdriven storytelling like GAME OF THRONES have praised Gregory's three year run.
WHAT IT'S ABOUT: The end is here as Alaya and Sully must find a way to set aside their differences and face a threat bigger than they ever encountered…but is it big enough to stop the humans and the apes of Mak from destroying each other first?
In Shops: 9/25/2013
$4.99
SIX GUN GORILLA #4 (OF 6)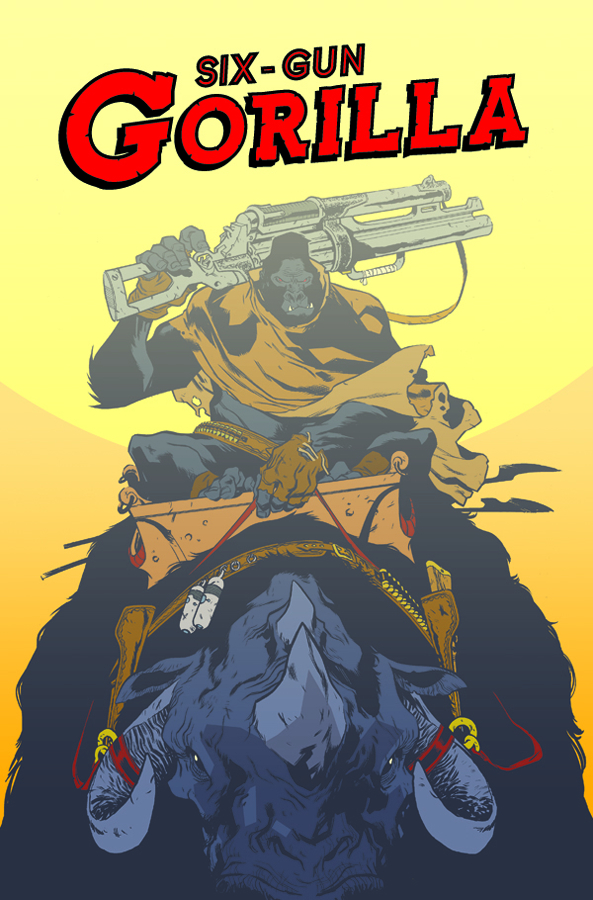 (W) Simon Spurrier (A) Jeff Stokely (CA) Ramon K. Perez
Following their harrowing confrontation with Auchenbran's corpse army, SixGun Gorilla and Blue retreat into the wilderness in hopes of finding the natives of the Blister weird, abstract creatures that may hold the key to Blue's ultimate quest to return the "locket"…
In Shops: 9/11/2013
$3.99
DEATHMATCH #10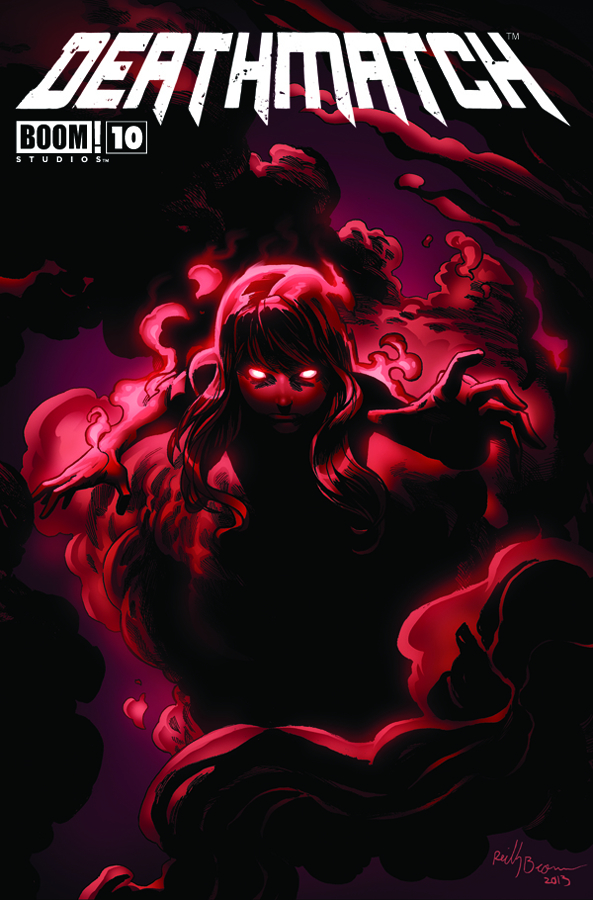 (W) Paul Jenkins (A) Carlos Magno (CA) Reilly Brown
Only four combatants remain in the deathmatch arena, the rest of their friends (and enemies) slain by their own hands. Will the heroes be able to band together and discover the prison's secrets before one of them stands "victorious"?
In Shops: 9/25/2013
$3.99
FANBOYS VS ZOMBIES TP VOL 03 (W) Sam Humphries, Shane Houghton (A) Jerry Gaylord, Bryan Turner (CA) Jerry Gaylord
With a nuclear bomb headed straight for Zombie Ground Zero, the Wrecking Crew must escape San Diego in search of a mysterious government compound that supposedly houses the contagion's cure! But does new WC member Kurt Kiel have the group's best interests at heart, or does he have more sinister motives?
This third volume collects issues 9-12 for fans of hilarious horror mashups like ZOMBIELAND and SHAUN OF THE DEAD.
In Shops: 9/4/2013
$14.99
FANBOYS VS ZOMBIES #18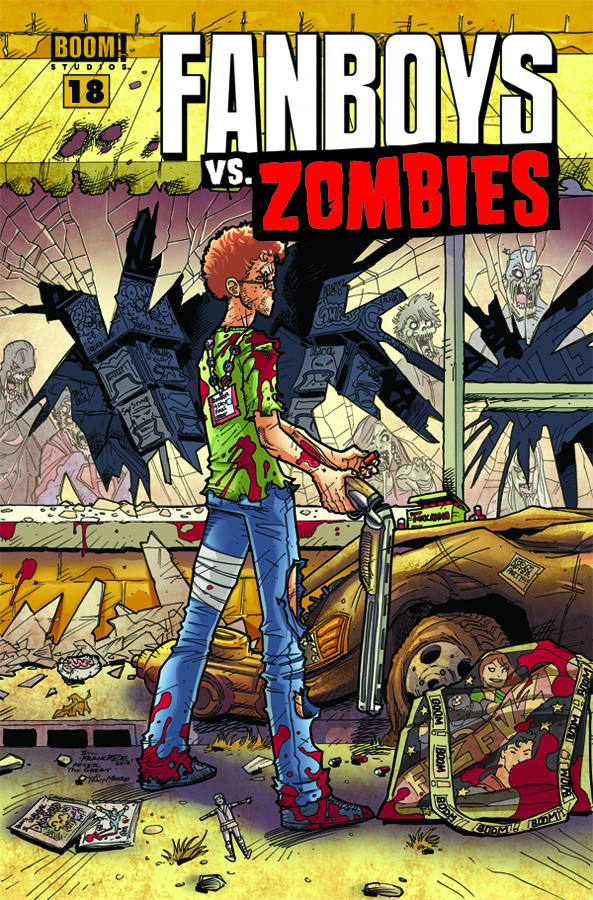 (W) Shane Houghton (A/CA) Jerry Gaylord
As "4 Stories of the Apocalypse" continues, we head back to CreepyCon, where the sadistic Gunther hides for his life in an abandoned comic shop. Will Kurt Kiel's SURVIVAL OF THE DAMNED provide the escape Gunther is desperately searching for, or just a temporary respite from the inevitable?
In Shops: 9/25/2013
$3.99
SUPURBIA ONGOING #11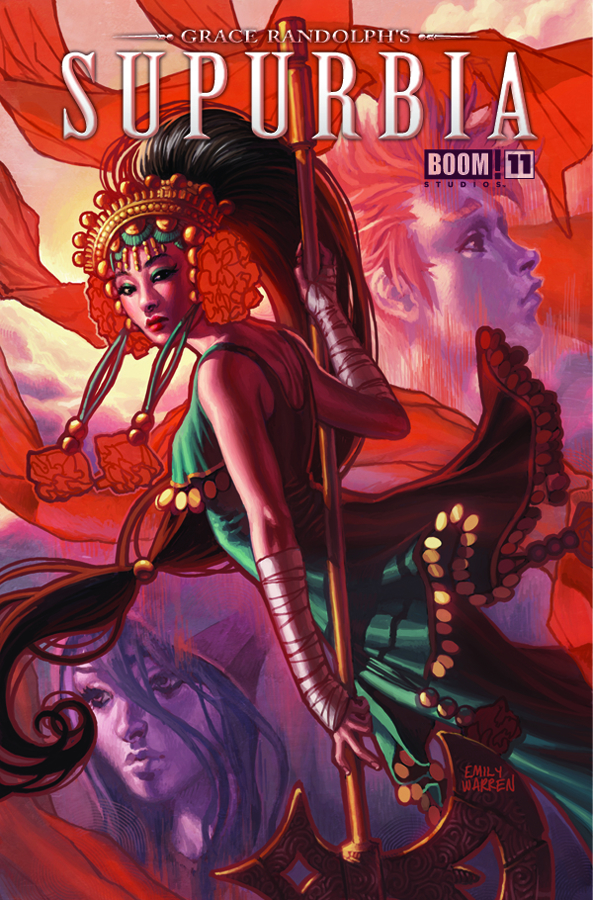 (W) Grace Randolph (A) Russell Dauterman (CA) Emily Warren
Gio makes a daring escape from the techs' hideout, just as Night Fox and Marine Omega
battle their way in. Tia, Dion, Batu, and Eli confront Hector in his magic realm, but is it
too late to save Zari from the evil growing inside her? And Eve discovers a shocking
secret that stretches all the way back to the series' very first issue.
In Shops: 9/11/2013
$3.99
HEROBEAR & THE KID INHERITANCE #2 (OF 5)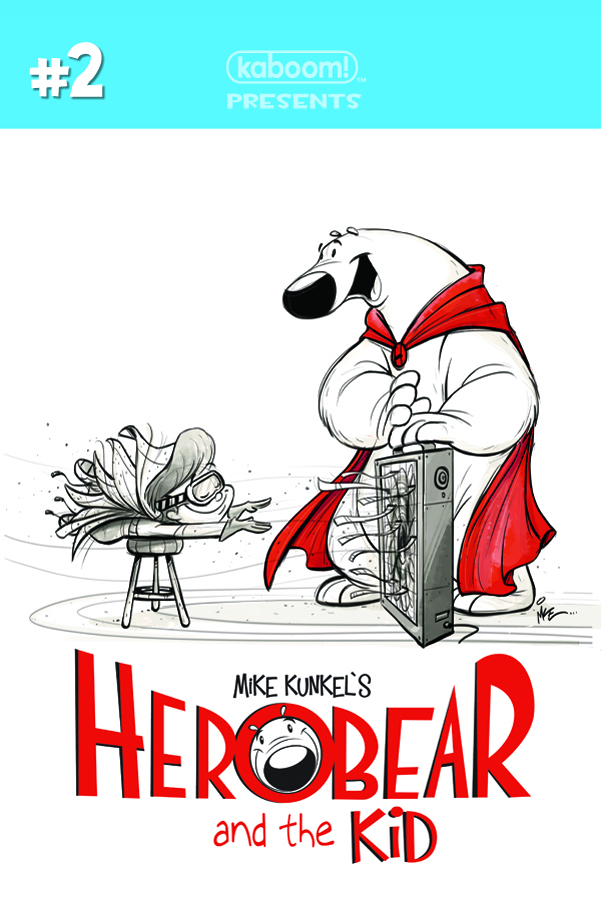 (W/A/CA) Mike Kunkel
After his grandfather passes away, 10-year old Tyler inherits an old stuffed toy bear and a broken pocket watch. If dealing with bullies wasn't enough, he soon
learns that things aren't always what they seem…and that you shouldn't judge
a bear by its cover. In this issue, join Tyler and Herobear as Tyler finds out he kinda loves this superhero gig! A beautifully rendered work that perfectly captures what it is to be a kid.
In Shops: 9/11/2013
$3.99
BRAVEST WARRIORS #12 MAIN CVRS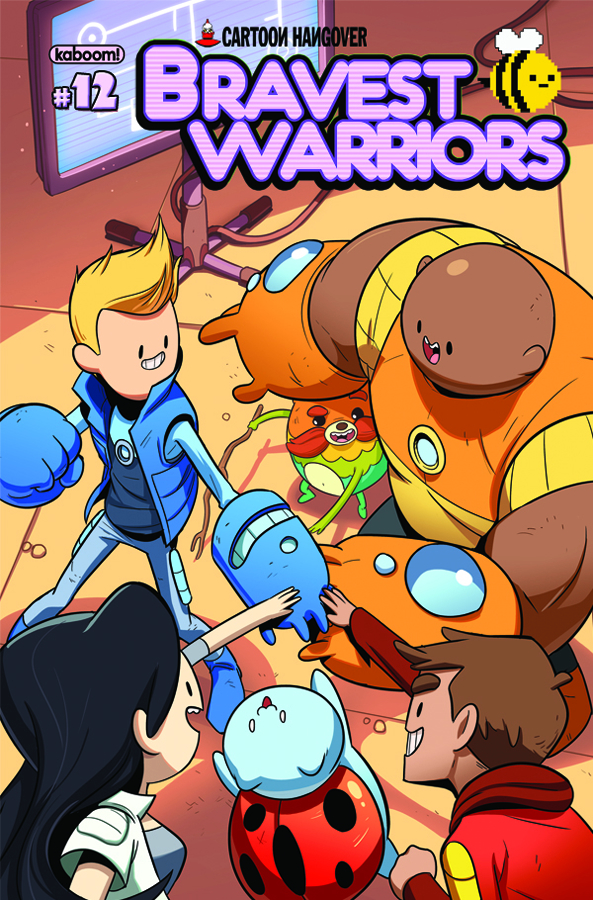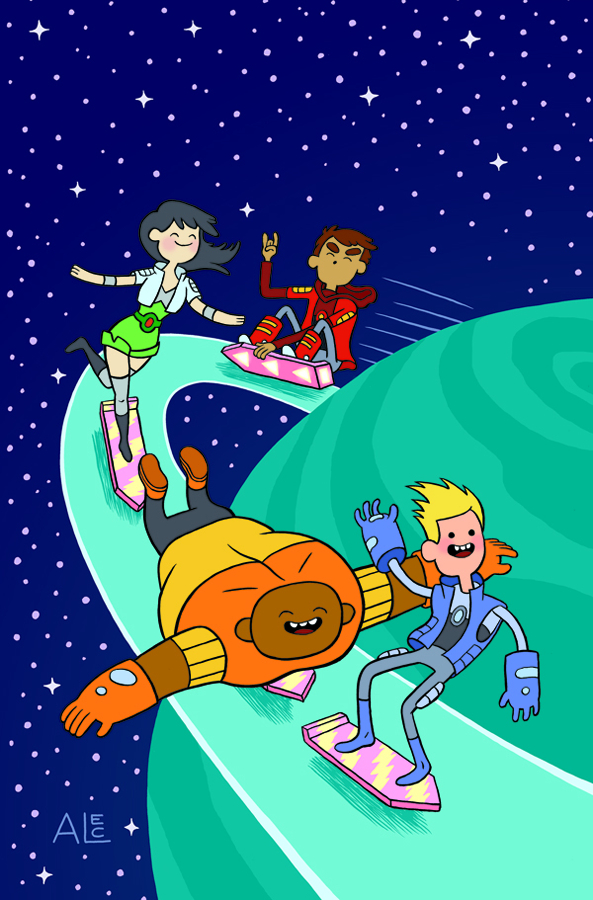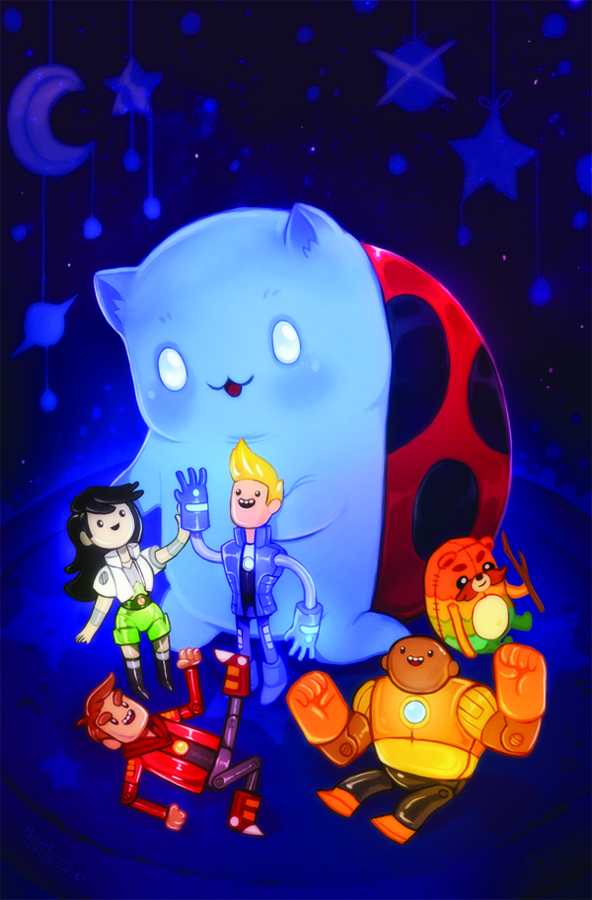 (W) Joey Comeau (A) Mike Holmes (CA) Tyson Hesse, Joanna Estep
What do you get when you mix four emotional teenagers, adorable pets, and an unpredictable setting? No, not Dawson's Creek…the BRAVEST WARRIORS, of course! For kids who love a fun-loving space adventure and adorable creatures like the internet sensation Catbug, and adults who love sly, inclusive humor. Fall in love with this book!
In Shops: 9/18/2013
$3.99
PEANUTS VOL 2 #12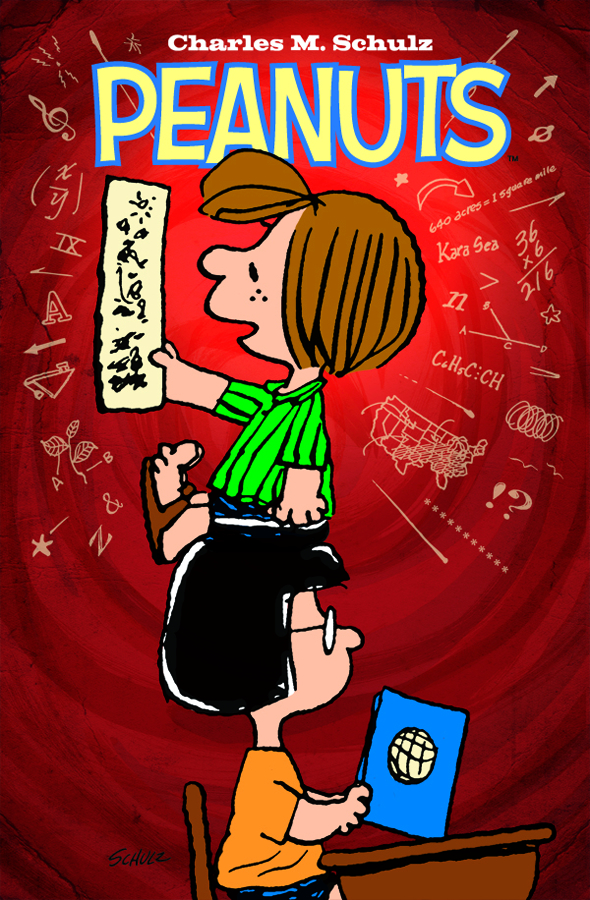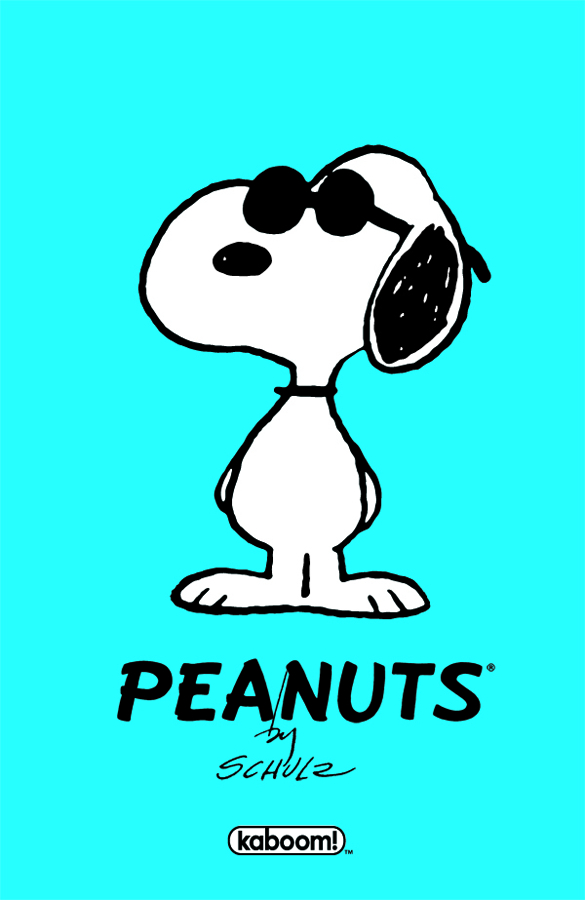 (W/A/CA) Charles M. Schulz
Taking on the role of tutor, Peppermint Patty must teach Sally Brown
the art of being a good student. Luckily Peppermint Patty has some
tricks up her sleeve. No one knows their way around the classroom
better than the one and only Peppermint Patty!
In Shops: 9/18/2013
$3.99
GARFIELD #17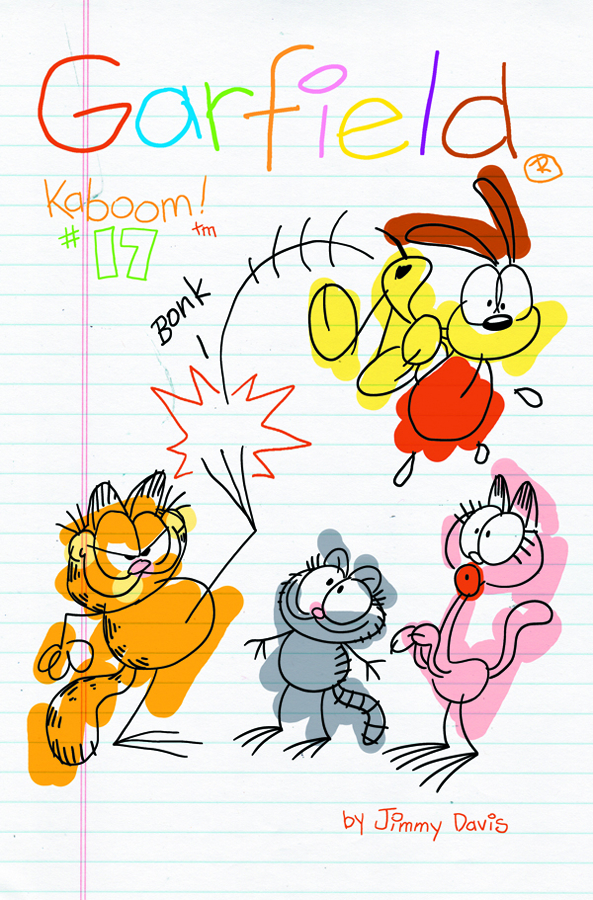 (W) Mark Evanier, Scott Nickel (A) Andy Hirsch, Dave DeGrand (CA) Gary Barker, Lisa Moore
After Garfield's thrilling battle with the Lasagna Monsters, what delicious delicacy
could possibly want to take on the Fat Cat next? Well, hold onto your plates, as
the Calzone Creature is here (and hungry)!
In Shops: 9/4/2013
$3.99
REGULAR SHOW #6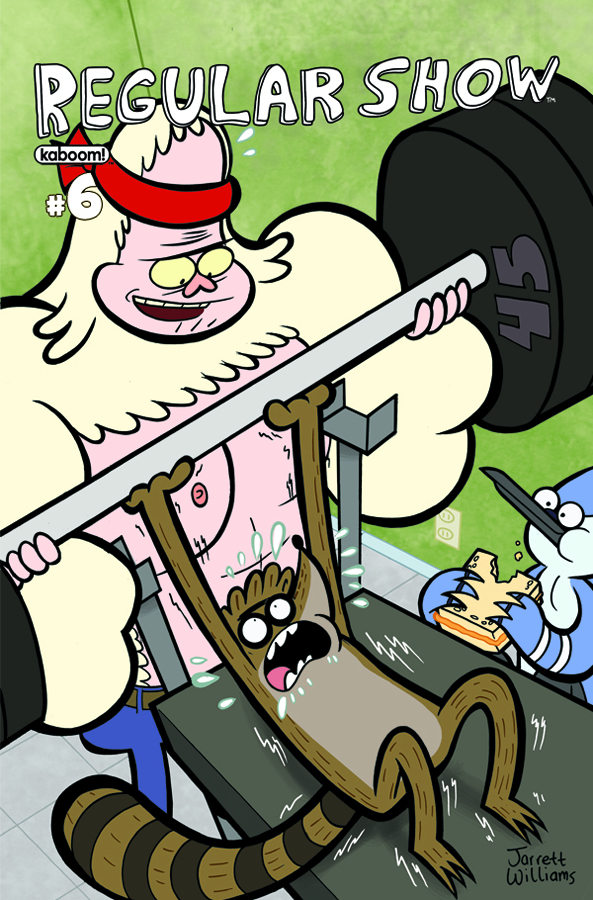 (W) K.C. Green (A) Allison Strejlau (CA) Jarrett Williams, Dave DeGrand
The start of a new arc! Join Mordecai and Rigby at the start of another adventure…this time, with pizza puppies? A fun-loving series for anyone who loves slacker humor and a variety of rad artists putting their spin on popular characters! Great for both rad kids AND rad adults!
In Shops: 9/25/2013
$3.99
REGULAR SHOW #1 CALGARY EXCLUSIVE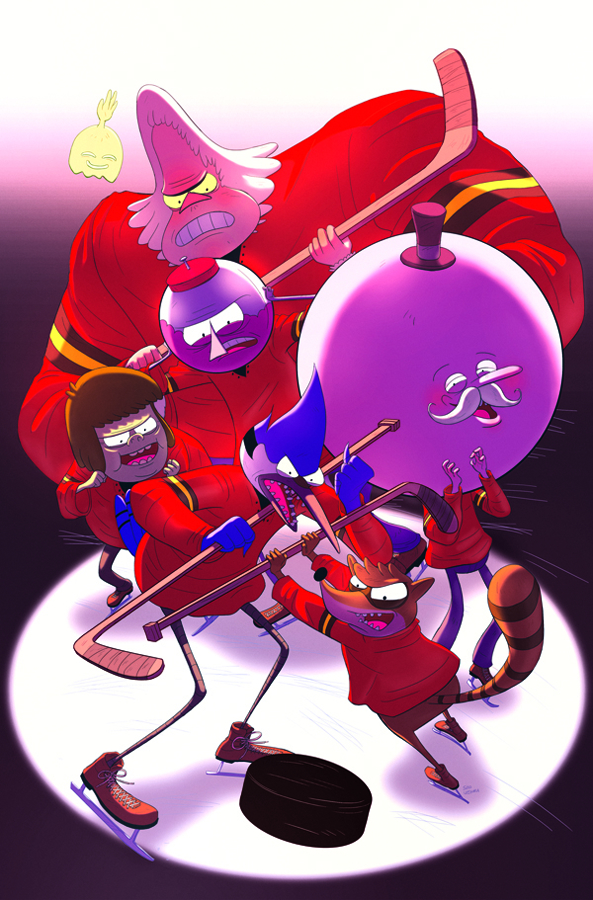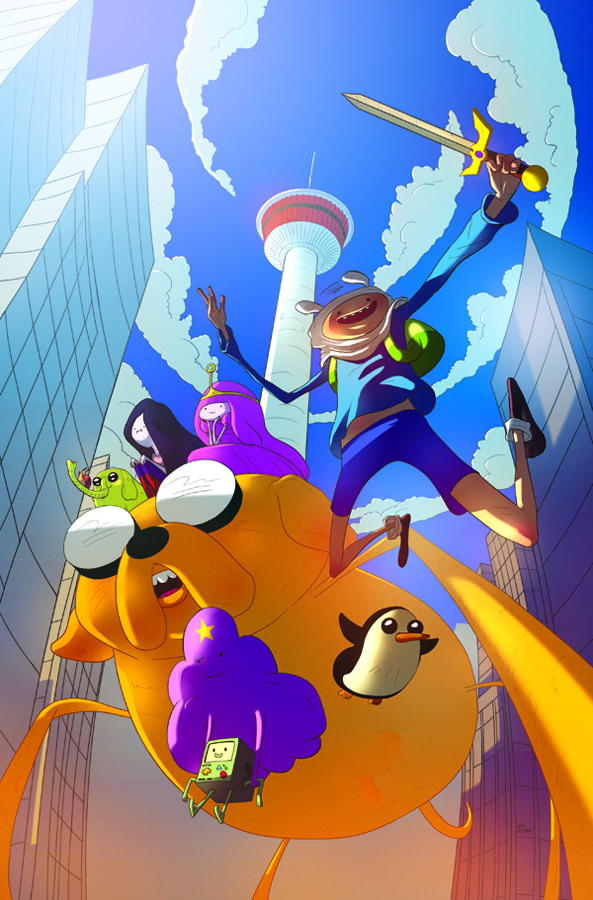 (W) K.C. Green (A) Allison Strejlau (CA) Shoichi Uehara
In a fitting tribute to our neighbor to the North, the Regular Show gang gears up
for a game of hockey in this limited edition variant cover by Shoichi Uehara
previously available only at the Calgary Comic and Entertainment Expo. Quantities
are limited, allocations may occur.
In Shops: 9/4/2013
$9.99
ADVENTURE TIME #20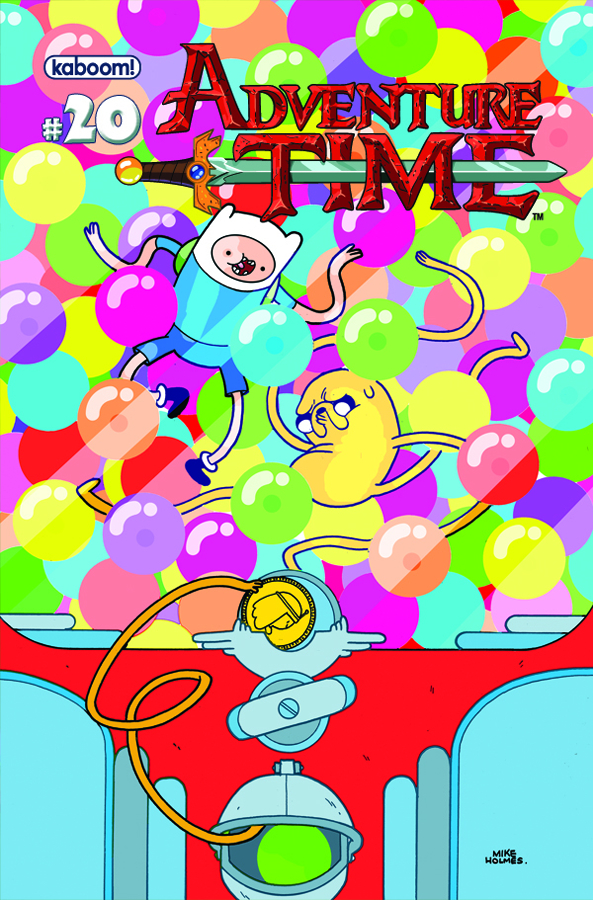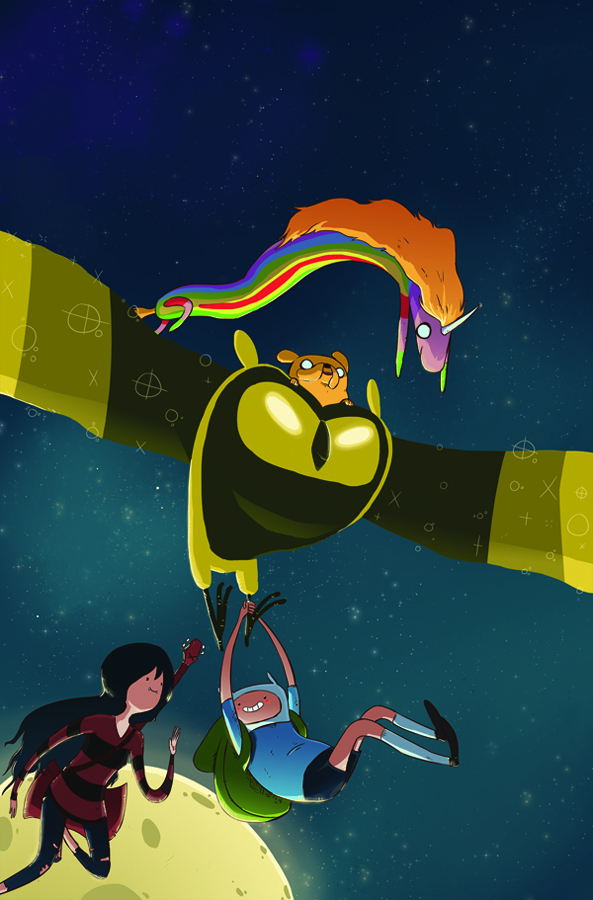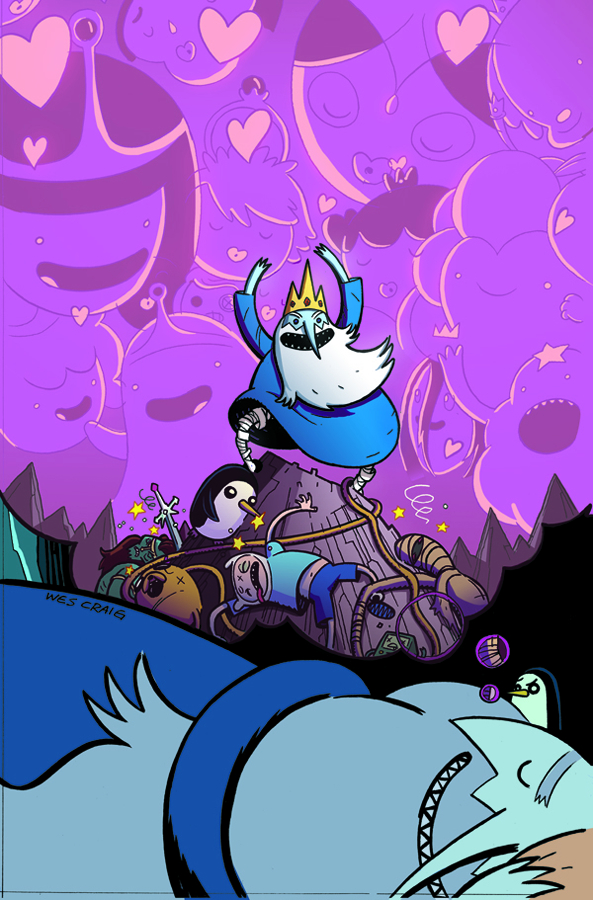 (W) Ryan North (A) Shelli Paroline, Braden Lamb (CA) Mike Holmes, Tina Fabert
Finn and Jake have endured the Ice King's weird emotional dungeon adventure, and the fiery pits created by Marceline's dad…what will their final dungeon adventure bring? A great jumping-on point for dungeon masters and that friend of yours who only buys RPG video games!
In Shops: 9/18/2013
$3.99
ADVENTURE TIME FIONNA & CAKE TP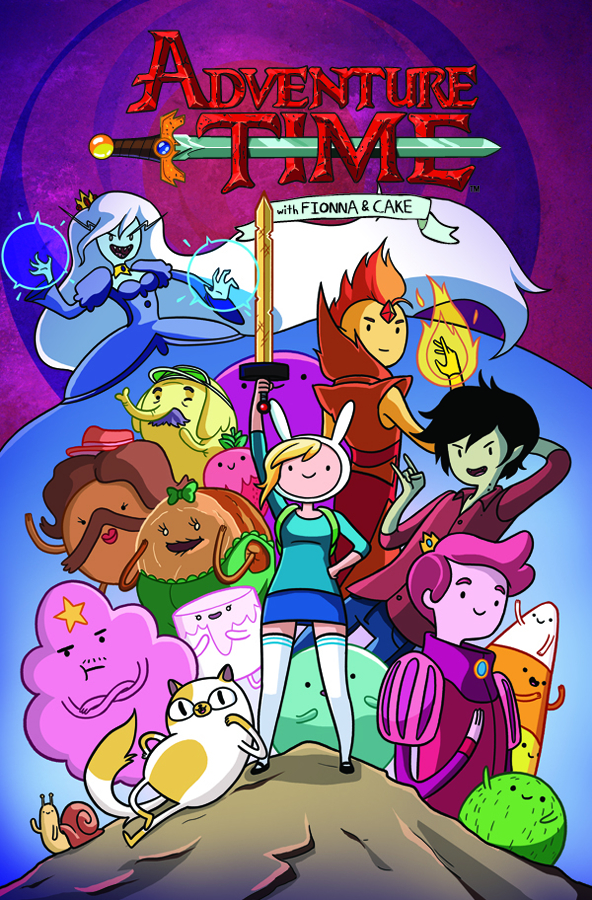 (W/A/CA) Natasha Allegri
SUGAR, SPICE, AND EVERYTHING ICE?!
It's the critically acclaimed ADVENTURE TIME™ spin-off starring our favorite gender-bent characters. It's up to Fionna and Cake to save the day from the Ice Queen, hopefully with the help of her friends Prince Gumball and Marshall Lee, this adventure will be a peace of cake!
Ice Queen is creating havoc again when she decides to try out some of her wicked cool ice magic on some poor Fire Lions! Fionna and Cake to the rescue, only they might be too late for their fiery prince! Will the be able to save Flame Prince in time, can they stop the Ice Queen from being so dang mean all the time, will Lumpy Space Prince find out the meaning of true beauty?! It's all collected in this trade, written and illustrated by animation sensation Natasha Allegry, and featuring short stories from amazing indie artist, including Lucy Knisley (STOP PAYING ATTENTION), and Kate Leth (KATE OR DIE!). Featuring a lush art style, and a fable-line storyline that appeals to young and old, and a perfect first comic for any kid in your life!
In Shops: 9/4/2013
$19.99
ADVENTURE TIME FIONNA & CAKE #1 (OF 6) CALGARY EXC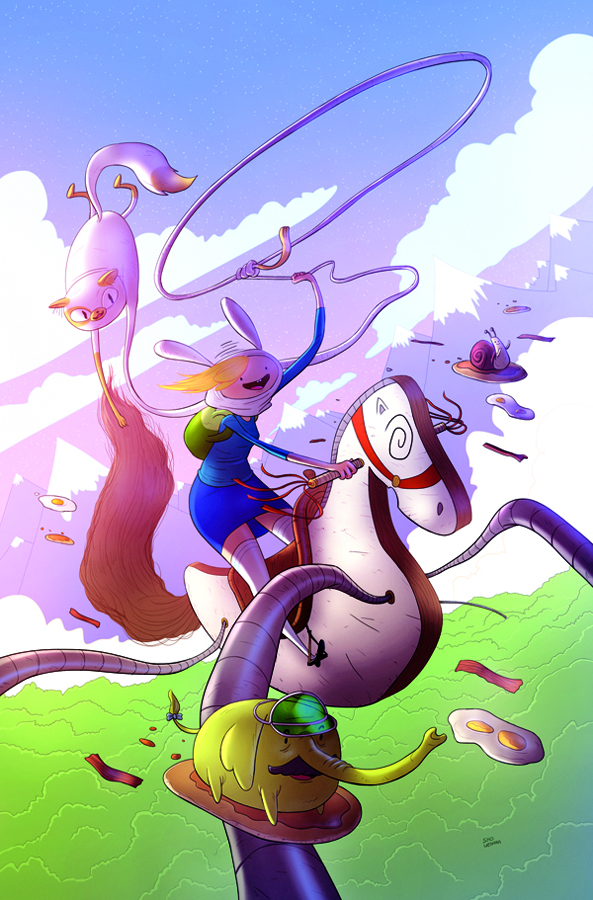 (W/A) Natasha Allegri (CA) Shoichi Uehara
Saddle up with Fionna, Cake, and friends as they ride in this limited edition
variant cover by Shoichi Uehara previously available only at the Calgary Comic
and Entertainment Expo. Quantities are limited, allocations may occur.
In Shops: 9/4/2013
$9.99
ADVENTURE TIME CANDY CAPERS #3 (OF 6)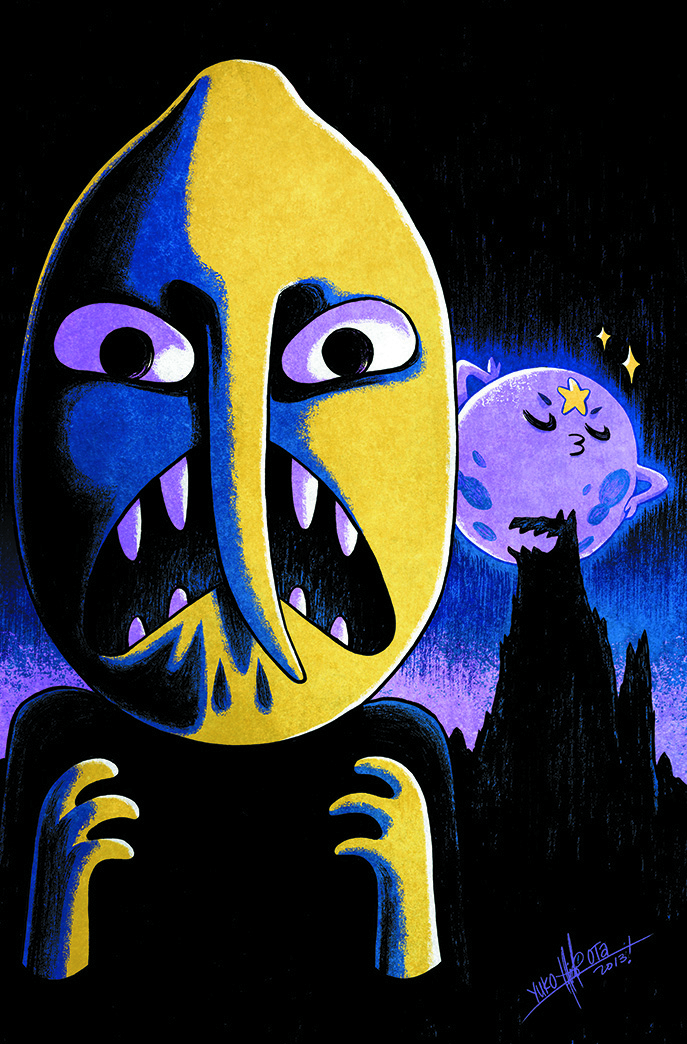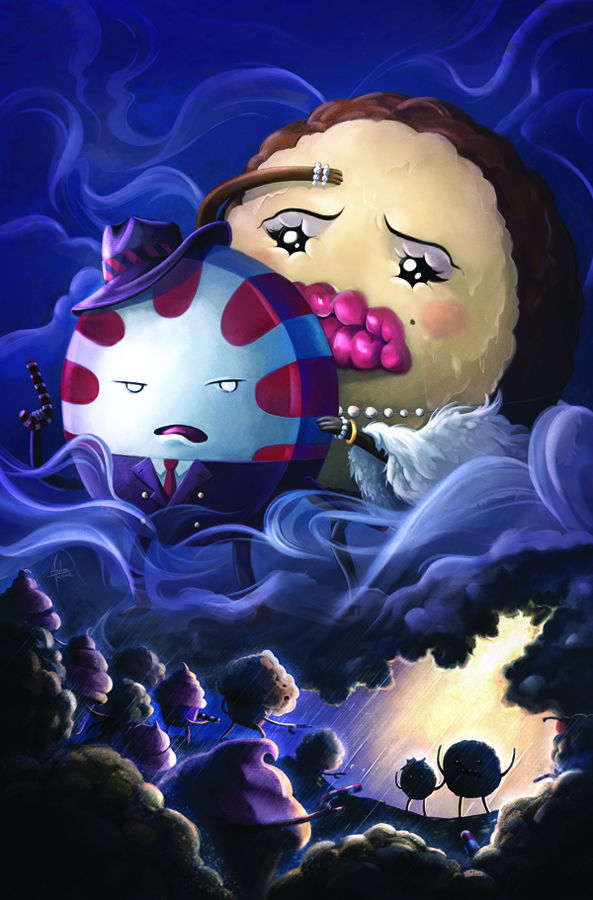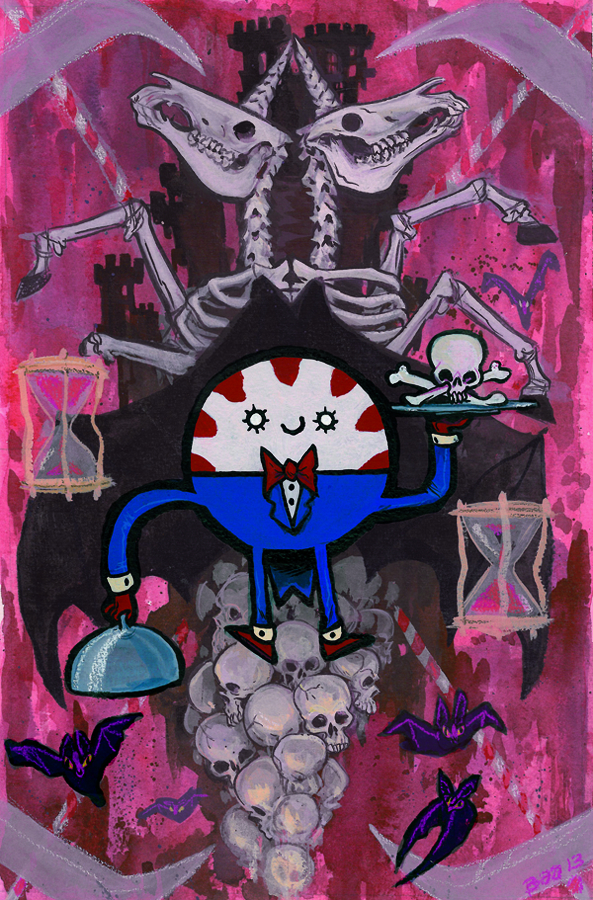 (W) Yuko Ono, Ananth Panagariya (A) Ian McGinty (CA) Jay P. Fosgitt, Tyler Parker
The wacky teamups keep coming hard and fast in the latest issue of this Peppermint Butler/Cinnamon Bun whodoneit ADVENTURE TIME caper! Last issue, we followed along as Marceline and Tree Trunks tried to be the hero team Ooo didn't know it needed…who will try to take Finn and Jake's place this issue?A great series for fans of crime spoofs and kids who can't get enough of Nancy Drew and the Hardy Boys!
In Shops: 9/11/2013
$3.99