Dynamite is bringing Tarzan and Sheena together in Lords of the Jungle and Byron Brewer chatted with Corinna Bechko about the new series, working with the two classic characters and with artist Roberto Castro. Cover art by Alex Ross and Castro.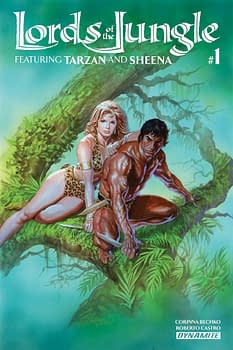 BYRON BREWER: Corinna, you keep racking up franchises. From Planet of the Apes to now and Lords of the Jungle, co-starring Burroughs' Tarzan of the Apes. Tell us how you came to be on this new book, debuting in March.
CORINNA S. BECHKO: It was simple, really. I was just finishing up a crossover that I loved working on for Dynamite (Aliens/Vampirella) when my editor, Joseph Rybandt, approached me with the idea of pitching for a Sheena/Tarzan crossover next. I've really enjoyed working with Joe and with Dynamite, and this project allows me to add something extra in – my zoology background! Because of course you can't have a story about either of these lords of the jungle without some jungle-based animals to further the plot.
BB: That will be cool! By the way, were you a fan of the Burroughs novels, a movie Tarzan fan, Tarzan of the comics jungle, or are you coming in fresh with no precepts of the Jungle Lord at all?
CSB: Some of the first books I ever read were Burroughs novels, as a matter of fact! My aunt had a full set of the Barsoom tales in paperback, and I read them all several times through. Oddly, I was less well acquainted with Tarzan until much later, when I learned that famous primatologist Jane Goodall gave him some of the credit for her interest in chimpanzees.
BB: Have you handled Sheena before? Tell us about her as a character.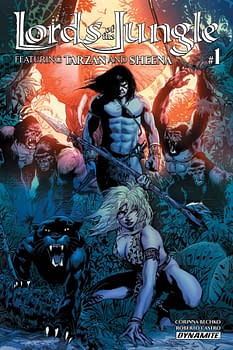 CSB: This is my first time writing Sheena, but I think I understand her very well. She's tough and not given to easily trusting humans, but has a much easier time dealing with animals. As someone who's spent most of her adult life working with all sorts of creatures, both tame and wild, it's easy for me to see where she's coming from. Unlike me, Sheena is good in a fight and never backs down from trouble. Of course, this can get her into even more trouble sometimes, but I don't think she worries about that too much ahead of time.
BB: So what can you tell us about this new series?
CSB: It brings together two of the most famous jungle protectors ever, despite the distance separating them in space and time. This Sheena is from modern-day South America, while this Tarzan is from 1930s Africa. When Sheena is thrown back through time and across continents, all she cares about is getting home. To do that, she needs Tarzan's help – but Tarzan is in London, in the fight of his life. Sheena is a wildcard as far as he's concerned, and neither of them is used to working with a partner, so sparks are guaranteed to fly.
BB: How has it been working with artist Roberto Castro?
CSB: Wonderful! Roberto is a very intuitive storyteller. I couldn't be happier to be collaborating with him.
For more on Lords of the Jungle, click here.
Enjoyed this article? Share it!