 Thousands are dying across the world. Sports teams are winning championships. The stock market is rising and falling. But I don't care about any of that stuff until I've read my comics! As a child, I was delighted to read the comics section every morning during breakfast. It's a habit I picked up from my mother. As soon as I've concerned that Dennis is still a menace and Dagwood is still hungry, then I can move on to the other sections of the paper. And when Sunday rolls around? Glorious colorized strips with more panels! Ah, the life. While we take advantage of the great strips in the paper today, they wouldn't even be in print if it weren't for the strips that came before them. In today's article, I look at the Best Archival Collection/Project—Strips (at least 20 years old) category, saluting the nominees for paving the way for modern comic strips, and double-saluting the publishers for polishing them like the rare gems they are.
Keep in mind I cannot vote for who wins (nor can you, probably), as per the rules. Plus voting ended June 1st. However, that's not keeping me from being vocal regardless!
Who is eligible to vote?
Comic book/graphic novel/webcomic creators (writers, artists, cartoonists, pencillers, inkers, letterers, colorists
All nominees in any category
Comic book/graphic novel publishers and editors
Comics historians and educators
Graphic novel librarians
Owners and managers of comic book specialty retail stores
Who is not eligible to vote?
Comics press or reviewers (unless they are nominees)
Non-creative publisher staff members (PR, marketing, assistants, etc.)
Fans
Before I get back to my publishing my newspaper strip The Farther Side so I can be eligible for next year, let the games begin!
Best Archival Collection/Project—Strips (at least 20 years old)
Winsor McCay's Complete Little Nemo, edited by Alexander Braun (TASCHEN)
A must-own for Little Nemo fans, this 708-page gargantuan book collects all 549 adventures of Little Nemo. Untouched and unaltered, every strip is as original as the day it was published, showing-off the true genius of McCay and why he has been such an inspiration to a generation of new artists. Some might complain of how big the collection is, but in my opinion it's the perfect size to really experience everything that's great about Little Nemo.
Edgar Rice Burroughs's Tarzan: The Sunday Comics, 1933–1935, by Hal Foster, edited by Brendan Wright (Dark Horse)
Review copy unavailable.
Moomin: The Deluxe Anniversary Edition, by Tove Jansson, edited by Tom Devlin (Drawn & Quarterly)
This is the ultimate collection of Finnish artist Tove Jansson's work on the comic strip Moomin. Spanning over 400 pages in glorious black and white, the adventures of the Moomin family are wonderfully well-preserved in this oversized anniversary edition. Included in the back are original sketches and concept art by Jansson, for unfortunately back in the day original art wasn't returned to artists, but rather destroyed instead. While Moomin might not be that well-known in the states, Jansson's work is hugely popular in Europe. English readers should consider themselves incredibly lucky to have such a strip translated to English by Drawn & Quarterly.
Pogo, vol. 3: Evidence to the Contrary, by Walt Kelly, edited by Carolyn Kelly & Eric Reynolds (Fantagraphics)
The long-awaited third volume (of 12) of everyone's favorite possum of the Okefenokee Swamp, Pogo. Collecting the dailies and Sunday strips spanning from 1953-1954, Kelly continues to be in top form in both storytelling and illustration, that same quality Fantagraphics upholds and highlights over 60 years later. Half in black and white, half in wonderful Sunday Funnies colors, the third volume continues to make Kelly's Pogo a favorite of every generation of readers.
Walt Disney's Mickey Mouse, vols. 5-6, by Floyd Gottfredson, edited by David Gerstein & Gary Groth (Fantagraphics)
It's crazy to think that at one point Gottfredson was merely a short-term replacement on Mickey Mouse. No one could have possibly imagined him going strong on the strip for more than 45 years! With volumes five and six, we see Mickey go on adventures overseas with Goofy, go toe-to-toe with the Phantom Blot, and explore Cave-Man Island. Fantagraphics includes several behind-the-scenes art pieces and tons more extras and commentary in the back of both collections.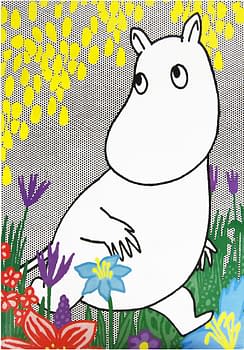 Who I think should win:
Moomin: The Deluxe Anniversary Edition, by Tove Jansson, edited by Tom Devlin (Drawn & Quarterly)
Holding this colossal anniversary edition in my hands, I can literally feel the weight of how much love, blood, sweat & tears Tom Devlin and the rest of the Drawn & Quarterly team put into this collection. While Jansson's artwork is rather simple-yet-intricate, the preservation and execution on the oversized pages is absolute eye-candy for the reader. One of the things I enjoyed the most was the concept art in the back of the book, unseen by the public until now.
Drawn & Quarterly went above and beyond with this book, helping bring much-deserved praise and recognition of Jansson to the states. She's the Charles Schultz of Finland, packing just as much inspiration to artists for decades.
Who I think will win:
Winsor McCay's Complete Little Nemo, edited by Alexander Braun (TASCHEN)
Without question, this is the year of Little Nemo. While other publishers created new material or tributes to McCay, TASCHEN went all-out and dominated the party with every single comic strip illustrated by McCay collected in one oversized volume. It's a thing of beauty, and I'm glad they kept the original coloring as is: it adds to the nostalgia factor that's provided decades of entertainment to readers and creators alike.
I doubt anything else could out-Little Nemo this collection, unless McCay were to rise from the grave and create a collection of new material.
Who I think should have been nominated:
Popeye: The Classic Newspaper Comics by Bobby London Volume 1 (1986-1989) & Volume 2 (1989-1992), edited by Dean Mullaney (IDW Publishing / The Library of American Comics)
London's humor can be a little dicey, depending on the demographic. So when he was handed the Popeye strip in the late 80's, he continued to push the envelope with his brand of humor, while making it a natural fit to the Popeye universe. You can definitely tell London consumed a can of spinach when illustrating these strips, because both collections definitely pack a punch!
Who do you think should win / been nominated?
Cameron Hatheway is a reviewer and the host of Cammy's Comic Corner, an audio podcast. You can offer him a can of spinach on Twitter @CamComicCorner.
Enjoyed this article? Share it!