The Martha Washington comic books by Frank Miller and Dave Gibbons mark a highpoint in the careers of both creators. Running through the nineties from the original Give Me Liberty series published by Dark Horse, they told the future-set story of one woman from her birth to her death, and the amazing historical changes that she was a part of, witting and unwitting. Born in a slum, joining the military, becoming a warrior, a leader, an icon, a politician…
And with the writer of Dark Knight, 300 and Sin City, and the artist of Watchmen, it should have been a clear route to options and the silver screen.
But there was one sticking point, The lead character was black and female.
Which, back then, was a no-no. To be fair, not much has improved.
Anyway, Dark Horse is putting out the complete collection in a second edition with a new cover next year.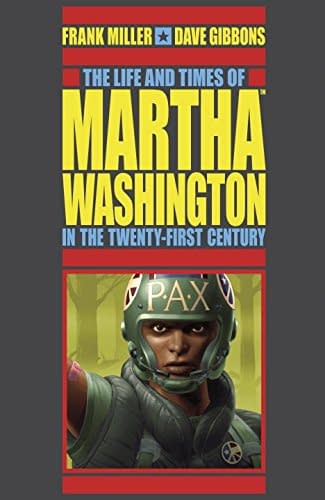 Maybe it will be enough for a movie producer to pick up and go "hmmm…. I know those names. Could she be a white man?"
Enjoyed this article? Share it!