Cyclops Turns To Genocide in X-Men #19 (XSpoilers)
Cyclops and Genghis Khan, can you tell the difference anymore? X-Men #19 narows the difference between the two.
---
One of Cyclops' mutant powers is super trigonometry, an intuitive sense of spatial geometry between objects, which could be perceived as making him very calculating. evolved to be the perfect leader of the X-Men unless something emotional is putting him off. It's how Storm defeated him as leader in X-Men #201, but it also led to what feels like an iconic moment from early New X-Men by Grant Morrison and Frank Quitely, which saw him execute an innocent mutant who was at risk of harming others, with the following line.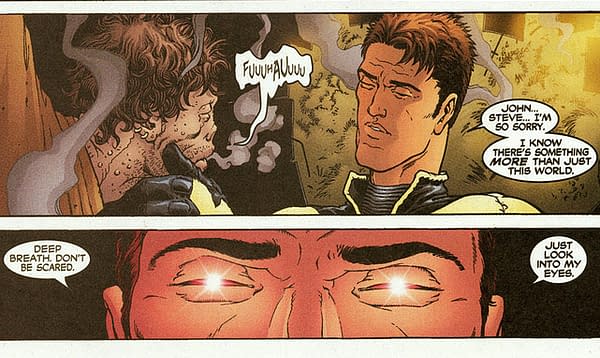 I was reminded of that, reading today's X-Men #19, opening with Cyclops talking about committing genocide upon the alien race, known as The Brood.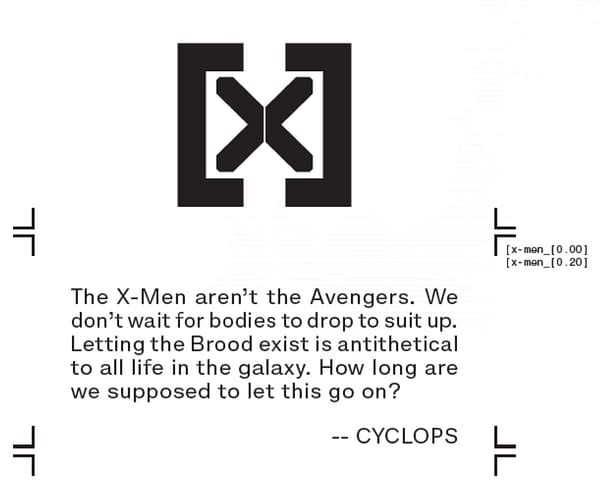 While Cyclops' wife Jean, and Magik, took to their own member of the Brood, Broo, living on the mutant planet of Arakko, formerly Mars.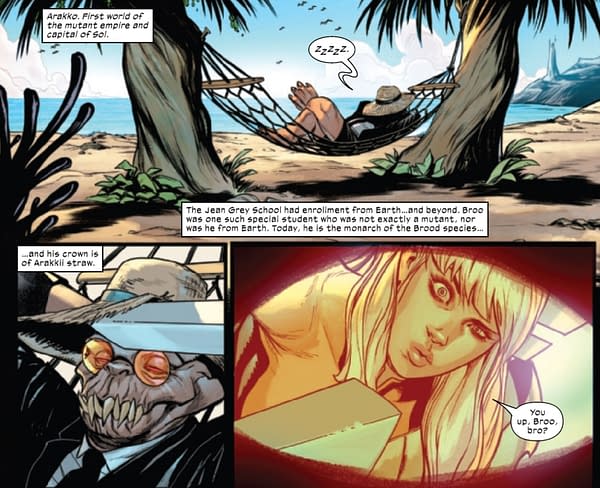 And while trying to find out why the Brood are going on murderous rampages, even though Broo is meant to be their emperor now.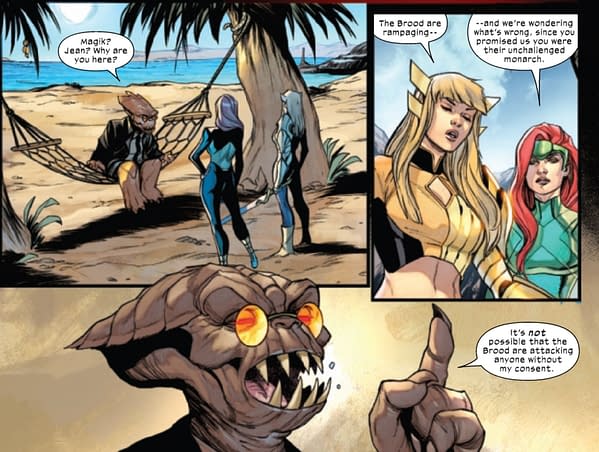 And, just as Cyclops is prepared to sidestep sentient rights, it looks like it might have been rubbing off on someone.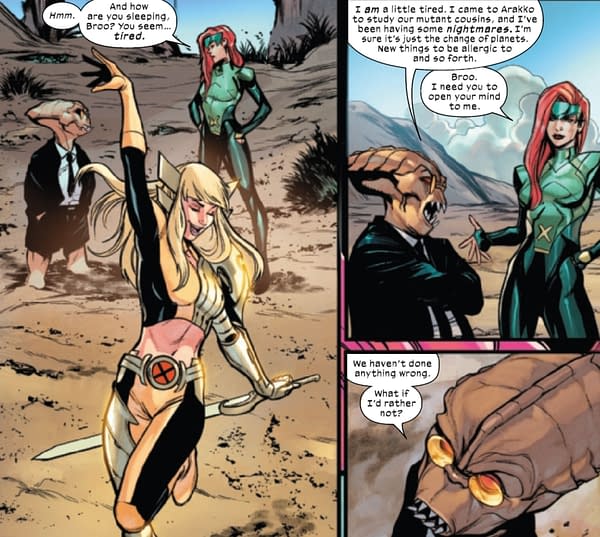 As Jean Grey just takes what she wants. The kind of thing Professor X always warned her against doing. Now it's not even a second thought.

You'd have thought she'd have learned after she outed Bobby Drake. But this new, repeatedly resurrected Iceman, the nice X-Man, feels the same way.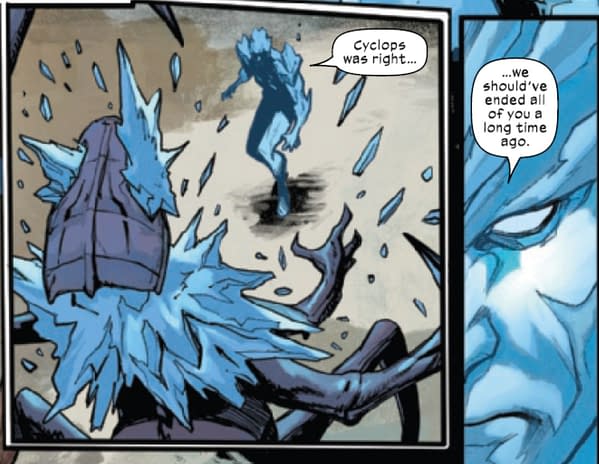 Intriguingly the current series might add a textual explanation as to why certain characters in the Krakoan X-Men world may be off, as more and more Mister Sinister DNA has been building up every time they are resurrected by The Five. Even though Hope Summers, without her knowledge, expurges Sinister control, might there be a thin layer of his callous and psychopathic pragmatism that somehow remains? Because over in Nightcrawlers #2, also out today, it seems that Mister Sinister was happy to wipe the Brood out as well.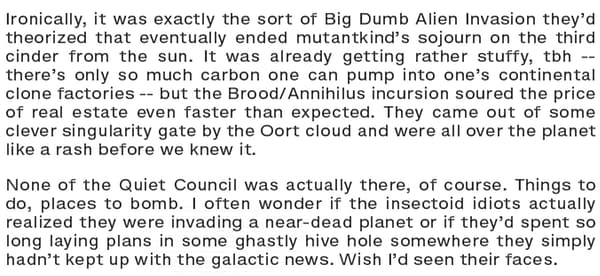 Though with a much more broken version of Cyclops, DNA merged with Nightcrawler, made a Sinister but then rescued from it. But not coping with the world as Sinister has made it.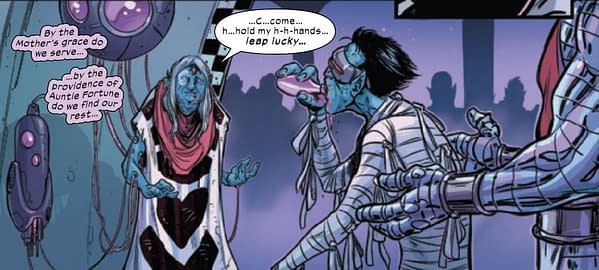 The Sinisters and The Summers, they will always be up in each other's business and have a lot more in common than we may have noticed.
X-MEN #20
MARVEL COMICS
JAN230880
(W) Gerry Duggan (A) Stefano Caselli (CA) Juan Frigeri
LORD OF THE BROOD – PART TWO! When the X-Men's close friend Broo became the Brood King, he gained the ability to control the savage alien race he was both a part of and so different from. Now he is experiencing his own nightmare scenario – the Brood are killing his friends, and there is nothing he can do to stop it! Featuring a connecting cover to CAPTAIN MARVEL #47!
Rated T+ In Shops: Mar 08, 2023 SRP: $3.99
NIGHTCRAWLERS #2 (OF 3)
MARVEL COMICS
JAN230775
(W) Si Spurrier (A) Andrea Di Vito (CA) Leinil Yu
100 YEARS SINCE THE SINISTER ERA BEGAN… WAGNERINE and her gene-spliced assassins are HOLY THIEVES, servants to a cosmic cult. Let the HEIST LITURGY be spoken! Loot the ashes of Asgard! Raid the tombs of Otherworld! Pick the pockets of the Marvel Universe and build the sacred weapon! And let us bear witness to the final fate of the First…the fallen fiend who was once known as NIGHTCRAWLER. Rated T+In Shops: Mar 08, 2023 SRP: $3.99
---
---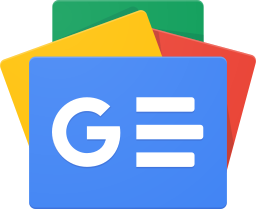 Stay up-to-date and support the site by following Bleeding Cool on Google News today!