Dan Abnett – Writer's Spidery Commentary on Dejah Thoris #5
Dan Abnett has a writer's commentary for his Dejah Thoris Vol 3 #5, out now from Dynamite. He writes and shares,
I particularly like this issue because, to me anyway, it captures two of the key flavours of ERB's Barsoom tales, and indeed the very essence of all 'Planetary Romance' adventures.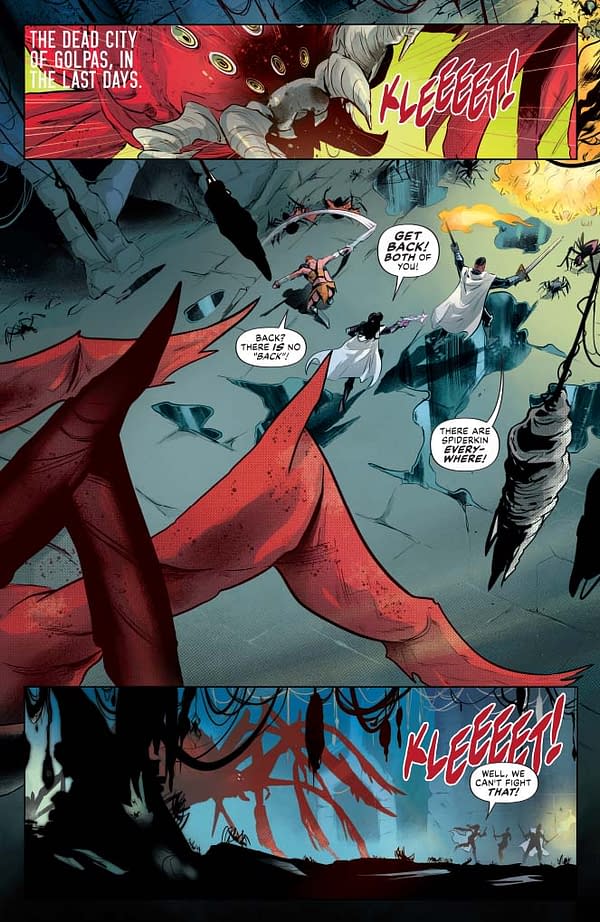 Page one
Upfront, we have huge and heroic action. Heroic action is the bottom line: that's what these stories thrive on. Dejah, Llana, and Kantos are stranded in the eerie, deserted city of Golpas, and are overrun with spiders. If you have an arachnid phobia, look away now.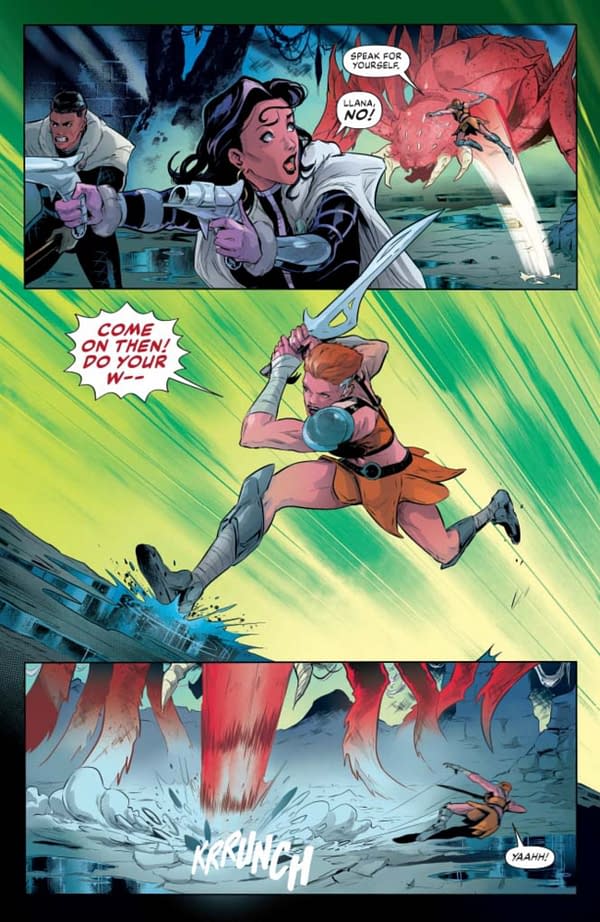 Pages two to six
We're not just talking lots of spiders; we're talking spiders of all shapes and sizes, including the (literal) mother of all spiders. Swords and courage against hideous monsters in a ruined ancient city — this is the quintessence of Barsoom adventures, the thrill of the books I read as a kid, the exotic mystery of the old paperback covers. Vasco handles this brilliantly — knowing when to close in for a human reaction, when to pull back for scope and scale, and when to drop the panel count for dynamic action. Llana versus Momma Spider is a brilliantly choreographed set piece (and Llana's becoming such a great character too).
Page seven
And then we come in with the other great ingredient of ERB's tales… the exotic and alien sense of mystery, of deep time, and ancient customs, and alien cultures. Someone or something is in the ruins with them, a potential ally.
Pages eight and nine
The reveal of this character — representing a classic piece of Barsoomian lore — is both sinister and macabre. Great atmosphere and pacing in the art, a great mix of wonder and mystery… he's trying to help them… but he's terrifying.
Pages ten to twelve
Switching, for a moment, to our other story strand, Thuvia and her pride of Banth are lost in the desert and encounter Tars Tarkas and Sola. The Tharks are probably my favorite aspect of Barsoom. And I love the way Dearbhla uses the color to shift the scene and setting. Her work is atmospheric and effective throughout. A theme of communication is emerging in this series: the End Winter is breaking things down, affecting the world, and even the species living in it and the way they talk to each other…
Pages thirteen and fourteen
…And that's reflected in Dejah's conversation with Morokh too. I love this conversation: it's about communication, but the conversation itself, and the way they communicate tells us so much about Morokh. Having a chat with a telepath has odd consequences, like him answering questions before you ask them. It is, I hope, quite amusing too. Simon's always superb lettering design really carries and displays the flow between spoken word and thought-projected speech.
Page fifteen
And where are our bad guys during all of this? Let's go visit the wonderful Sabal Than. Considering she's 'cute' and languid and exquisitely decorative, Vasco invests her — as I hoped he would — with great malice. She acts like a spoiled child, distracted by playthings, but she's the real threat here. There's something about her flippancy, and lines like "Did we not have a whole talk about that? "which drip with sinister intent.
Pages sixteen to twenty-one
Dejah and Morokh explore the problem more deeply, while Llana and Kantos have a quiet chat on the side. Strands are tying together now, as information is shared. Priorities have to be decided, whether Llana likes them or not. Dejah's wisdom and experience are prevailing over Llana's hot-blooded ferocity, though we can see that Dejah longs to be as impulsive and emotional as her grand-daughter. They are, perhaps, getting to the heart of the mystery now…
Page twenty-two
…But a ruthless danger lies in their path. It's all going to kick off the next issue, but can Dejah, face to face with one of the Jeweled Killers, contain her emotions and her need for revenge well enough to make the right choices? Or… it has to be said… survive?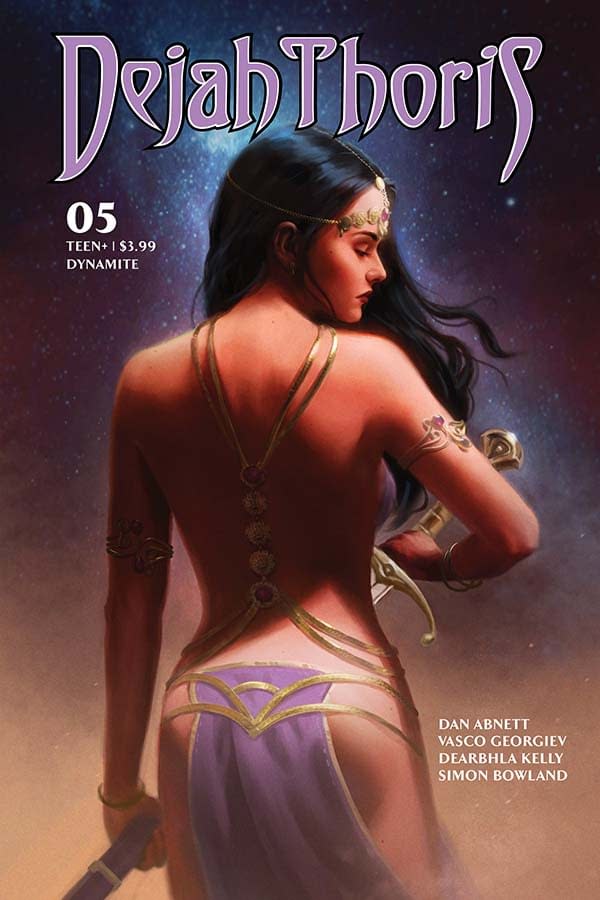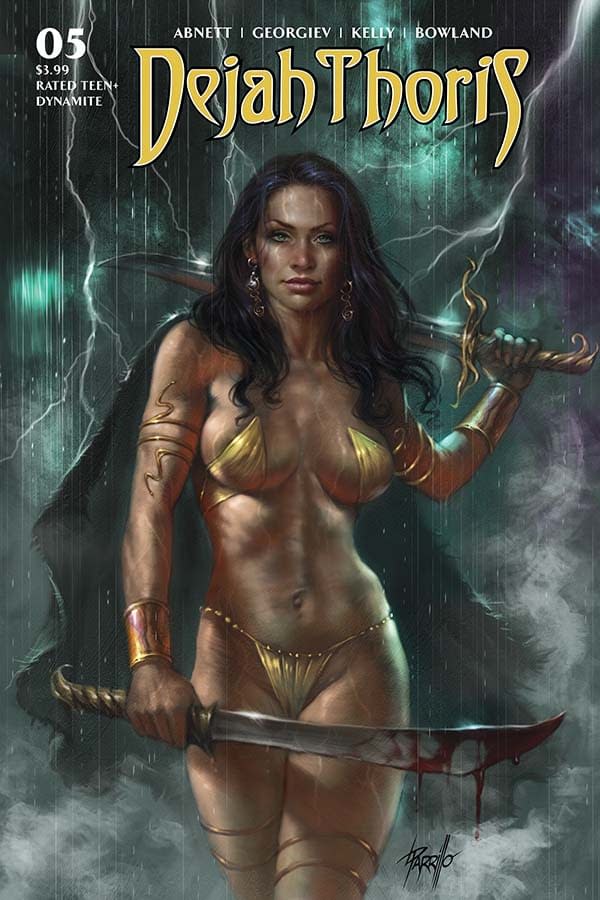 ---
---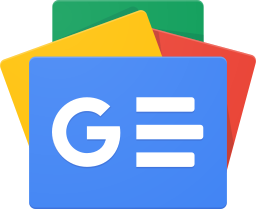 Stay up-to-date and support the site by following Bleeding Cool on Google News today!