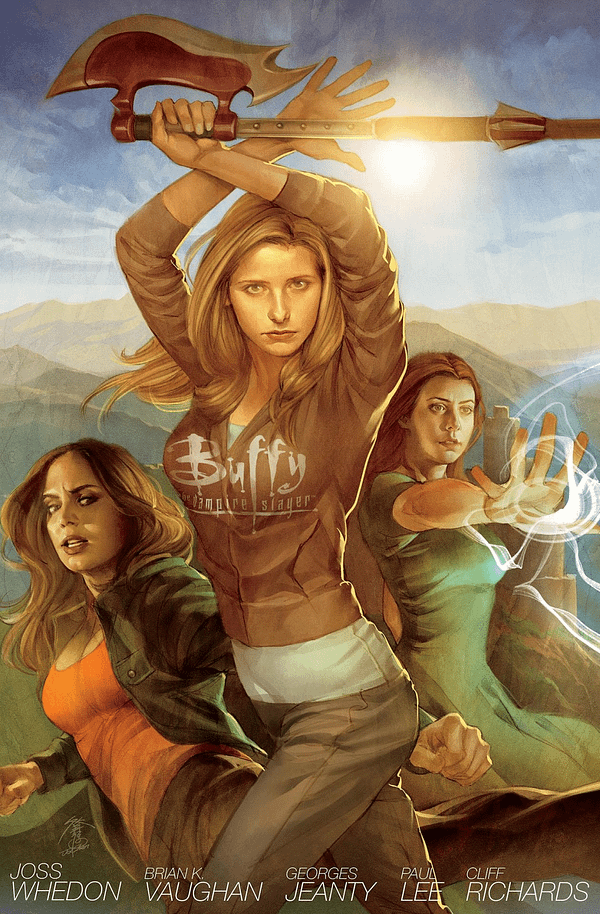 Ten years ago, in 2007, Dark Horse did something new that would be imitated by many other publishers and TV franchises. They took a television show that had ended and recommissioned a new season – in comic book form.
This was Buffy The Vampire Slayer Season 8, following on from Season 7 which had been broadcast in 2004. And it became a thing.
It was produced by Joss Whedon, who wrote or co-wrote three of the series arcs and several one-shot stories across 40 issues and more spinoff titles, Tales of the Vampires and Willow and Riley one-shots and short stories in Dark Horse Presents.
Set a year after the end of the television series, Season 8 had Buffy and Xander in Scotland leading an army of slayers, psychics, seers and witches, after Buffy robbed a Swiss bank to set it all up, with squads of slayers across America and Europe, each with different leaders and a very powerful Willow overseeing it all, and a US army looking to take revenge for the destruction of Sunnydale, as the world starts to turn pro-vampire and anti-Slayer. Oh, and a giant Dawn. And a big bad called Twilight…
As well as Whedon, writers for the series included Brian K. Vaughan, Drew Goddard, Jeph Loeb, Jane Espenson, Doug Petrie, Drew Z. Greenberg, Steven S. DeKnight, Jim Krueger and Brad Meltzer, while artists included Georges Jeanty, Andy Owens and Jo Chen.
With its conclusion in 2011, Dark Horse relaunched with Season Nine, then Ten and has recently launched Season Eleven.
In that time, similar post-finale seasons have been launched by Angel for IDW, Penny Dreadful for Titan, Legend Of Korra for Dark Horse, Charmed for Zenescope, and more.
And now it's back to the beginning. Dark Horse publishing the Buffy The Vampire Slayer Season Eight Omnibus. Out in September… 592 pages for $25. Which, considering there were 40 issues plus spinoffs, means this is Volume 1. Expect a Volume 2 in 2019 8 to finish it off.