Writer's Commentary: David Avallone Talks the Final Issue of Bettie Page
Dynamite has sent us a writer's commentary for the finale issue of Bettie Page by David Avallone. The issue features covers by Joseph Michael Linsner and Scott Chantler with interiors by Esau Figuora and Matt Gaudio.
* * * * *
The thrilling series conclusion! This is wall-to-wall spoilers, so read the issue first and then come back for the behind-the-scenes story.
The covers: in the "A" cover, Joseph Michael Linsner delivers again, this time with roses. For the "B" cover, Scott Chantler and I kicked around a few ideas, and the most compelling one was French travel posters from the period, particularly for Cannes. (Google them: they're beautiful.) He created something in that style, but entirely original. There's something bittersweet about it, like the end of a glorious vacation, and it perfectly reflected my own feelings about this final issue of Bettie Page. I had a wonderful time, and I'm sorry to go.
Page 1:
Esau Figuora created the art for our first ten pages, and Matt Gaudio the second ten. Esau starts us out with a slow zoom back from Bettie in a Cannes movie theater, while the narration brings us up to speed on what has gone before.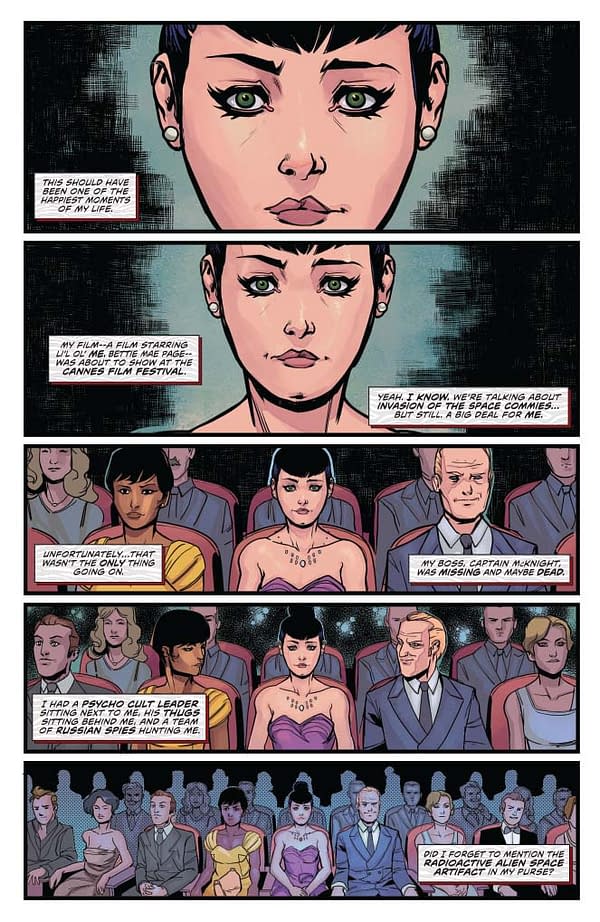 Page 2:
The title, NAKED LAUNCH, is a cheap pun on the title of the famous book which our villain's name is a tribute to. Tip of the hat to letterer Taylor Esposito for the great 1950s movie title font on the screen.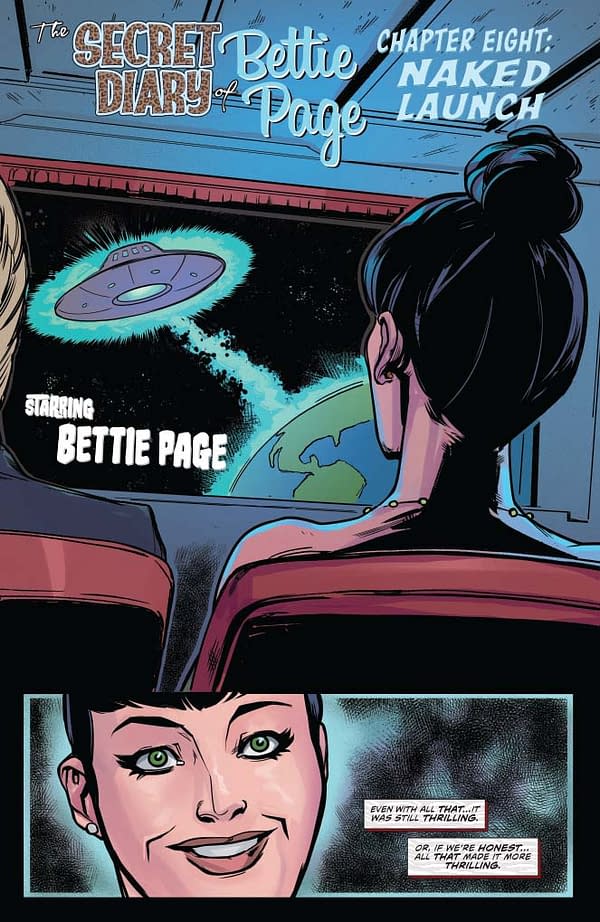 Pages Three, Four and Five.
Watching INVASION OF THE SPACE COMMIES on the screen gives us an excuse to relive some of the first four issues… and revisit my wife Penny Starr Jr.'s great costumes for the movie-within-the-comic. Someday I'd like to do a 64-page INVASION OF THE SPACE COMMIES special where we do the comics adaptation our fictional movie would have gotten in the period. I am also available to write ABBOTT AND COSTELLO MEET THE SPACE COMMIES if anyone wants to read that.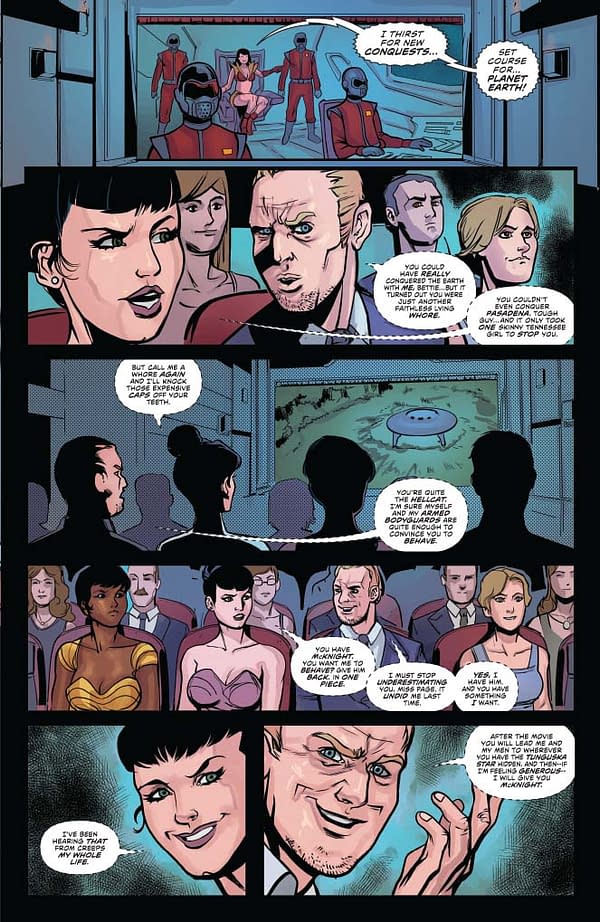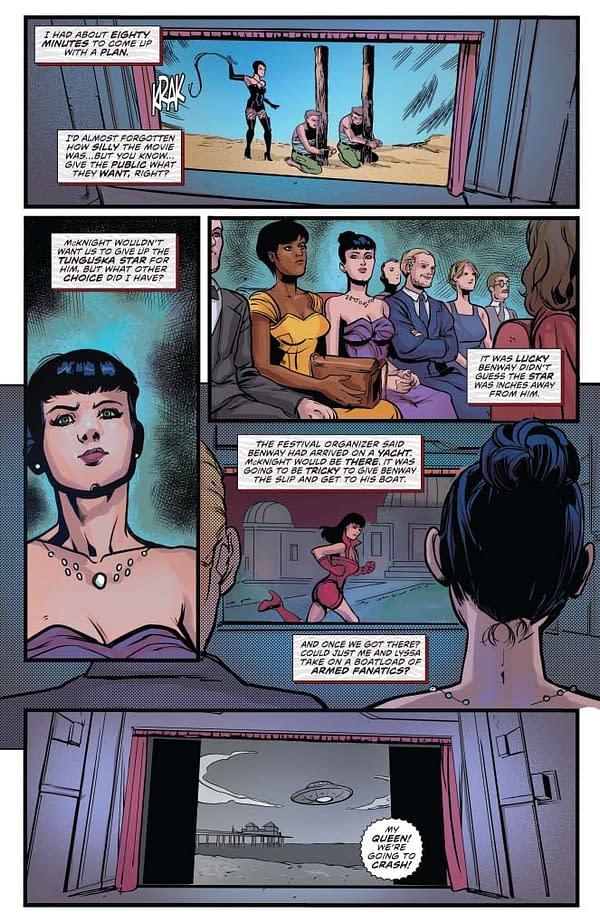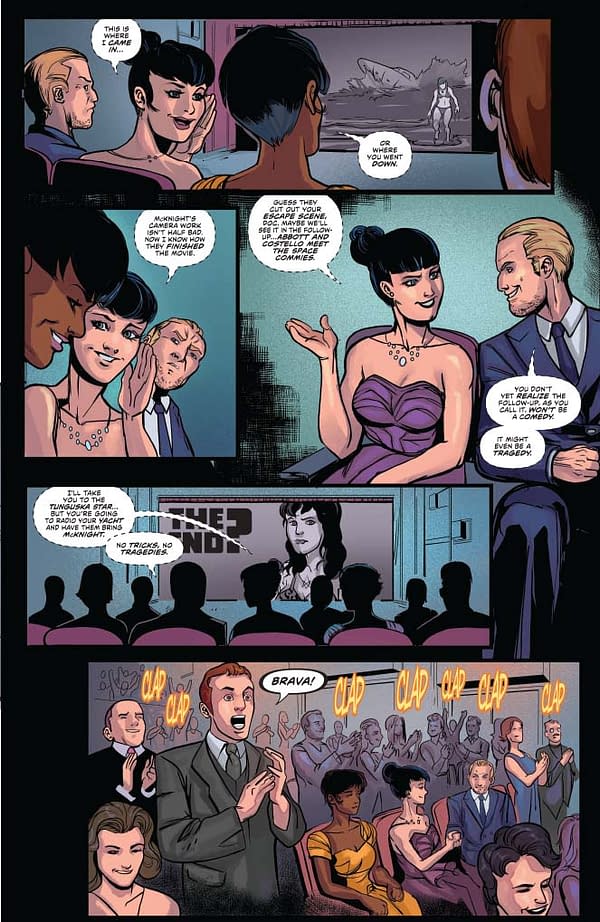 Pages 6-7:
I decided it was better not to spell out Vittorio's full name, but he's one of the great filmmakers of all time. In 1953, he was at Cannes with his greatest film, UMBERTO D. The most heartbreaking movie ever, btw. Don't say I didn't warn you.
Pages 8-10:
A meta conversation about McGuffins leads us to the return of Endré and Alyoshka. Endré, a director himself, is briefly awed by the presence of Vittorio, but that doesn't affect the deadly Alyoshka. Bettie fools Benway with the oldest trick in the book, and the Soviets chase after him. I'm glad I was able to "cast" my old friend and mentor Endré Hules in the part of Endré. Maybe someday he'll get to play it in the movie…
Page 11:
Matt Gaudio takes over and we say goodbye to Vittorio with two references to his most famous movies: BICYCLE THIEF and UMBERTO D, which is about an old man whose only companion is a little dog named Flick. (No kidding, it's the greatest movie ever made.)
Pages 12-13:
You can't end a classic spy movie without a raid on the supervillain's lair. In this case, a yacht he's been hiding out on to escape prosecution. Any resemblance between Benway and his Sky Science cult and any persons living or dead who might have fled U.S. prosecution by staying on a boat for a few years is entirely coincidental. Anyway, that guy had a much bigger boat.
Pages 14-16:
Our heroes rescue their boss from a very spacious yacht, but Benway is expecting them. And he ruthlessly orders his men to fire, even when they've given up. Good thing the writer planted a mysterious deus ex machina a few issues back, right?
Pages 17-19:
Time stops, and an otherworldly song-and-dance man appears to wrap everything up. He looks like the star and choreographer of another film that was at Cannes in 1953 (and Bettie has mentioned him in previous issues), but I'll let you figure out for yourself who that famous smile and striped orange blazer belong to. Kudos to colorist Brittany Pezzillo for nailing everything in this book, including the classic costume our mystery man is wearing here. He also has a touch of Klaatu, the kindly extraterrestrial hero of THE DAY THE EARTH STOOD STILL about him. And here he is showing up while the Earth is standing still.
Page 20:
Epilogue. Did Benway go down with his ship, and did he notice that vicious kick to the crotch he received while time stood still? Will Lyssa or McKnight believe what Bettie is about to tell them? Will Dynamite ever let me tell more stories about these three great characters? Only time will tell. Thanks for reading!