Dax – Out of the Airlock. Writer: Aaron Balogh. Artist: Jess Boudrie. Kickstarter https://www.kickstarter.com/projects/jessboudrie/dax Closes 8/20/14. Graphic novel to be available in October.
Aaron Balogh writes:
Dax is the story of a space merc that gets saddled with a young girl. Hijinks ensue! This is the story of how Dax came to be and what it means to me.
I've been a fan of comics for a really long time. I remember picking up my very first comic, Power Pack #1, at the small town grocery store in Small Town, Michigan. I tore it up a few months later to give to my dad for our wood stove during a tough winter, but that's a whole other story.
The passion was there, the bug took hold, and I was away. By fourth grade, I knew I wanted to do something in comics. I wanted to draw. Sadly, I'm not that great of an artist. However, something did happen that year that would eventually lead me toward my childhood dream.
One night I was invited over for a sleepover at my friend Jim's. I hadn't realized there would also be another kid there. That's where I first met Jess. He was the nerdy kid with the big glasses (I didn't get mine for another whole year) and I was the kid who cussed too much, but we were both into TMNT. The three of us spent the night playing as our favorite turtles (Jim's parents were split up, so that meant his Dad bought him fun things like bo staves and nunchucks). We stayed up too late playing Duck Tales on the NES, telling scary stories (from Scary Stories to Tell in the Dark, of course), and consumed our weight in junk food. After that, I didn't see Jess again. I didn't even know where he went to school. He was just the kid I hung out with that one night at my good buddy Jim's house.
Years passed and Jim moved away. Other friendships came and went along the way. Then finally in high school, I found the other nerds. I found them in drama and band, the other kids like me, and along with them I again found Jess.
From that point on, Jess and I were best buds. We hung out all the time. We liked the same bands, Magic the Gathering, and were into all the same movies. We were so close that people often assumed we were brothers. Hell, my own mother called him son. Then life happened again.
I went off to college. Jess came to visit and there he met the love of his life and mother of his children. I continued on with school while Jess busted his ass to care for his growing family. We lost touch. That's life.
And then… The Magic of Social Media! Jess and I reconnected after many years on Myspace. It was a little slow to start, but eventually we just picked up that friendship like no time had passed at all. He came to my wedding, I played D&D with his kids, we shared a love of good beer, and life was good.
And then it happened all over again. This time I moved across the country with my wife for her career. I was again worried about losing touch with this close friend that I'd just reestablished my bond with. If only there was something to be done…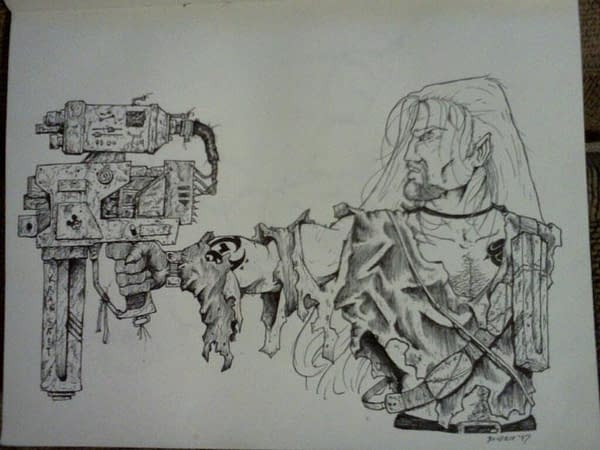 Let me backpedal for a second. The thing you need to know about Jess is that the guy is a hell of an artist. He was born with a pen in hand or something. In High School his art blew me away. I was always (unbeknownst to him) trying to emulate his style and create masterworks of my own (I failed).
By the time we'd reconnected for the second time, Jess just didn't have much time for art anymore. Working to support his family came first and so he slowly drifted away. Maybe it was something about being together again that sparked in him a desire to return to art. I'm not sure what it was, but that need grew inside him quietly for a while before finally bursting forth.
I moved across the country and Jess began to create again, but he wanted something more. He needed something to inspire and push him forward. A mutual friend suggested that maybe we should work together. After a couple guffaws at the idea, we began to think on it. Why not? Nothing to lose, right?
I looked through Jess's old work, found inspiration, and pitched him Dax, all within 24 hours. He learned to work with digital art while I figured out how to write a webcomic; a month later we had our comic on the web. The beginning was bumpy, the first strips were badly written, and Jess was never happy with the art.
Eventually though, we started to find our way. Our characters and the art developed. Most importantly, the bond of working on the comic together has kept our friendship close ever since.
Dax is a strip I love to write. I'm overjoyed with what my characters have grown into. I love how well Jess is able to bring my vision to the page. I really can't imagine my life without this, and Jess, being a part of it.
Find: http://daxcomics.net/ Monday and Wednesdays
More about the Kickstarter: https://www.kickstarter.com/projects/jessboudrie/dax
Enjoyed this article? Share it!