Day Men Issue Two Sells Out. Issue Three On The Way. Soon!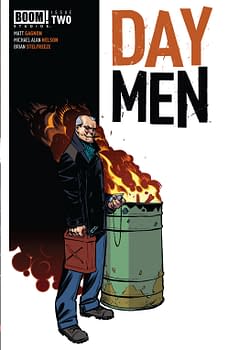 Bleeding Cool has been looking keenly at the performance of Boom! comic book Day Men, drawn by Brian Stelfreeze.
Issue two (after it finally arrived) sold out in less than a week with a 10,200 copy print run. So it's getting a second print, obviously.
And just in cae you, like some thought that because there was a movie option so quickly on this project that it might never get to a second issue or beyond. Well, it was late but I'm told issue 3 is well on the way too. Soon. Honest!