DC Comics is celebrating Valentine's Day this year in the most outrageous way possible: by having Catwoman cheat on Batman with Nightwing in a comic book special hosted by a character with such a racist history it forced DC Comics to cancel their Detective Comics Before Batman collection. That's right, for just $9.99 this February, you can witness the return of Slam Bradley in DC Crimes of Passion, an 80-page prestige one-shot that celebrates the season of love by having people murder their loved ones. James Tynion IV, Steve Orlando, Sina Grace, Jay Baruchel, Stephanie Phillips, Greg Smallwood, Riley Rossmo, Andie Tong, Mike Norton, Anthony Spay, and Yasmine Putri are amongst the creators that will be involved in this comic, but the best part is the cover, which appears to feature Batman discovering Catwoman cheating on him with Nightwing. And by the looks of it, Batman isn't a fan of the cuck stuff.
Behold, in all its glory: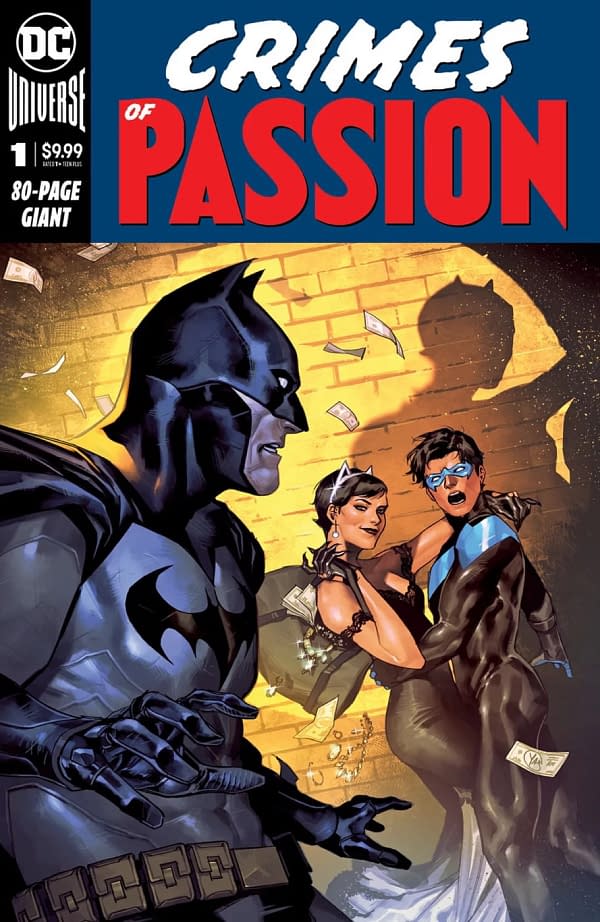 And don't even think of skipping it, as Bradley has threatened any readers who don't buy the comic in the solicitation, which you can view below. You know what, @#$% it. Reset the counter! They've had a good run.
DC CRIMES OF PASSION #1
written by James Tynion IV, Steve Orlando, SINA GRACE, Jay Baruchel,
Stephanie Phillips, and others
art by Greg Smallwood, Riley Rossmo, AndiE Tong, Mike Norton, Anthony Spay, and others
cover by YASMINE PUTRI
Passion. Betrayal. Murder. When you're a private investigator, these are things you experience daily. But when you add capes to the mix—like Batman, Catwoman, and Harley Quinn? Things get even messier. The name's Slam Bradley, and I'm telling you that this year's Valentine's Day special has more intrigue than you can shake a stick at. Ten tales of love—the kind of love that can push people over the edge. Don't miss it…or I'll make you pay.
ONE-SHOT
PRESTIGE FORMAT
ON SALE 02.05.20
$9.99 US | 80 PAGES
FC | DC
Enjoyed this article? Share it!