DC Comics Give Us New Team – The Green Lanterns of the Multiverse
In August 2019's DC Comics solicitations, we get a most intriguing listing for The Green Lantern by Grant Morrison and Liam Sharp. To be fair we always do. But this suggests a new superhero team being seeded – that also takes us back to another Alan Moore story idea. The Green Lantern so far has given us a Dr Manhattan logo, as well as re-using Green Lantern characters co-created by Alan… but this feels like stalking.
Thirty-five years before there was a Council Of Ricks, we had the Captain Britain Corps, a multidimensional congolomeration of Captain Britain types across the multiverse from different parallel dimensions, created by Alan Moore and Alan Davis. They fought, they teamed up, they tried to impose order. It was an intentional take on the Green Lantern Corps, using multidimensions rather than different areas of space, but it was enough for Moore to get hired to write for Tales Of The Green Lantern Corps. The Captain Britain multiverse would get absorbed by the Marvel Universe proper, thanks to the like of Chris Claremont who fell in love with it, and is now informing movies such as Spider-Man: Into The Spider-Verse, Avengers Endgame and Spider-Man: Far From Home. And eventually including The Council Of Reed Richards, The Spider-Verse Web Warriors and now… Green Lantern,
Because with The Green Lantern #10 out in August, DC Comics is taking the idea back again and giving us a new team, The Green Lanterns Of The Multiverse, including Hal Jordan, but adding Bat-Lantern from 1994's Elseworlds: In Darkest Night created by Mike W. Barr and Jerry Bingham, a Bruce Wayne who was chosen by the Power Ring as Earth-32's Green Lantern…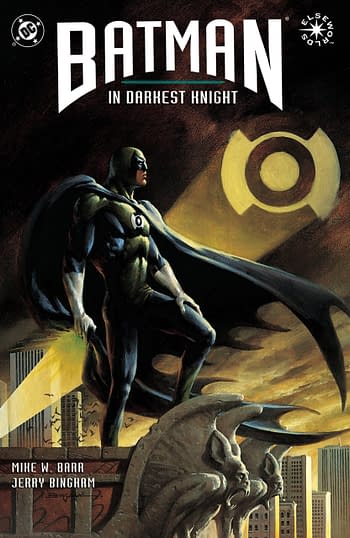 …and the Tangent Green Lantern created by Dan Jurgens, James Robinson and Matthew Clark in 1997 for the Tangent line, who can resurrect the dead.
And ten more….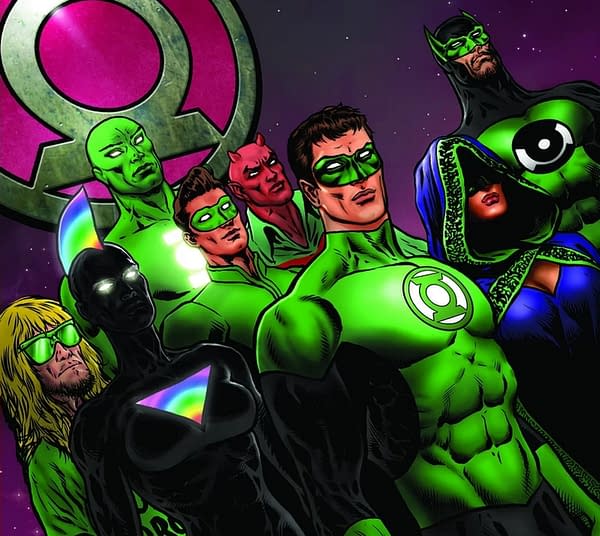 THE GREEN LANTERN #10
written by GRANT MORRISON
art and cover by LIAM SHARP
card stock variant cover by KAARE ANDREWS
Twelve parallel worlds! Twelve Green Lanterns! And one unstoppable menace! Hal Jordan joins the Green Lanterns of the Multiverse—including Bat-Lantern, Tangent Green Lantern and more—to save a dying Multiverse, defeat the relentless Anti-Man and embark upon their "Quest for the Cosmic Grail"! It's another Morrison/Sharp science fantasy epic!
ON SALE 08.07.19
$3.99 US | 32 PAGES
CARD STOCK VARIANT COVER $4.99
FC | RATED T+