More DC Comics Being Made Returnable, Announced at Diamond Retail Summit
Bleeding Cool reported on how DC Comics was making Superman: Year One by Frank Miller and John Romita Jr and Event Leviathan #1 by Brian Bendis and Alex Maleev returnable by comic stores, with news on the returnability of #2 for both of them to follow.
Well, at the Diamond Retail Summit in Las Vegas, DC Comics revealed that this was just the start of a much larger series of returnability comic books, selected for their potential to find new audiences if retailers are more willing to up their orders with security that they can be returned if they don't sell. And all retailers have to do is to match the orders with those of previously ordered titles. Which, since they can all be returned, should be no skin off anyone's noses.
Superman Year One #1
Event Leviathan #1
Lois Lane #1
Superman's Pal Jimmy Olsen #1
Doom Patrol: Weight of The Worlds #1
Collapser #1
Batman/Superman #1
Wildcats #1
With, again, a tease on returnability for second issues as well.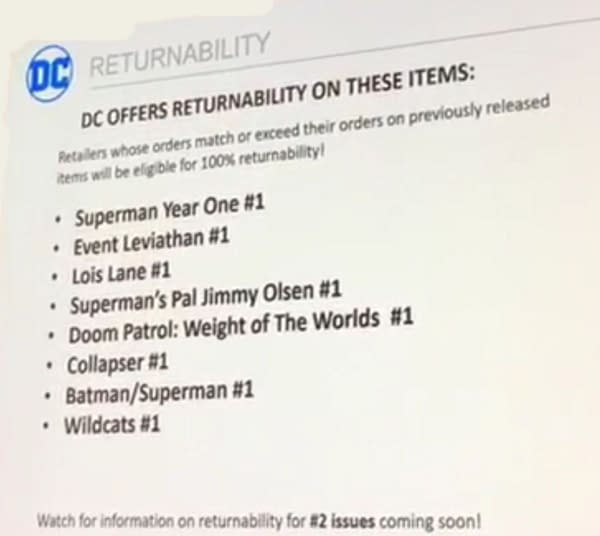 This is all part of DC Comics' intent to create better relationships with the direct market of comic book stores, including better communication of publishing plans, the DC Nation retailer forum pages, videos that help retailers become subject experts in their stores, previews pages, academic reading guides for schools and libraries, growing readership of comics in the mass market and through digital, but from now publishing all content in same publishing windows and, yes, returnabilty for specific titles.
Announced at the Diamond Retail Summit in Las Vegas, check out the rest of our coverage with this tag. And courtesy of Dennis Barger of Wonderworld Comics, Michigan.