DC Digital Panel Recap Batman 66, Smallville, Vampire Diaries And More
Chris D'Lando writes for Bleeding Cool: DC Digital held a panel on Thursday to discuss the initiatives of their digital first line of comics. Moderator and DC SVP of Sales Bob Wayne began by pointing out that DC has a new digital release every day of the week. First up, Dustin Nguyen and Derek Fridolfs discussed Li'l Gotham. Nguyen said it's a great opportunity for him to showcase some of the darker Batman rogues that might not necessarily be accessible to a younger audience. This week they'll be releasing an issue that features Gotham City's own Comic-Con which they say is their love letter to comics culture and fandom. And for those concerned with where Li'l Gotham fits into Batman continuity – Dustin and Derek say they don't really pay attention to that stuff – they just prefer to have fun.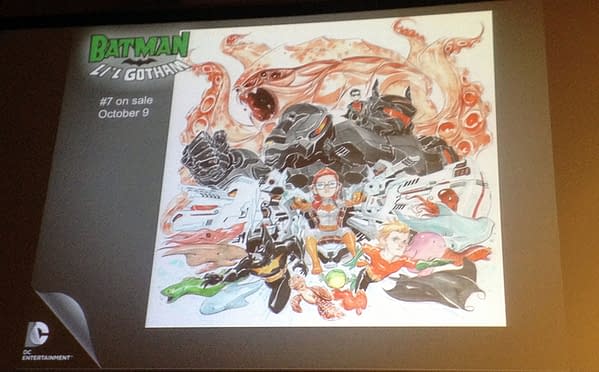 Next up was Adventures of Superman. We were treated to a new cover for the J.T. Krul/Marcus To story that would feature Superman fighting Mongul. DC also teased an upcoming arc drawn by Pia Guerra and written by Kyle Killen of FOX's 'Awake'. The return of Pia Guerra is sure to be big news for fans of Y: The Last Man. Wayne then moved the discussion over to Injustice: God's Among Us, which serves as a prequel to the Netherrealm game. Writer Tom Taylor says this book explains "why Superman and Batman want to tear each other's spines out." We also got the news that Injustice would be getting it's own Annual come November. The cover features Harley Quinn stomping out Lobo. When asked if there were any plans to bring Scorpion into the series, digital editor Jim Chadwick stated that there were no plans currently – but wait and see. We then moved over to Batman '66, the first of the DC Squared enhanced digital comics similar to Marvel's Infinite Comics. Chadwick said that issue 2 will feature The Penguin and Mr. Freeze while issue 3 will mark the return of Caesar Romero's Joker. Chadwick was happy to see that the series has found appeal among older and younger fans of the Adam West television show. Kyle Higgins jokingly asked if he could pitch "Batman '66 Beyond" with today's Adam West. To which Dustin Nguyen said he'd then pitch Li'l Gotham '66 as panelists and audience laughed. I don't know about you guys but I would read the hell out of both of those.
Quickly touching on Legends of the Dark Knight, Shane Davis will be writing and drawing a "shocking" story featuring Clayface. The panel teased that the story has many twists and turns and "you won't know what was real and what wasn't by the time it's done." Moving over to Smallville, writer Bryan Q. Miller was very excited to talk about bringing Wonder Woman into the series. We got to see an upcoming page of young Diana playing on a beach with Steve Trevor. Miller says that the Diana and Steve relationship gets off to a bit of a different start in the Smallville universe. Felix Faust will be an early villain in the Wonder Woman arc. A Smallville Special #3 will be on sale in print on October 30 and will center around Lex Luthor.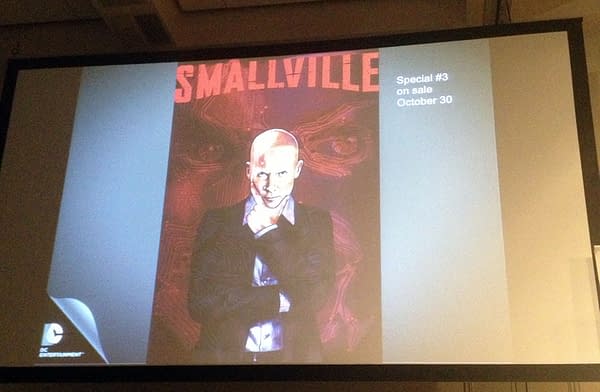 Next up was the DC Beyond Universe books, with writers Kyle Higgins and Christos Gage. Higgins stated what a big fan he was of the Batman Beyond cartoon as well as Batman: The Animated Series. We got to see some Tony Silas art of Batman fighting a Man-Bat as well as an incredible cover by Sean Murphy that pays homage to Batman: TAS. The story will be jumping forward a year from the previous series and "something big has happened, but you're not sure what yet", said Higgins. We also got a peek at a Raphael Albequerque cover that teased a new villain named Rewire. Gage said that Justice League Beyond will be a nice companion to Batman Beyond Universe. Gage and Higgins have a big plan between the two titles to fill in the blanks as to what happened in the missing year. He couldn't reveal who the big villain was quite yet, but he did say it would be a classic Superman villain.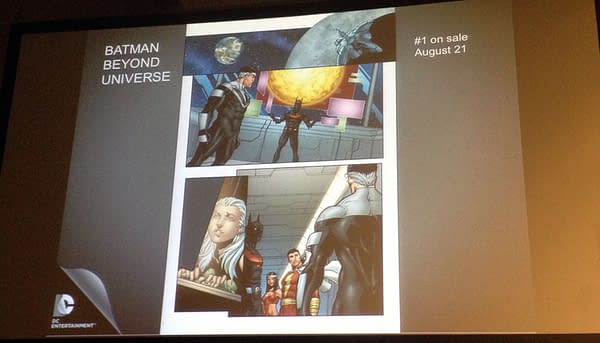 DC Digital's Hank Kanalz then took the stage to announce that Vampire Diaries would be coming to the DC Digital lineup this fall. We were only show preview art featuring the main trio but the series will cover both Vampire Diaries as well as the upcoming spin-off The Originals.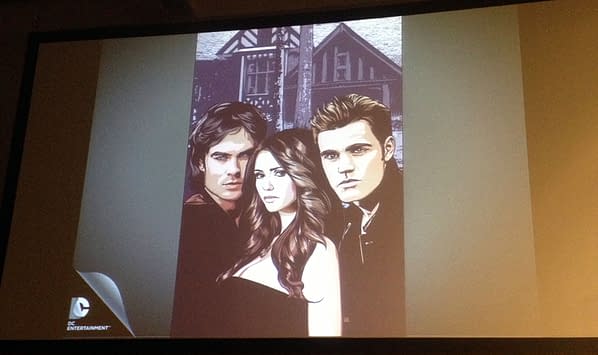 DC also debuted the first preview art for Scooby-Doo meets Batman and Robin, a new bi-monthly ongoing. After the announcement, Miller joked that he'd really like to write the "Royal Flush Gang vs. The Harlem Globetrotters." Also coming this fall, a Beware the Batman and Teen Titans GO! series will launch and will follow the characters and tone of the Cartoon Network shows. Wayne also pointed out that until July 21st, you can grab a free copy of Superman #1 from Amazon at www.amazon.com/comicgiveaway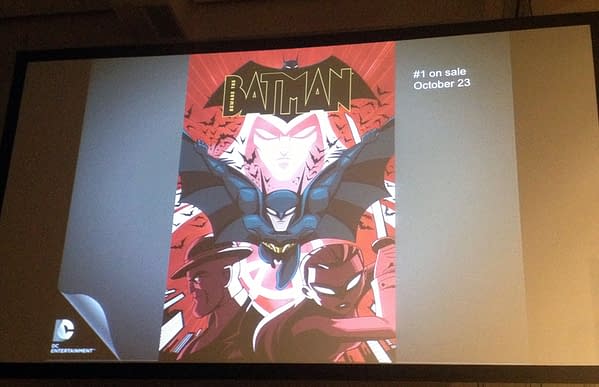 During the Q&A portion of the panel, Kyrax, SDCC's resident Stephanie Brown Batgirl cosplayer stepped up to the mic to ask about the recoloring of the Li'l Gotham Halloween Special. You remember, the one that removed Stephanie entirely? What followed was a hilarious game of 'pass the buck' as members of the panel each dodged the question in turn. But since she asked the best question, the panel awarded her with a Kindle, so there's that. Ask the hard questions at DC panels folks – they'll give you tablets.