Dean Haspiel's Red Hook to be Published by Image Comics
We mentioned that the prequel to Dean Haspiel's current digital comic War Cry for LINE Webtoons, Red Hook, would be getting a print publication. We guessed it may be Image Expo 2018 and announced today. And it was.
Red Hook is forced to be a superhero as a sentient Brooklyn secedes from the rest of USA, and creates superheroes to defend herself and create new ways of thinking.
His love letter to Silver Age, cinema, and to Brooklyn, he treats superheroes as artists.
Red Hook will be published as a 168-page graphic novel in June.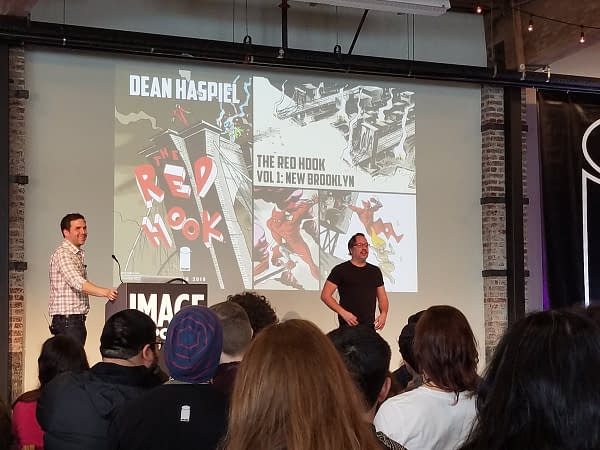 THE RED HOOK, Vol 1: NEW BROOKLYN by Dean Haspiel
Emmy and Ringo Award winner Dean Haspiel brings THE RED HOOK to print for the first time.
The Red Hook is a super-thief who is bequeathed the Omni-Fist of altruism and is transformed into a superhero against his will or he will die a year after a sentient Brooklyn's heart is broken and physically secedes from America to form New Brooklyn.
The graphic novel will hit stores in June 2018.