The Death Of A Hero In Today's Marvel Comics (AXIS Spoilers) UPDATE Last week's issue of Axis revealed that Scarlet Witch and Quicksilver were not the biological children of Magneto, leaving them open to be recreated as Inhumans characters ahead of the Avengers: Age Of Ultron movie and away from Fox Studio's grasping hands. And today's Axis #8 reiterates that. But there's something bigger going on as well. The series has seen certain heroes and villains have their moral axis flipped, courtesy of a spell that went awry to deal with the Red Skull. So just as Scarlet Witch has gone all bad girl on us, the serial killer symbiote Carnage went all good guy. To the extent that, well… Well, if Hobgoblin can get a balloon in today's AXIS: Hobgoblin… I suppose Carnage should get a statue.
Sniff.
I guess these are the wrong flags.
Anyone want to mock up an image of the statue as Cletus describes it? I'll run it on the site…
Oh and if the mood needs lifting, there's some entertaining symbiotic behaviour going on in today's Guardians Of The Galaxy, as the Venom symbiote meet a certain non-rodent… That's Venom Rocket Raccoon! When can we get the Funko Pop vinyl version please?
UPDATE: Of course, coming in February in Nova…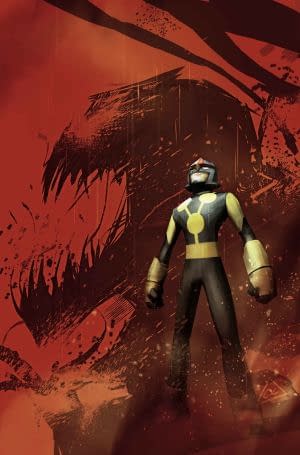 Comics courtesy of Orbital Comics, London. Currently exhibiting the work of Sean Phllips.