Death Metal Dominates Bleeding Cool Bestseller List – With A Big Wynd
This is the Top Ten Bleeding Cool Bestseller List, as compiled by a number of comic stores from their sales on Wednesday and Thursday. It measures what are known as the "Wednesday Warriors", those who can't wait till the weekend to get this week's comics. Though thanks to DC, Tuesday Titans too. As DC leave Diamond, this looks like it will be the only cross-direct market chart going. If any other retailers would like to report their top sellers, please contact richjohnston@bleedingcool.com. – as this week, it was all about DC Comics and Death Metal.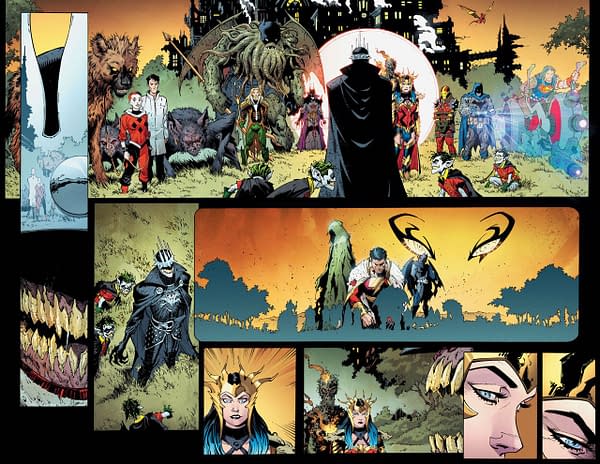 Top ten bestselling comics of the week
With no new Marvel titles, DC Comics rules the roost this week but it is notable that Death Metal was the bestselling title of every reporting comic book store this week. A full sweep – and still a rare thing. Strange Adventures also makes a strong appearance, and there is a relatively unexpectedly high debut from Wynd, written by Scott Snyder's student James Tynion IV, and published by Boom. While we're at it, Ludocrats also makes it in.
Dark Nights: Death Metal #1
Strange Adventures #2
Wonder Woman Death Earth #3
Wynd #1
The Question: The Death of Vic Sage #2
Flash Annual #3
Green Lantern Season Two #4
Power Rangers Teenage Mutant Ninja #5
Wonder Woman #757
Ludocrats #2
Thanks to the following retailers…
Who had this to say…
Collector's Paradise Pasadena: Dark Nights Death Metal is a monster, the Ratio variants paid for EVERYTHING, the covers, led by Artgerm are moving well, and people who we don't see often are coming in for it, which is a great sign. Strange Adventures is amazing, and WYND by Boom Studios is another hit by the most deserving publisher in comics, BAR NONE. Their new tpbs (Once & Future, Something is Killing the Children, Red Mother) are killing it, too, which speaks volumes about their line being promoted well and received well by customers. They are building a brand like no other publisher.
Rodman Comics: Very good sales week. DC's Death Metal is a hit. With everything going on I was worried it might not be. Power Rangers TMNT 5 broke up DC's chance to have the top ten selling comics here. Power Rangers TMNT 5 sold out on Wednesday and outsold the previous issue. Thankfully we were able to place a reorder for more. Another week with no Marvel titles and Marvel fans being disappointed. Looking forward to the Marvel variant covers announcing Wednesdays are new comics day because by then Marvel will actually be coming out with new comics on a Wednesday again and hopefully not to many of their fans will have dropped Marvel due to too many skipped weeks.
Brandon's Comics: You guys need to grab that Legion of Super-Heroes #6 2nd prints and get them graded. They put them on FOC WAY late. I'm dying to know how many stores caught that. This has to be a super low print run. Get these bad boys graded! I'm sending in 50!
Dr. No's Comics & Games SuperStore: With Marvel offering no comics periodicals this week, DC took control of our sales charts, winning eight of the top ten slots. Boom's Wynd #1 performed remarkably well at #4 (quite impressive for a book with no advance orders because of the surprise nature of its solicit), while Gideon Falls took a solid #7.
Notable sales:
We don't do or track a lot of back issue sales, but lots of questions about Miles Morales books