Death Sentence #1 – A Writer's Commentary by Monty Nero
Death Sentence #1 is back in the shops this weekend for it's second print. Here's a Writer's Commentary on the issue, by writer Monty Nero. Including almost the entire comic… Page 1
On a new title it's really important to grab the reader's attention from the start, so we encapsulate the essential premise of the comic in one page. No rambling preamble or tiresome decompression, you can read plenty of other comics for that. It's a short scene but it took a long time to create. The idea was to use the narration, dialogue, acting and background details to convey everything you need to know about Verity and the G-plus virus – to beckon you into this world.
Weasel brings chaos and comedy to the story, which is integral to the tone we're aiming for. My favourite thing about these two pages is Weasel's wonderful wordless melancholy when he wakes up and realises his diagnosis is real. Mike's great at 'acting', so whenever possible I shut up and let his visuals tell the story.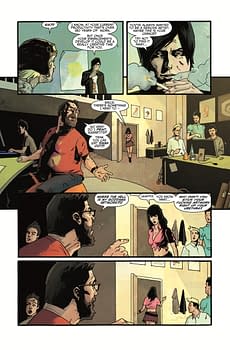 Page 4
Verity's boss in this scene is based on a guy I used to work for. Sitting on a space hopper at work is an international sign of asshattery – and yet it still happens! Can we start these guys a support group? My boss didn't just sit on space hoppers, he also rode a foot scooter round the office too. Sometimes he'd climb under the table and shout 'inspirational' ideas while we were trying to work. He was both good at his job and a certifiable assclown. If he'd been purely one or the other it would have been easy to cope, but life is rarely black or white. Page 5
Verity's snappy leaving speech stems from my time working as a cleaner in Tesco's supermarket. My boss at the time was unremittingly sexually suggestive and highly pedantic. While buffing the floor I entertained an elaborate fantasy about recording a bitter indictment of her character and storming out while it played over the tannoy. Of course, when I left I simply shook her by the hand and wished her the best because I'm classy like that.
Page 6 and 7
Part of the magic of Death Sentence comes from the resonance between contrasting scenes or panels, and we cut between three main protagonists to achieve that. At the beginning of the story Monty's narrative elaborates on public perceptions of the G-plus virus and mercilessly satirises celebrity culture. I really enjoy the work of comedians like Monty – but that doesn't excuse them from mockery. Everyone's fair game.
Monty's also a tragic indictment of my lack of imagination in naming characters. Originally he was called Byron though, which was just too awful to print.
Every scene in a story should put the characters under increasing psychological pressure to reveal more about their character, and so it is here. We get another blast of classic Britpop too: musicians rattling round their Primrose Hill townhouses drugged out of their vapid minds. We witness Weasel's admirable refusal to acquiesce to violence, and his illuminating interior monologue in the face of death: "my mum what a fraud I am the tunes I ain't written the first girl I kissed and how nothing really mattered did it!" Page 13:
We try and ground everything we do in reality, so GCHQ surveillance plays an important role. Subsequent revelations about their nefarious capabilities have raised their profile somewhat; when I initially described their awesome James Bond style donut shaped HQ to Mike he thought I was joking. He pencilled a regular office block – until I sent him a photo. Truth is better than fiction!
Page 14, 15
Astute readers will already have noticed that Mike and I are metaphorically dramatising the essential dilemma we all face: 'Our time on Earth is limited. What are we going to do with our lives?' The STD is a neat hook, but the eponymous 'Death Sentence' is simply life itself.
Verity's next scene in the West End delves deeper into this territory. There's been a lot of vibrant comedy so far but Death Sentence is about people dying in six months and you have to convey that accurately or else the whole premise falls apart. I did a lot of research into people who knew they were dying to ensure our direction was valid, and subsequent feedback from cancer survivors who've read the comic indicates that scenes like this ring true.
A lot of Verity's frustrations regarding creativity are simply how I felt writing the comic: "all my pretentious and I never amounted to shit. Just another faceless no mark who fucked and fretted and fizzled out forgotten". I think everyone can relate to that. Most of the essential components of the comic come from personal experience.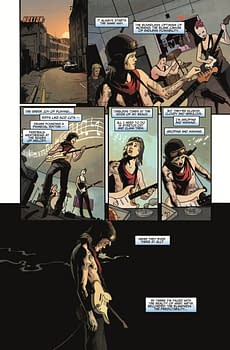 Page 16
Like many people I dabbled in bands for a while, but Weasel's creative frustrations re songwriting are simply me describing how hard it is to paint. Creativity and the role it plays in all our lives is one of the key themes of the comic. Most people have untapped talents, and their desire for fulfilment and validation often manifests in other ways: "What a man can be, he must be" as Maslow puts it.
Page 18
I was living with my sister while she was working at a major record company, so I used to see and hear some incredible things from the peripheries. The music business is often so ridiculous it's unmockable, but that doesn't stop us trying. There's a clear Pete Doherty influence too.
I love stories that stand for something – comics with lyricism and heart – and I also love commercial narratives that grab you on page one and refuse to let go. Death Sentence aspires to all these things, though I'm not going to ruin the end for you here. I've also left out many people's 'best page' – the one that caused our printer to back out on moral grounds. Each to their own.
There's lots more than sequentials in every issue too. With each issue there's a special feature about one of the characters and a serialised 17,000 word Guide to Making Comics ("worth the entire value of the comic" according to one review). Mike's art just soars and we start to build on each other's strengths by issue two. It's been a labour of love, so if you'd like to discover something fresh and surprising over the next few months we'd be humbled to have you on board.
Death Sentence is a six issue creator owned series from Titan comics available now from your local comic shop.