Onc upon a time, Marvel Comics published a comic book character called Death's Head. Created by Simon Furman and Geoff Senior for the Marvel UK continuance of the Transformers comic book, they had the nouse to publish him in his own one-page strip first, so that Marvel had full ownership claim on him rather than Transformers owner Hasbro. The character knocked around the Marvel UK titles for a bit, including appearances in their Doctor Who comic book, before getting his own series drawn by Bryan Hitch.
And, to repay the favour, the Seventh Doctor appeared in that comic as well, issue 8.
Now, with a new Death's Head series from Marvel US out this week, Marvel Comics are putting all those early stories together into one volume. Which is handy considering how an earlier printing of just half the material in this one goes for silly money on Amazon. Just IDW has the Transformers license now, so not those stories – IDW have however reprinted the Transformers Death's Head stories – so ut can be done. But Titan has the Doctor Who license now, so not those either. Which leaves an eighth-issue-sized hole…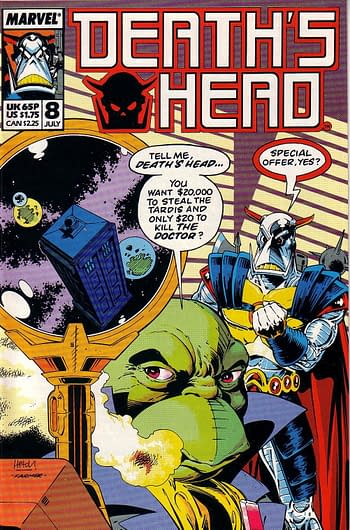 Surely folks could come to some kind of agreement, yes? Ahead of the inevitable movie?
3 Mar 2020 408 pages
Meet one of Marvel UK's biggest stars – the robot for hire known as Death's Head! Just don't call him a bounty hunter, yes? Join the android assassin in this pulse-pounding collection of his original adventures, from distant dimensions to the far future. Death's Head has his sights locked on an array of enemies – and will encounter familiar faces including the Fantastic Four, the Hulk, She- Hulk and Arno Stark, the ruthless Iron Man of the future! But are you ready for Death's Head's mind-bending origin? For that matter, is he?! Buy this book and stay healthy, yes?
COLLECTING: DRAGON'S CLAWS (1988) 5; DEATH'S HEAD (1988) 1-7, 9-10; DEATH'S HEAD: THE BODY IN QUESTION (1990) GN; FANTASTIC FOUR (1961) 338; SENSATIONAL SHE-HULK (1989) 24; WHAT IF? (1989) 54; MARVEL HEROES (2008) 33; MATERIAL FROM MARVEL COMICS PRESENTS (1988) 76
17 Dec 2019 112 pages
Rising stars Tini Howard and Kei Zama take on Marvel UK's hottest character, Death's Head, in a new miniseries] When intergalactic mech merc Death's Head botches a job and wakes up half assembled at a punk show, he goes on a rampage. He's not the only one feeling broken down and obsolete, as former Young Avengers Wiccan and Hulkling are on the scene with a plan of their own. There's no way the best robot bounty hunter – oops, we mean 'freelance peacekeeping agent' – in this universe is getting taken down by a couple of C-list heroes still wearing their teenage tights. No, if anybody's gonna take out Death's Head, it's gonna be… Death's Head, yes? It's time for an upgrade – meet the adolescent new model who'll turn Death's Head's world upside down] Collecting: Death's Head 1-4
Enjoyed this article? Share it!