Deathstroke #34 Review: The Batman v. Deathstroke Fight You've Been Waiting For
[rwp-review-recap id="0"]
Jericho reminisces on the day he lost his voice, and Deathstroke finally pays Bruce Wayne a visit in the Manor. Slade convinces Bruce to keep Damian and Dick out of it, and Alfred and Wintergreen arrive to the Manor soon after. The FBI arrives at the manner just after them, and Slade has Bruce escort him down to the Batcave. A vicious duel between Deathstroke and Batman erupts immediately after. Meanwhile, Jericho confronts Adeline about what she is doing to both Slade and Bruce Wayne.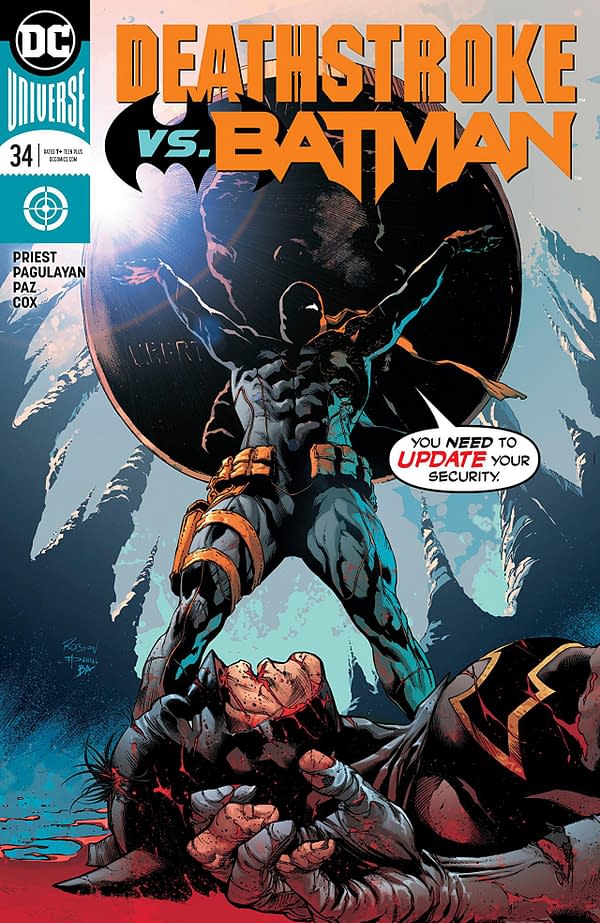 This is the Deathstroke vs. Batman fight the past three issues have been building up to, and it's everything I hoped it would be and more.
Slade and Bruce use everything in their respective arsenals to rip each other apart, from the Power Staff and energy-absorbing gauntlets to bats and a minigun ripped straight out of the Batmobile.
It's a brutal fight, and everything around it only serves to increase the intensity. Adeline is up to no good again. Jericho wants to settle things with her. Alfred and Wintergreen are learning that their efforts to stop this have gone nowhere. The Wayne fortune is plummeting, and the FBI is investigating what is going down at Wayne Manor.
I can't decide if I like or dislike that Slade won't admit whether he knows Bruce Wayne is Batman. It seems pretty damn obvious that he knows given that Slade isn't an idiot. It seems like he's playing just dumb enough to keep Bruce terrified and to keep the Bat tied up in his own secret. On the other hand, I want Slade to just yell that he knows in Bruce's face. It also seems likely that Slade just doesn't care either way, like the Joker.
Also, Bruce and Slade trying to armchair diagnose one another with mental illnesses is pretty funny and fantastic.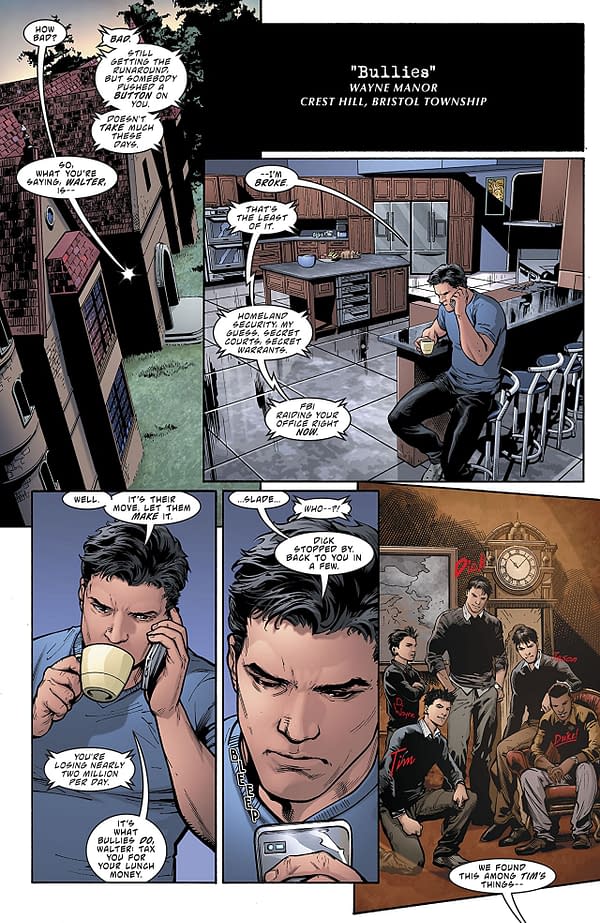 Carlo Pagulayan does incredible work in bringing this fight to life. Every punch, shot, explosion, and stab is impactful and rendered excellently. The detailing is impeccable, and the expressions are evocative. There is a particularly fantastic splash page in the middle of the comic that show the fight starting in earnest. Trevor Scott and Jason Paz ink the comic well too, and Jeromy Cox nails the color art.
Deathstroke #34 is the showdown I've been waiting for, and the fight delivers in spades. More than half of the comic is Slade Wilson and Bruce Wayne trying to kill each other, and the art team of Pagulayan, Scott, Paz, and Cox do some gorgeous work here. This comic comes highly recommended. Give it a read.
[rwp-review-ratings id="0"]
[rwp-review-form id="0"]