Posted in: Comics | Tagged: batgirl, batgirls, cassandra cain, dc comics, stephanie brown
---
Declaration of Love to Stephanie Brown from Cassandra Cain (Spoilers)
Batgirls #14 sees Cassandra Cain on the hunt for Stephanie Brown and letting loose her feelings about the whole thing - silently.
---
Today's Batgirls #14 sees Batgirl Cassandra Cain on the hunt for her kidnapped "bestie" Batgirl, Stephanie Brown, missing since last issue… spoilers about Spoiler going ahead. And yes, I do like it when I can do that.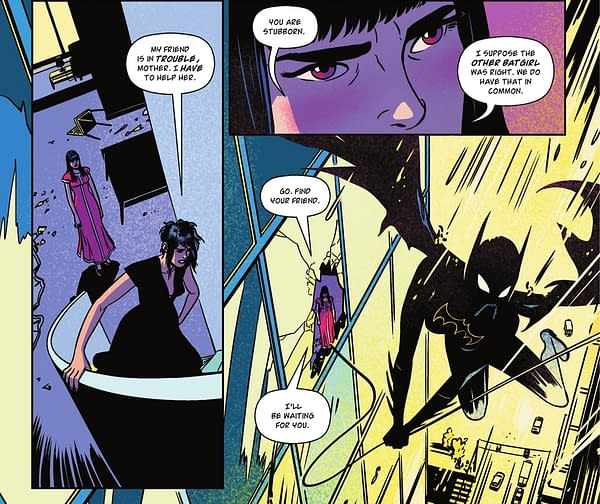 … and kidnapped by her own father, the villainous Cluemaster. Who may well be about to kill her. Cluemaster may not have left any clues, but he failed to consider a temporary bodyswap between the two, which gave Cassandra the tiniest idea of where to look.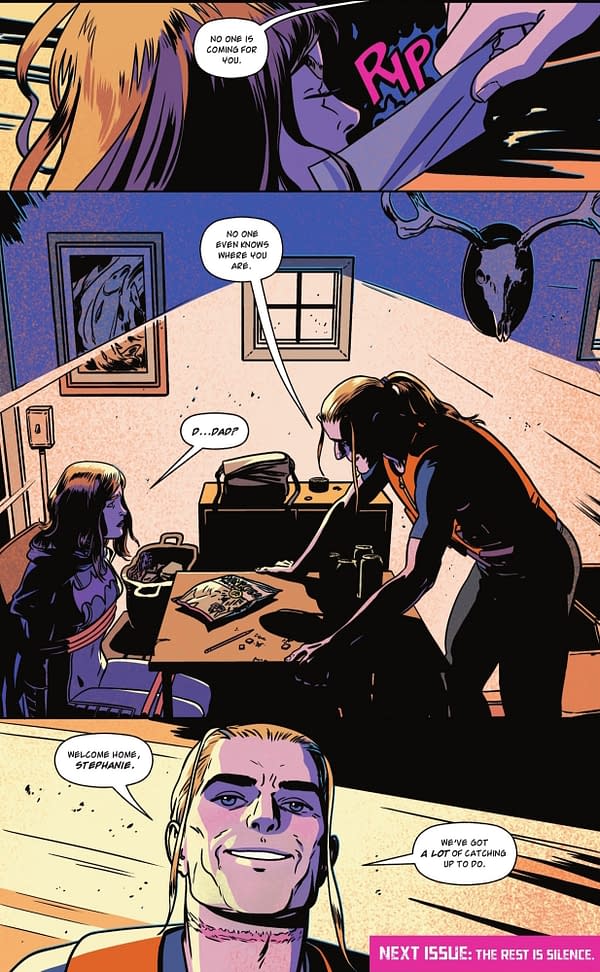 Billed as a silent issue, Batgirls #14… it's not really. In that, it is captioned by Cassandra Cain's letter to Stephanie Brown, in which she is as honest as she can be. Writig down in words what maybe cannot be said out loud.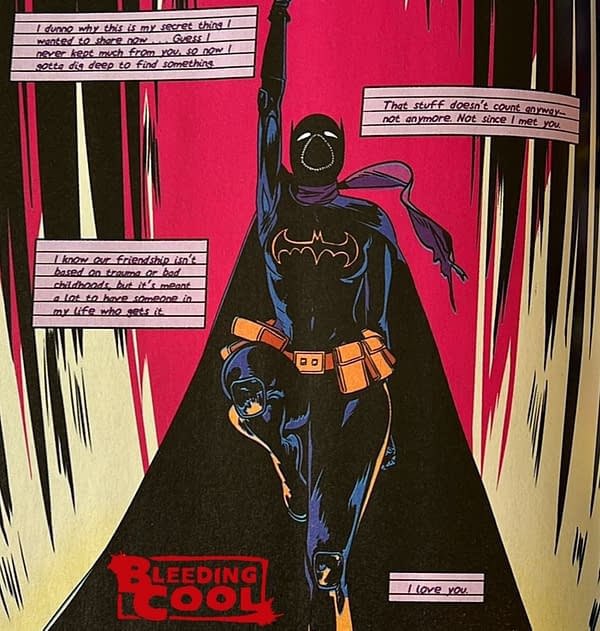 A simple unadulterated "I love you" which keyboard warriors will, naturally, obsess over. They've just lost Dick Grayson, Cassandra Cain may be their next big hope.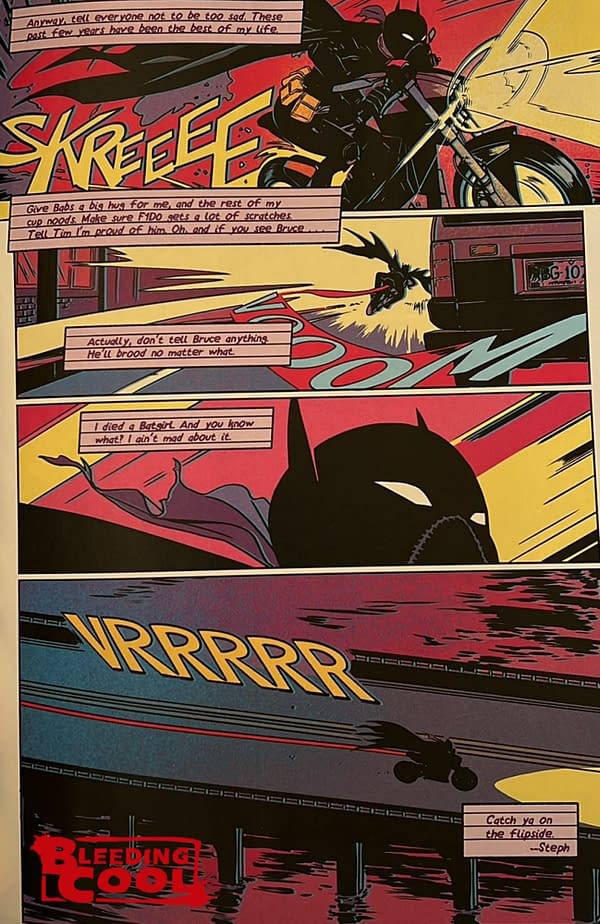 Not the only Cassandra Cain making her appearance today, though the one in the Harley Quinn Animated Series doesn't look old enough to ride a Batbike yet.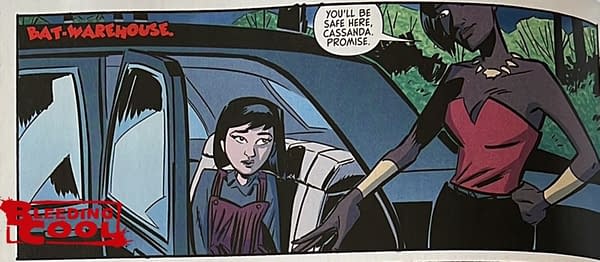 It's even less safe to be a Batgirl here, it seems…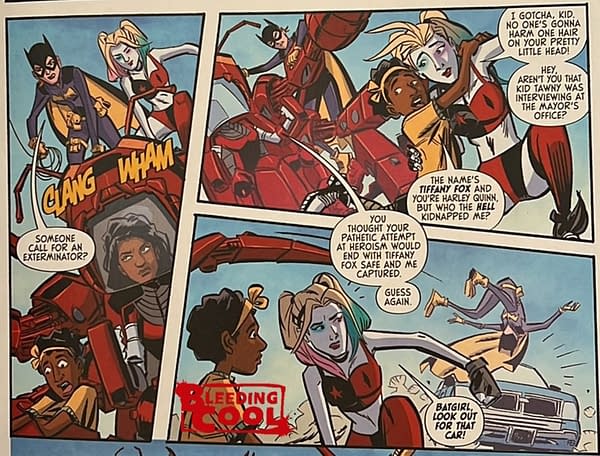 BATGIRLS #14 CVR A JORGE CORONA
(W) Becky Cloonan, Michael W. Co1nrad (A) Jonathan Case (CA) Jorge Corona
This is a special all-silent issue of Batgirls featuring Cassandra Cain as she mourns her bestie, Steph Brown Batgirl, who was kidnapped by her own dad! If Cass doesn't act fast, she might lose Steph forever…so it's a good thing she has a single clue about where Cluemaster might've taken Steph from when Cass was still body-swapped with her… Retail: $3.99 In-Store Date: 01/17/2023
HARLEY QUINN THE ANIMATED SERIES LEGION OF BATS #4 (OF 6) CVR A YOSHI YOSHITANI (MR)
(W) Tee Franklin (A) Tee Franklin (CA) Yoshi Yoshitani
As Ivy becomes increasingly engrossed in her new job, and increasingly tempted by an old flame who has re-entered her life, Harley finds herself assisting Batgirl on an important mission that goes horribly awry. Meanwhile, Clayface and King Shark have been pursuing Harley, confused about their old friend's new allegiances.
Retail: $3.99 In-Store Date: 01/17/2023
---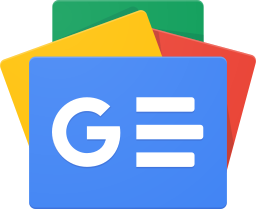 Stay up-to-date and support the site by following Bleeding Cool on Google News today!