Novelist Delilah S. Dawson, of Kill The Farm Boy and Sparrowhawk, writer of Star Wars fiction and erotica as Ada Lovelace, will be writing a new comic book for IDW Publishing, with art by Francesco Gaston of Bloodstrike and Ms Marvel.
And it's called Starpig.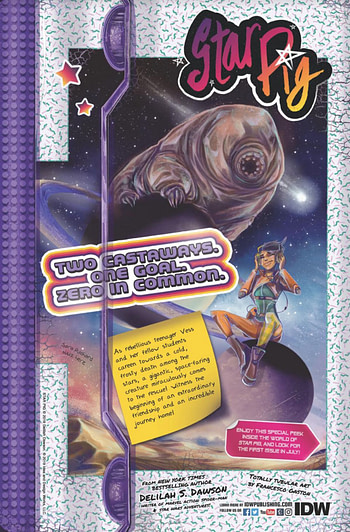 Announced at WonderCon in Anaheim, with PR given to Syfy Wire, Star Pig is described as a nostalgic spacefaring adventure revolving around a geeky, late-21st-century teen named Vess who gets shoved off to spend her summer break at an orbiting space camp.
A tragic shuttle accident sends her and the rest of her fellow passengers careening into the cold void of outer space. But when a ginormous cosmic water bear miraculously rescues Vess and her precious retro Discman, it's the genesis of an extraordinary friendship and a starstruck journey set to the classic tunes of Vess' 1990s-heavy playlist.
Dawsonisquoted as saying "Star Pig is the story of a lost girl and a giant space tardigrade, just trying to get back home. No, Star Pig is actually a love song to nostalgia and growing up, to the bone-deep knowledge that you can never go back to the way things were. NO! Star Pig is really about what happens when the rest of the universe is as obsessed with American Earth culture as we are, and the first human to make contact with aliens finds that they're cloning Laika, collecting pogs, jamming out to Weezer, and using words like 'tubular.' It's a mishmash of the '80s, '90s, and '00s through the lens of a teen girl who never really felt at home in her own time — but who might yet find her place among the stars."
Star Pig #1 is pulished in July with covers by Sara Richard and Francesco Gaston, with subsequent issue covers by Paulina Ganucheau, Nicoletta Baldari and Sara Alfageeh.