Detective Comics #1-26 Reprinted At Last, Plus A "Shocking Revelation" Which Will Rewrite DC History
I've been telling BC readers for quite some time now that there are substantial, significant rewrites of comics industry history coming over the next few years. Our access to historical data, and the tools we have available to analyse that data, have improved by leaps and bounds in recent times. I was ordered by a UK government official recently to resume my Marvel Declassified series with all due haste, for example. I'm not sure what jurisdictional authority they have in this matter, though I suspect Alexander Hamilton, Martin Van Buren, and Stephen Van Rensselaer III have something to do with it.
That aside, there's never been a better time to be a historian, which is why I was very pleased to see Michael Uslan note this on the facebook Comic Book Historians group tonite, regarding the just-announced Detective Comics: Before Batman Volumes 1 and 2 Hardcover Omnibus Set:
I wrote the introductions and early history of DC Comics for both of these volumes. I can promise you that there will be major new insights and clarity as to the facts of the birth of the comic book industry and early DC Comics. There will also be a shocking revelation of a "Bill Finger-type" forgotten co-creator of a major comic book character who will require comic book history books to be rewritten.
Major new insights about the birth of the industry? And a shocking revelation of a "Bill Finger-type" forgotten co-creator of a major character?
Sign me up.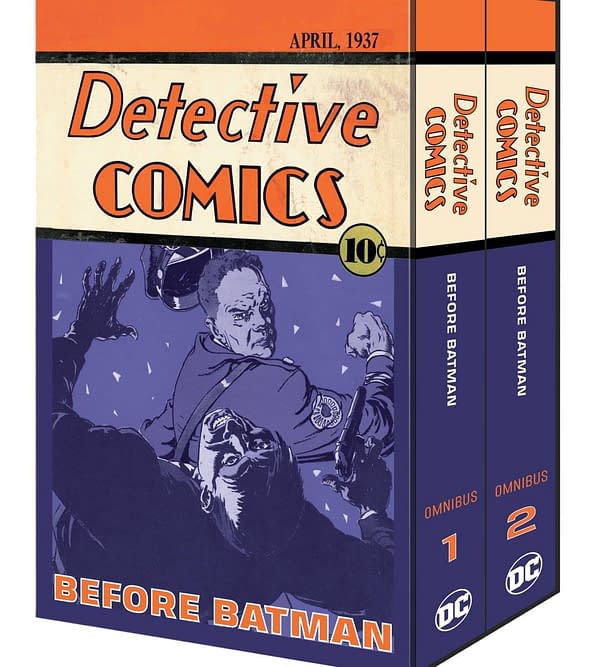 Here's the full blurb:
DETECTIVE COMICS: BEFORE BATMAN (VOLS. 1 AND 2) HC

Written by JERRY SIEGEL, MALCOLM WHEELER-NICHOLSON and others

Art by JOE SHUSTER, FRED GUARDINEER, BOB KANE and others

Design cover

DETECTIVE COMICS exploded in 1939 with the debut of Batman in issue #27—and now, for the first time, DC reprints the first 26 issues of this groundbreaking series, almost none of which have ever been reprinted before, in a two-volume slipcased set! The first volume, collecting issues #1-13, stars crime-fighters like Slam Bradley, Bart Regan, Speed Saunders and more! And Volume Two, collecting issues #14-26, stars characters like the Crimson Avenger, Fu Manchu and more!

Please note that these stories will be scanned directly from original copies of these issues.

ON SALE 03.20.19

$150.00 US | Each 896 PAGES

FC | ISBN: 978-1-4012-9302-4